A veteran of A380 delivery ceremonies, having attended events for Singapore Airlines, Emirates, Qantas and Lufthansa, I had a good idea of what to expect back in October 2011 during the official handover of China Southern Airlines' first A380, held at the impressive Airbus Delivery Centre in Toulouse, France. The facility doubles as both auditorium and aircraft docking station. It provides the perfect venue for the inevitable finale of such events, when the curtains suddenly part to reveal a glistening A380 resplendent in the appropriate airline's livery, to polite applause. However, what comes before this moment is limited only by the imagination of the carrier's marketing department.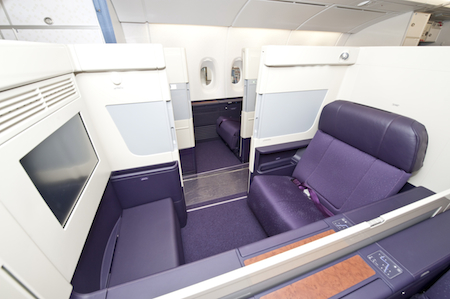 China Southern certainly didn't disappoint in this respect – some traditional 'shadow play' and a child compère injected some freshness and fun into what can be quite a dry affair. However, what struck me most of all was the dancing that followed – the choreography was interesting enough, but what really grabbed my attention was the sheer size of one of the troupe. A giant among men, this particular fellow somehow managed to still look graceful and in step with his far more slight counterparts. The defining moment came when he hoisted a child aloft – symbolic perhaps of the A380 carrying the hopes of a new generation of Chinese travellers, while also underscoring the huge growth potential of China from an aerospace perspective. "China will eventually fly, operate and need over 200 A380s by the year 2030," noted Airbus's CEO, Tom Enders, during the ceremony.
Dream ticket
The airline, which ordered five A380-800s, was the seventh A380 operator. It opted to install 506 seats in total in a three-class configuration. Eight first-class suites (pictured above) feature at the front on the main deck in a 1-2-1 layout, followed by 352 economy seats in a 3-4-3 configuration. The upper deck sees a further 76 economy seats (2-4-2) to the rear, followed by 70 lie-flat business-class seats in a staggered 1-2-1 configuration.
Named the 'Pearl of the Sky' and described during the ceremony as a 'dream machine', the A380's interior was sadly less inspiring than the build up to its arrival. More practical than pearlescent, the rather drab, sterile cabin lacks a certain sheen and warmth – it's functional rather than fanciful, especially when compared with some of the luxury interiors installed on A380s operated by previous customers.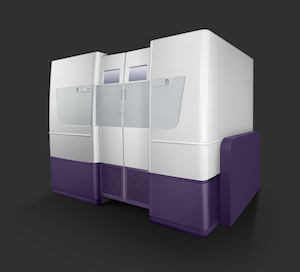 First class, branded 'Platinum', features eight individual Contour-supplied suites installed at 82in pitch, complete with sliding doors, individual mini-bars, luggage cabinets with password locks, 23in HD LCD monitors and 61x48cm tables. Each purple seat converts into a fully flat 80in-long, 32in-wide bed and includes a massage function. The 1.52m-high walls ensure a peaceful flight, blocking outside disturbances while a privacy divider between central pairs can be raised or lowered by the crew according to passenger wishes. China Southern is the third A380 operator to specify and customise Contour's Venus suite in first class.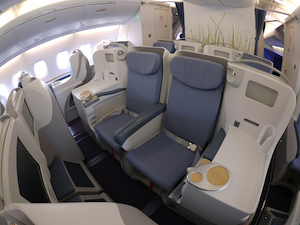 Business class sees Sicma's Skylounge units in a staggered 1-2-1 configuration, allowing the fully extended bed to unfold into the space underneath the side console of the seat in front. As a result of this arrangement, non-aisle seats offer greater seat pitch and bed length than aisle-side seats, similar to business class on Emirates' A380s. Non-aisle seats are installed at 87in pitch and convert into 85in-long flat beds, while aisle seats are fitted at 77in pitch and offer 75in beds. Both versions are 24in wide and feature a 15.4in monitor, shoe storage and mini-bar. A memory function recalls the passenger's preferred angle of recline at the press of a button.
The airline chose Sicma's Airgonomic seating in economy, at 32in pitch. Each unit features a four-way adjustable headrest, articulated seat pan with 6in of recline, a rear footrest and a 9in IFE screen. China Southern opted for a classic recline function rather than a fixed backshell.
IFE in all classes is provided by Panasonic's AVOD eX2 system, which features interactive touchscreens and 1,000Gb of storage, translating into roughly 600 hours of non-stop entertainment. Passengers can enjoy films, TV programmes, music, games, books, moving maps and view an online duty-free catalogue. In addition, the system also provides a full set of office application software, allowing passengers to work in the air and store files via a USB drive. Panasonic will also supply its eX2 system to China Southern for its forthcoming Boeing 787s; and it has provided its S3000i system for its A330-300s since 1993.
Mood lighting in combination with the A380's signature low cabin noise levels help improve passenger well-being. Six different scenarios imitate natural light cycles, while a fibre-optic 'starry night sky' is integrated into the ceiling.
The cabin also offers seats and lavatories that are easily accessible for disabled passengers. All aisle-side seat armrests in business and economy have been designed to stow in such a way nas to allow disabled passengers to move directly from wheelchair to seat. A barrier-free bathroom can be rapidly transformed into a 2 sq.m. space with storage for personal or mechanical wheelchairs.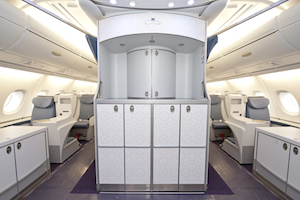 Onboard bars are installed at the front of the first-class cabin, as well as at the front and rear of the business-class cabin, providing ideal spaces for passengers to socialise and enjoy a few drinks.
All passengers will benefit from a state-of-the-art meal service delivered from no fewer than 19 galleys, including the world's largest independent galley, GU3R, which itself can accommodate 10 catering carts. This infrastructure supports a wide range of traditional and contemporary Chinese cuisine, including such delicacies as Kong Fu soup, soy sauce braised crackling pork, Chaozhou Style pastries and Big-Bowl noodles, delivered by 21 cabin attendants. First and business-class galleys include wine chillers and espresso makers, while first-class passengers can also enjoy traditional Chinese tea ceremonies conducted by professional tea specialists.
Finally, China Southern says the cabin "offers passengers creative surprises in the least expected places by integrating art into its plan". I struggled to find much evidence to support this, apart from an unusual pattern integrated into some of its sidewall laminates. "The decorative film used on the sidewalls in the first and business cabins was designed especially for China Southern," confirmed an engineer who worked on the project. "The design concept is inspired by our logo – the kapok flower – and other luxury elements like diamond and crystal." The airline worked with Airbus's own design studio on the overall cabin scheme, but did not work with any third-party design agency.
Popular choice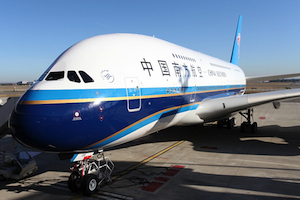 As China's first A380 operator, China Southern is well placed to take advantage of the country's predicted explosion in air travel. China's domestic air travel market alone is predicted to grow 13.9% annually by 2014, responsible for carrying 379 million domestic passengers, making it the world's second largest air travel market after the USA, according to IATA. Airbus estimates that in terms of passenger traffic in domestic markets, only India at 9.8% will grow faster than China (7.2%) over the next 20 years.
At the time of launch, tickets for the A380's scheduled flights in October were all sold out and the airline said that the aircraft is the most sought-after it operates, with the highest load factor. China's new wealth also saw first-class tickets sell out faster than those for economy.
Edward Plaisted of Skytrax Research put some of this popularity down to the aircraft's novelty factor: "China Southern A380 domestic flights PEK-CAN are constantly oversubscribed versus their many A333/B777 alternatives an hour or so later," he noted.
And despite not being as iconic as some A380 interiors offered by rival carriers – there's nothing to match Emirates' luxurious showers or even Korean Air's duty-free shop – China Southern's delivery is still of huge significance: "CSN's deployment of the A380 should be considered as a really important iconic moment in the region – it represents this millennium's equivalent of Concorde," suggested Peter Knapp, creative director at strategic branding and design firm, Landor. "It represents a new era in air travel for China and all the optimism that comes with that. As the country rapidly becomes a true super power, the A380 is symbolic of that new epoch."