We've been here before, haven't we? First there was Maxjet, followed by EOS and then Silverjet. 'Who?' I hear you ask. Let me remind you – all three now-defunct transatlantic carriers grabbed the headlines at the time of their launch as a result of their unique all-business-class cabins, which offered an atmosphere akin to the exclusive club-like ambience that was once the preserve of Concorde. However, all three ultimately failed to live up to the hype when exposed to the commercial realities of the cut-throat airline business.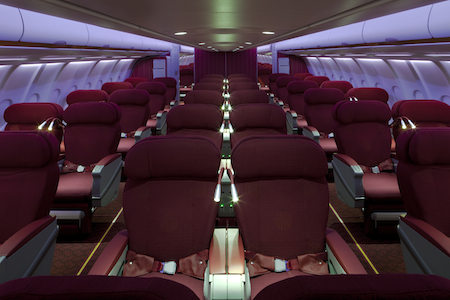 True, their refitted and repainted 757s and 767s proved popular with corporate types looking for a bit of a bargain and something different to brag about to their colleagues, but in the end they couldn't compete with the established pack of flag carriers, who were able to offer better schedules, wider networks, more convenient airports and more modern, efficient aircraft.
Ever-increasing fuel prices, coupled with a downturn in business travel due to the stuttering economy at the end of the last decade, didn't exactly help their chances of survival. Unlike the bigger, more established carriers, these 'boutique' operations were unable to hedge their fuel costs as effectively, and were left with no plan B when big business started cutting back on expenses. Their investors baulked and the rest is history.
Despite their failure, their legacy lives on: British Airways' exclusive Club World London City service to New York's JFK is operated by two A318s fitted with only 32 business-class seats across eight rows. Each seat converts into a fully flat 6ft-long bed. The airline went on to launch its Paris-based subsidiary, Open Skies, an all-business carrier that operates between New York-Newark and Paris-Orly, using a fleet of three Boeing 757s fitted with 84 seats in a 2-2 pattern. Open Skies offers a slight twist, with the cabin split in two: the Biz Seat section offers 72 seats that recline 140°, while the Biz Bed cabin, as its name suggests, offers a dozen seats that convert into fully flat beds. Innovative features on board include personal entertainment systems, universal power outlets in every seat and fine dining.
Eastern promise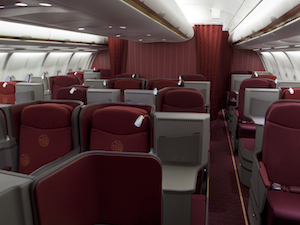 And in early 2012 Hong Kong Airlines pioneered the all-business model between Europe and Asia, with its exclusive 'Club Class' service on board three A330-200s flying overnight between London Gatwick and Hong Kong. From 8 March 2012, Flight HX876 would leave London at 21:30, arriving in Hong Kong at 17:45 the following day, while Flight HX875 departed Hong Kong at 23:50, reaching London at 05:55 the next morning.
Each A330-200 features 116 seats split between two premium cabins: 'Club Premier' at the front and 'Club Classic' to the rear. Club Premier comprises 34 EADS Sogerma Solstys seats that convert into fully flat 6ft 1in beds in a staggered 1-2-1 layout. "The staggered configuration of the central seats provides the best customer choice, with each consecutive pair positioned at the maximum distance apart for solo guests, or for those travelling with partners, the 'honeymoon' pairs are configured closer together to create a more intimate and sociable travelling experience," explained Gerard Clarke, Hong Kong Airlines' UK general manager.
"The Club Premier seating choices are communicated via the website, reservations team and through travel trade partners," he continued. "There will be no pricing differential and advance seat selection is free of charge immediately from time of booking."
A fine dining service with individual table settings, superior wines and champagne, and a turndown service with duvets, pyjamas, slippers and luxury amenity kits, complete the offer.
Club Classic features 82 Recaro 4220B cradle-style seats at 51in pitch in a 2-2-2 layout. Each 22in seat reclines 155°, which Clarke believes is enough to satisfy an emerging demand for a product somewhere between premium economy and full business.
"Research and feedback received by Hong Kong Airlines demonstrated that small and medium enterprises and high net worth leisure travellers are seeking greater comfort and value than is being offered by other airlines' premium-economy cabins," he stated. "These products are considered to be far closer to economy class than business class.
Club Classic's 2-2-2 configuration provides excellent seat width and the 51in pitch delivers a level of seat recline and personal space far exceeding any premium-economy products. In addition, business-class catering and onboard bar facilities provide further benefits for the cost-conscious traveller not willing to forgo genuine comfort on a long-haul service."
Club Premier features a full-service bar, while Club Classic has its own self-service bar at the rear of the aircraft. LED mood lighting is featured throughout the cabins to vary the ambience depending on the time of the day and both bars include LED feature lighting.
Entertainment factor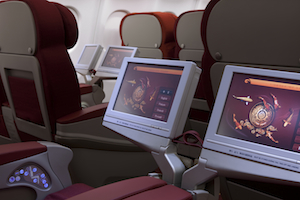 All cabins are equipped with WiFi, AVOD IFE, digital magazines and high-definition 16:9 ratio widescreens, with 15.4in monitors in Club Premier and 10.4in screens in Club Classic.
According to Clarke, the airline selected Thales' i5000 IFE system for its robustness and improved functionality and reliability over earlier AVOD systems. "The user interface has been designed with ease of use in mind and will feature recognisable icons and multiple language options," he added. "Simplicity will ensure that guests will have no problem navigating the extensive content, even if it is their first time using such an IFE system."
The airline is currently evaluating the benefit of allowing passengers to order meals, drinks and other items via their touchscreens. More than 100 movies, television shows, music and games, as well as e-magazines and books, should provide plenty of distraction. An advanced moving map by Rockwell Collins provides live aircraft route information.
Passengers can make calls using SITA and Airbus' OnAir service. The ALNA V2 platform uses the Inmarsat I4 satellite and provides 802.11b/g SwiftBroadband with two channels of bandwidth at 432kbps per channel.
"OnAir will enable up to 16 passengers to make and receive simultaneous voice calls," noted Clarke. "The fully wireless cabin also allows guests to send and receive SMS messages, emails, instant messaging, internet browsing, corporate networks via VPN client and other services over GPRS on smartphones, tablets and laptops."
Code red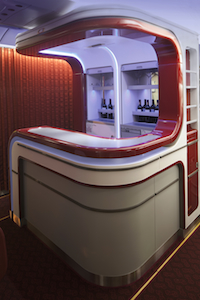 Unsurprisingly, the cabin scheme is dominated by shades of red, the carrier's corporate colour. "Seating fabrics are consistent throughout Club Premier and Club Classic and are in two shades of red, featuring a Chinese motif, which is a blessing for good fortune," explained Clarke. "Carpets [supplied by Lantal Textiles, which also provides the curtains and seat covers]are a rich deep red with a subtle pattern designed to provide texture and be highly serviceable."
Seat frames are pale grey while the cabin structure of walls, ceiling and lockers is clean white. A red-and-gold trim runs the length of the overhead lockers and this feature is replicated in the emergency lighting strip at floor level. The bars feature high gloss red accents. The cabin concept and design were undertaken internally by HNA Group, the airline's parent company.
Passengers enjoy similar surroundings back on the ground. "Hong Kong Airlines operates from freshly refurbished areas at London Gatwick North Terminal and initiatives by the airport operator will ensure that a premium ground experience will be provided to all customers," said Clarke. "Customers can expect a significant level of service at the airline's home base at Hong Kong International Airport, including the lounge, which is available to all Club Premier and Club Classic guests, plus Fortune Wings Gold and Silver card holders."
Risky business?
The Club Class service represents a notable departure from Hong Kong Airlines' normal offer. Its existing A330-200s in service to Moscow and Asian destinations feature 24 Sicma-supplied business-class seats in a 2-2-2 configuration at 62in seat pitch, while a traditional economy cabin sees 259 Weber-supplied seats in a 2-4-2 configuration at 31in seat pitch.
Is Clarke worried by the failure of some earlier all-business-class airlines? "Hong Kong Airlines is not a start-up airline and has developed a significant route network since 2006 out of the Far East's leading hub, including the most prosperous cities in China," he explained. "The route network is a key feature of the business model and this key differentiation was missing from the business plans of those airlines that failed. The airline is also part of the HNA Group, one of China's leading corporations with a diverse range of successful businesses, including ownership of Hainan Airlines, China's fourth largest airline."
Established in 2006, Hong Kong Airlines serves 25 cities in Asia and Europe with a modern fleet of Airbus A330-200s and Boeing 737-800s, as well as large orders for next-generation aircraft – it will receive more than 50 new aircraft in the next four years, including four A380s, six 787s and 20 A330-200s.
Clarke is confident that the new service will be a success: "We have gained a reputation for outstanding service over the past five years and we look forward to extending this to our new flagship route, connecting two global business capitals," he said.
"The concept for the all-Club Class aircraft provides passengers with a private jet-style ambience and an exceptional crew-to-guest ratio, and we are confident that we have the right knowledge and experience to make a success of the new all-Club Class daily service. We are working to quickly reach a seat factor of about 70% soon after launch and will continue to develop the route further."