With the excitement building in anticipation of receiving its first A380 in 2012, in 2011 Thai Airways International (THAI) was continuing to revamp its existing long-haul fleet of Boeing 747-400s. The airline's first retrofitted 747-400 – registration TGR – was introduced on the twice-daily London-Bangkok service from 1 December 2011. Its second retrofitted 747 came on line on 15 December.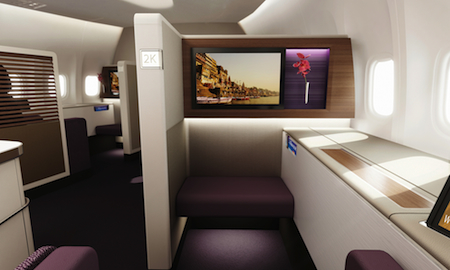 In 2011, THAI was operating 18 B747-400s in total but only planned to upgrade 12 of them in two phases – the first six to be completed by December 2011; with work on the remaining half dozen finished by mid-2012. The other six 747-400s are being gradually phased from service. The first batch of retrofitted aircraft saw new economy seating installed and an IFE upgrade, while the second batch see new seating throughout, as well as a new IFE system.
The airline's very first retrofitted 747-400 was completed by SIA Engineering Company. However, THAI announced in August 2011 that its MRO division, THAI Technical Department, was taking over responsibility for carrying out the work for the 11 remaining 747s at its Don Muang Airport facility in Bangkok.
"We have the ways and the means and the capacity to do it," explained Krittaphon C. Chantalitanon, THAI's vice president of product and service development. "There were also some delays and cost escalations with the first aircraft," he continued. "After some consultation, we decided our own MRO people can do this – and they have proved that they can do it very well – we have done a lot of work for other carriers, so why not us?"
The work for the first six aircraft cost approximately THB200 million (£4 million) per aircraft and took 40 days. The second batch, which saw new seats installed in all three classes, pushed the cost up to THB480 million (£9.5 million) per aircraft and took 60 days to complete.
All change
The decision to install new interiors was prompted by the imminent arrival of the carrier's first A380. "We took delivery of the first 747-400 almost 20 years ago," says Chantalitanon. "With the new flagship A380 being delivered to THAI next year, business class will feature a staggered fully flat seat. And the first-class cabin will see individual suites. So we needed to have something complimentary, so when we deploy our aircraft on different routes the gap between product will not be so huge."
THAI has configured its A380s with 507 seats in total: 12 Venus suites from Contour in Royal First at 82in pitch; 60 EADS Sogerma Solstys seats in a staggered 1-2-1 configuration at 74in pitch in Royal Silk (business); and 435 Spectrum seats from B/E Aerospace at 32in pitch in economy. First class features 23in IFE screens, while business-class sees 15in monitors, and economy boasts 10.6in screens.
Before the retrofit project began, THAI had two distinctive cabin offerings on its 747s: "We have two different configurations: the original one with twin first-class seats; and a more recent one with single full-flat seats in first class," explains Chantalitanon. The six 747s featuring the single first-class seats will only see the introduction of new seating and AVOD IFE in economy, while those featuring the twin first-class seats will be completely refurbished.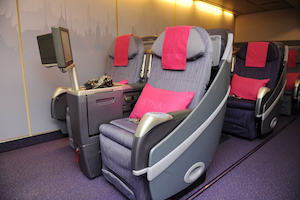 Hence THAI's first batch of retrofitted 747s continue to offer B/E Aerospace's Oasis unit in first class at 80in pitch. Each seat is 21in wide and converts into a 27in-wide fully flat bed, and features a 10.4in personal IFE screen. EADS Sogerma's Evolys units (pictured left) continue in business class on the main deck at 60in pitch, converting into angled beds, with a 10.4in monitor.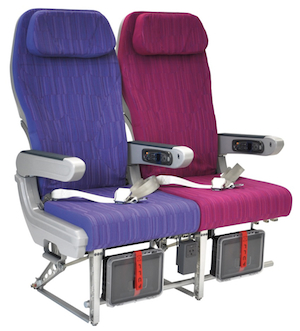 The existing Recaro-supplied economy seats were removed and replaced with new units from ZIM Flugsitz (pictured left), installed at 34in pitch. Each seat is 18in wide and has a 9in IFE screen. Despite being a relatively new supplier, Chantalitanon believes THAI's selection of ZIM does not represent a risk: "At the end of the day, you look at their specifications – they have to pass the test," he says. "We are confident in their product."
Economy passengers will also now be able to enjoy access to Panasonic's AVOD 3000i IFE system, having previously been limited to a broadcast-only system.
Once complete, seat count and configuration across the first batch of retrofitted 747s will remain the same: 10 full-flat seats in Royal First; 40 in Royal Silk (business); and 325 in economy.
Second shipset
THAI's second raft of 747s, delivered in 2012, see the existing 14 Weber-supplied first-class seats replaced with nine Oasis suites from B/E Aerospace, as well as a new bar unit, all in Zone A.
Priestmangoode, which worked with the airline on the new suites, says the inspiration behind the design was to create a contemporary cabin whilst reflecting the key elements important throughout Thai culture: "These include privacy, reflected in the high-level screens with louvre panels that allow passengers to see out but not for others to see in," explained Jo Rowan, head of brand and strategy at Priestmangoode. "Indirect lighting is used wherever possible; from wash lighting through to illuminated recesses and stowage compartments, creating an atmospheric cabin and reflecting the ambience created throughout contemporary Thai interiors," she continued.
Individual wardrobes are incorporated and there are also individual orchid displays, a gesture that is seen throughout Thailand. "Silk and teak finishes are used throughout and the colours are a muted interpretation of THAI's brand colours, creating a calm and sophisticated impression to the cabin."
The 40 Recaro-supplied business-class seats were ripped out and replaced with the same number of Evolys units. New Spectrum economy seats from B/E Aerospace were also fitted, along with Panasonic's AVOD eX2 IFE system. As a result of having one less first-class seat, overall seat count reduces slightly to 324 seats in total.
Level best?
Despite the overhaul, THAI is still not able to offer full-flat beds in business class on its 747s – with the seat reclining only 170°. Chantalitanon explained why: "We are one of the few carriers that has a galley on the main deck in Zone B," he says. "If we were to do that [go fully flat], our seat count would have been reduced by half. Our commercial department doesn't agree with that and preferred to have angled flat. And when the A380 enters service, there will be aircraft with full-flat seating serving our primary trunk routes on our European routes anyway, so the non-flat seats can still serve on our other routes within our network."
In fact it will take until 2016, by which time THAI will have retired its 747s, before it can say it offers fully flat beds in business class across its entire long-haul fleet, which at that point will consist of A380-800s, 777-300ERs and 787s. "Our goal is to offer full flat beds on all long-haul intercontinental flights by 2016 – this is a must for business travellers," said Chantalitanon.
Popular distraction
The fact that the airline is upgrading its IFE across all its retrofitted 747s emphasises the importance passengers now place on being entertained in flight. With the removal of its old broadcast system in economy, passengers in every class can now play, rewind and pause films and programmes as they please. Overall, content is being increased from 48 to 100 movies, from 45 to 150 TV features and short documentaries, and from 80 to 500 music CDs. There will also be 17 music channels in addition to passenger information such as airport and destination-related information. THAI is also installing a telephone with credit card reader to make calls to ground networks and a 115V power outlet in every seat.
"The old IFE system was one of our weaknesses compared to our competitors," admitted Chantalitanon. "We believe we have a very good product – the service, the food, the network, the frequency – but we have lacked in IFE." However, with the new system, Chantalitanon believes "only one or two other carriers offer more hours of entertainment," before adding that these carriers provide "features geared more towards their ethnic markets, rather than international content."
The new system also weighs less – and Chantalitanon says weight is never far from the airline's thoughts – the carrier has just introduced an inflight 'e-magazine' on its A330HGW aircraft and plans to roll it out across its long-haul fleet.
The first batch of 747s do not offer passengers any connectivity, although Chantalitanon says its second batch will include a paid-for service, to ensure they are more consistent with its A380s: "We are working with OnAir to offer onboard internet and connectivity on our new A380s," he said. "From a passenger point of view, the rate will have to be competitive enough to encourage them to use it – we are still working on agreeing the correct price point."
Feel the difference
With huge investment in new aircraft and interiors, THAI hopes to stand out in the highly competitive Asian carrier market. By 2016 the airline will be transformed. Until then, it will continue to offer its retrofitted 747s – but will passengers be happy with the product once they've flown the A380? "For first class, the difference is not so much, because both will offer suites – obviously the A380 is a little bit more spacious than the 747," stated Chantalitanon. "The real difference between the two aircraft is in business class – the A380s feature staggered seats, whereas the 747s remain the conventional twin seating. Economy class is quite similar across platforms, in that both feature full AVOD IFE with more than 1,000 hours of non-stop entertainment."