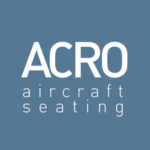 Website Acro Aircraft Seating
') } else if (width >= 425) { console.log ('largescreen'); document.write('') } else { console.log ('nompuad'); document.write('') } // -->
Acro Aircraft Seating is more than just a manufacturing business, we have an entrepreneurial spirit that drives us to fulfil our vision of Perfect Comfort for Passengers, supported by a dedicated team who share our belief – from designers and engineers, through to production, quality, sales and support.
This is a fantastic opportunity to join an innovative, award winning and high growth business and continue to develop your career within Quality.
Location: Crick, Northampton (NN6)
Salary: Competitive
EXCELLENT BENEFITS
25 days holiday + bank holidays
Pension
Healthcare schemes
Retail discounts
Reporting into the Manufacturing Quality Manager and working as an integral member of the Manufacturing Quality Team, you will be required to ensure that all Quality standards are met for both manufactured and purchased products in accordance with approved design data (drawings), technical specifications and BoM's (Bill of Material).
Key responsibilities:
Comply with the requirements defined by the Quality Management System in line with company objectives.
Inspect incoming goods or FAI as required.
Monitor internal reworks (as necessary) to the required quality standards.
Liaise with the production teams, supporting and promoting quality improvement activities.
Support quality issue resolution activity in the production areas and provide support for AIRBUS NC/CAPA analysis.
Final Inspection of Seats and completion of FIS's and ATP's.
Prepare Seats for Customer FAI.
Source inspection in support of customer requirements.
Manage rejects/QC hold on shop floor.
Raise and manage NCRs including Containment, Root Cause Analysis, Corrective and Preventative Actions.
Contribute to trend analysis and line audit.
Release of product on EASA Form 1 as required
Skills & experience required:
Previous experience within a similar role.
Proven ability to read Engineering Drawings including good knowledge of GD&T.
Good level of understanding of Aircraft Interiors Cosmetic Guidelines.
A working knowledge of First Article Inspection requirements (AS9102).
Knowledge and Experience of Structured Problem-solving tools such as 8D.
Excellent interpersonal and communications skills (both verbal and written), with the ability to influence at all levels.
Understanding and experience of NCR and MRB processes.
Skills and experience with a Coordinate Measurement Machine (CMM)
Exceptional problem-solving skills.
Diligent, enthusiastic, and driven, with an excellent work ethic, and a "can do" attitude.
Excellent planning and organisational skills, with the ability to work under pressure, prioritise and manage conflicting demands.
Highly adaptable and capable of making decisions in a fast and pressured environment.
Confident in the use of Microsoft Office (i.e Word and Excel) and accurate data entry skills.
The parent company of ACRO Aircraft seating is Zhejiang Tiancheng Controls Co., Ltd headquartered in China. We therefore welcome mandarin language capability as a desirable requirement.
We really want to hear from you so do not miss your opportunity to join us! Once you apply, your CV will be held on our central database.  Please do let us know if you do not wish for us to retain your details.  If your application is successful, you will be contacted in due course.
Please note: This advert may close early if sufficient applications are received.
Acro Aircraft Seating are an equal opportunities employer.
Please view our website for access to our Job Applicant Privacy Notice.