According to Alexandre de Juniac, director general and CEO of the International Air Transport Association (IATA), "The aviation industry is on the verge of a new era, in which the use of data and the ability to turn data into information and insights will be more crucial than ever."
') } else if (width >= 425) { console.log ('largescreen'); document.write('') } else { console.log ('nompuad'); document.write('') } // -->
Data allows us to make decisions based on a series of information points, and the faster that data can be accessed and analysed, the quicker intelligent actions can be taken, which is key to success across the whole industry.
With the world's commercial aircraft fleets recovering and business aviation booming, connectivity services are once again under the passenger, crew and operations spotlight. Usable connectivity for today's data-intensive applications and services requires high bandwidth, low latency, and symmetry. In aircraft, this means having reliably high throughput rates (bandwidth), the ability to get the data off an aircraft just as quickly as you can send data to it (symmetry), and that this round-trip happens with minimal delay (low latency / real-time).
Whether it's an office in the sky, aircraft telematics, fleet operations, or better coordination among the disparate providers and users of air traffic infrastructure, inflight connectivity's purpose has moved well beyond email or web browsing, instead towards providing a consistent connection that is usable by the entire aircraft ecosystem. Through the emergence of high-performance inflight networks, we will begin to witness the transition from passenger connectivity to the connected aircraft, with data at its heart.
Do big things with your big data
Modern aircraft produce copious data points during a typical flight, from engine performance, climb rates, takeoff and landing events, to receiving weather patterns and analysing fuel burn. Not all data is equal – most is more 'noise' than 'signal'. However, the amount of useful data generated has been much larger than traditional inflight communications networks could easily handle, especially without disrupting passenger connectivity. The high cost per unit of data sent in legacy networks, along with their inherently narrow bandwidth, sometimes resulted in significant on-board filtering that limited transmissions to only the most essential messages, capping the utility of real-time data communications. Consequently, most inflight data has traditionally been offloaded after a plane has landed. Any meaningful analysis was done on a periodic, after-the-fact basis, rather than in real or near real-time.
The newest inflight networks vastly improve this situation because they offer bi-directional, high-bandwidth communications with low latency at a much lower cost per bit. This means aviation can finally start to take proactive advantage of big data, modernising all aspects of aircraft operations. For example, having access to the right real-time data from both ground and inflight systems, pilots and dispatchers can continuously adjust a flight plan based on the constantly changing airspace, weather, and aircraft constraints, supporting more efficient flight paths, minimising holds, and in turn reducing aircraft emissions while saving fuel. It also means being able to use better predictive maintenance algorithms and being able to design higher-performing aircraft components, including engines – all of which are key for aviation to meet its green goals, economically and environmentally.
Protecting your data
In aviation, a lack of data security is not just irritating, it can also be dangerous. As more data is transferred from an aircraft to the ground and back, keeping it secure is increasingly important. With legacy inflight networks, many aircraft physically receive the same signal because it's broadcast over a large coverage footprint, the network core is in one physical location, and aircraft had static IP addresses, all of which made it easier for malicious actors to hack.
Thankfully, new networks add an element of physical and virtual security to enhance the protections already in place. For example, in a modern, beamforming, air-to-ground network, each aircraft is assigned its own narrow radio beam, giving it a unique physical network connection with dedicated bandwidth. This provides unprecedented speed, data security and integrity throughout each flight, because that bandwidth is not physically shared with any other aircraft. By employing advances in software-defined networking and network function virtualisation, the system becomes more dynamic and more hardened to cyberattacks.
Advanced layers of authorisation can ensure the security of the data. Coupling bi-directional high bandwidth with low-latency performance enables the application of easily available and common security tools built for terrestrial networks (such as a VPN connection). As aircraft become an extension of the enterprise, reliable network connectivity and common security tools will permit enterprise risk management teams to assess and mitigate cybersecurity concerns across the spectrum of airborne and terrestrial operations.
The future of aviation is secure data
With the increasing reliance on cloud-based computing and the impending proliferation of new air vehicles, be they eVTOLs, unmanned systems, or simply more modern aircraft, secure data will play a significant role in enabling the air traffic management and infrastructure needed to make autonomous flight a reality. Understanding the movement and control of these aircraft is critical for smart cities and nations to safely permit multiple types of aircraft to operate in harmony in their skies.
With fast access to data, airspace controllers can also minimise delays and improve efficiencies in line with goals to cut carbon emissions and aid the sustainability objectives stated by council president of the ICAO, Dr Olumuyiwa Benard Aliu, at COP21: "Every state and every global industrial sector must now redouble their efforts toward achieving substantial progress on emissions reduction if the COP21 legacy is to be achieved, and the civil aviation community is no exception."
Access to real-time data allows the various stakeholders to better understand airspace operations and to quickly react to any developing situations – a challenge becoming even more prevalent with the introduction of Advanced Air Mobility.
The aviation industry is still at the outset of this journey with many questions still to be answered, but harnessing powerful data through dependable, responsive and secure connectivity will ensure steady progress towards its transformative goals.
About Ryan Stone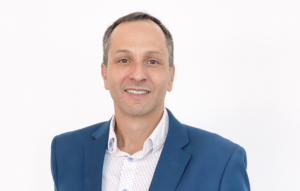 Ryan is the president and a co-founder of SmartSky Networks. Previously, he was also a co-founder of Davinci Jets, a leading private aviation management and charter firm in the Southeastern USA.
Ryan has held engineering and leadership roles in Duke Energy's Nuclear Generation Department and he began his career serving as a submarine officer in the US Navy. He holds an MBA from UNC-Chapel Hill's Kenan Flagler Business School and graduated with distinction from the US Naval Academy, where he earned a BS in Systems Engineering.