Sustainable Skies World Summit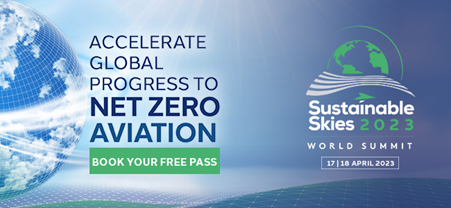 The Sustainable Skies World Summit will see representatives from the global aerospace, energy, manufacturing, finance and investment sectors, alongside regulators, academia and government departments, come together for two days of networking, demonstrations and insight sharing.
The conference and exhibition will showcase the latest developments in sustainable aviation technology and provide a forum to discuss how the industry can move in earnest, from goal setting to implementation of net-zero strategies. The event will also highlight opportunities for the next generation of engineers and young people who will make jet zero a reality and address the future workforce challenge.
The programme has been designed to stimulate collaboration and enable industry pioneers to leave with tangible outcomes to reach net-zero targets by focusing on five key topics: sustainable aviation fuel (SAF), carbon removal, zero emissions, operation efficiency and the future of flight.
Organisations showcasing their technology at the show will include Wheeltug, Saudi Airlines and Cranfield Aerospace Solutions, alongside industry supporters like BAG, ADS Group and Sustainable Aviation Coalition.
Sustainable Skies World Summit is free to attend.