Co-chief executive Bernard Gustin was visibly enthusiastic during the presentation of Brussels Airlines' new cabin in early January 2012 at the airline's headquarters near Brussels Airport. The cabin upgrade gives a new dimension to the term 'passenger comfort'. "Customers boarding a Brussels Airlines long-haul aircraft will have the feeling they are entering a brand new aircraft," he vowed. "If we compare this level of comfort to the product of other airlines on transatlantic flights or routes to and from Africa, we can conclude that we will become a real precursor and trendsetter of quality in terms of seats, relax possibilities, leg room and entertainment technology."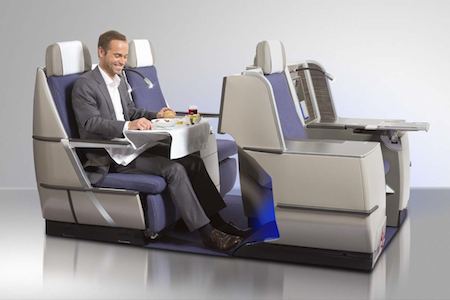 The cabin upgrade is an important step and financial undertaking for Brussels Airlines (SN). The airline, which transported some six million passengers in 2011 aboard 45 aircraft, invested €30 million in 2012 to revamp the interiors of its wide-body fleet, comprising five Airbus A330-300s and two A330-200s. The refurbishment includes new business-class seats, new economy-class seats and the introduction of IMS Company's seat-centric RAVE IFE system throughout the cabins. Also lavatories and galleys are getting a complete facelift, with hot air ovens making way for steam ovens that guarantee a higher quality food offering.
The comprehensive upgrade project started in 2009 and is part of the company's strategy to strengthen its long-haul network while consolidating its medium-haul operations where profitability is an unremitting issue. SN certainly is not an exception here: virtually all European network carriers, including Iberia, SAS, Lufthansa and Air France, have a too high cost base to effectively compete with budget airlines. The Brussels-based carrier, in which Lufthansa Group holds a 45% share, added two A330s in 2012 and its growth plan added another two in 2013, lifting its wide-body fleet to nine. All aircraft are on operating lease from several lessors.
"Coinciding with our new strategic goal was the thinking that our current product was at the end of its lifecycle," conceded product development manager, marketing, Eric Kergoat. "We have a lie-flat-at-an-angle bed [in business], which is what European carriers like KLM and Air France offer today. So the product is still competitive but we have to do better. We want to be best-in-class on long-haul, not only in business but also in the economy cabin." The best-in-class approach applies to the complete onboard experience, comprising service, seats, catering, lavatories and IFE, he stressed. "We will offer a 360° four-star hotel-like customer experience on board our widebodies."
Demanding subject
While SN's previous long-haul business class product was comparable to its continental peers, economy class did not really meet passenger expectations for a full-service European flag carrier. This was mainly owing to the lack of a personal, in-seat, AVOD IFE system. Its wide-bodies still have drop-down LCDs.
Brussels Airlines wanted to compensate for this shortcoming and installed IMS Company's RAVE seat-centric system, for which it was one of the launch customers. "We evaluated the systems available on the market today and decided to choose a seat-centric IFE system because we believe this new technology is much more reliable and much more cost effective than the classic central-based embedded systems," noted Kergoat, emphasising that "the system is really a win-win for the passenger and for the airline."
The passenger gets "instantaneous access to the content, which is stored locally in the screen, and moving forwards or backwards is much faster [than with the traditional embedded IFE product] thanks to a very user-friendly interface similar to popular electronic tablets. The risk for failure is practically eliminated and on top we can change the screens in some seconds. We will have spare parts on board our aircraft. This minimises the possibility of leaving a customer without IFE throughout the duration of the flight," he added.
A major "win" for the airline, besides better customer satisfaction and low IFE maintenance costs, arises also from the "fact there is no penalty for carrying the heavyweight traditional server-based IFE platforms," according to Kergoat. Initial estimates by SN expect weight savings per aircraft due to the new seats and seat-centric IFE will be about 500kg. This represents saving of approximately 1,270 tonnes of CO2 per year for its wide-body fleet.
Crew conundrum
The airline did some tests with tablet/DVD player devices but "we concluded that it is a difficult and complicated option when you have for example 250 passengers on board. It involves, amongst other things, a high additional workload for the crew," commented Geert Sciot, the airline's VP of communications. Sciot said that just providing the downloadable content for passengers' own devices might be an option in the future but is not a solution yet today: "Also bear in mind that on our African routes, many passengers do not own or do not bring their own device with them on board. Just offering content would mean that the majority of your passengers would not have access to IFE."
Brussels Airlines chose to install 15.3in touchscreens in business class and 8.9in touchscreens in economy. The content is available in six languages: English, Dutch, French, German, Italian and Spanish, which are also the six languages of its website, and is provided by Atlas Air.
The new cabins feature another novel IFE app for the carrier, Lufthansa Technik's 'niceview' moving map system, already flying on Lufthansa's A380. The carrier opted not to add WiFi capabilities because "our studies have shown that this is not a stable technology yet, for instance engineers are not sure about how many wireless access points are necessary for a wide-body aircraft due to the size of the cabin, and we want our new IFE to be 100% reliable," explained Kergoat. Also, there will be no Live-TV when the first refurbished A330 will be deployed "we are working on introducing TV daily news at a later stage," he revealed.
Both business- and economy class-seats have a headset port and USB power port for recharging MP3 devices and smart phones, while business-class seats will also have a laptop power port and personal video port for watching videos stored on their iPod.
Warm and contemporary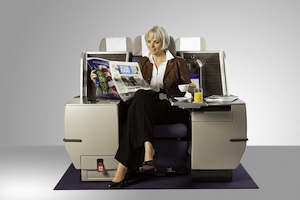 Business class features 30 seats in a staggered configuration, which sees mixed rows of 1-2-1 and 2-1-2 abreast seating, meaning that 24 seats have direct aisle access and that 10 are "king seats" – i.e. they have no adjacent seats. Thompson Aero Seating's Vantage seat turns into a 1.97m full horizontal bed and has a blue LED mood light integrated in the seat at three different points: at the storage, at the foot rest and at the head rest. The light has three automatic modes linked to the seat motion but is also adjustable by the passenger (but not controllable by cabin crew).
The Thompson Vantage configuration was initially designed for and launched by SWISS but "Brussels Airlines is launch customer for the second generation Vantage seat, which is now produced by Thomson Aero Seating. And we are the second commercial airline in the world to introduce Lantal's Pneumatic Comfort System (PCS) on our new business-class seat, after SWISS," said Kergoat. "PCS gives a unique level of comfort and creates a 'real bed' feeling."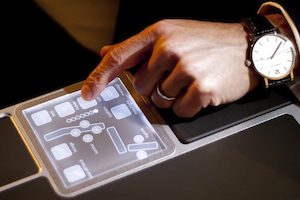 Passengers will be able to control seat position, pneumatic cushion pressure and the in-seat mood light intensity via a latest-generation touchscreen Passenger Control Unit in the arm rest area. A secondary touchscreen PCU is embedded in the head area at sleeping position.
The new economy interior features Geven's new lightweight long-range economy Steezy seat, for which Brussels Airlines is the launch customer. The -300s will have 258 economy seats in a 2-4-2 abreast configuration. Seat pitch is 32.8in, seat width is 17.9in and recline is 10.6°. The adjustable headrest is in leather whereas the seats are covered in fabric supplied by rohi. The pattern is slightly different from the one on the business-class seats, but blue and different shades of cream and grey are dominant in the front and the back of the cabin.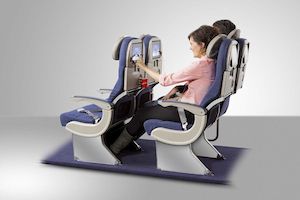 The new A330 interiors combine a modern design with a warm, relaxing atmosphere: "The warm colours reflect our positioning as the preferred carrier to Africa and the contemporary design represents our origins of a modern European airline," explained Kergoat, adding that "the new cabin will have a premium feel and offer the highest comfort standards mirroring our positioning of superior quality, reliability, and service."
SN decided against introducing a premium-economy: "We are offering a premium-economy product for all economy passengers – we're best-in-class and consequently there is no need to have a 'slightly better than standard economy'," contended Kergoat. "Our economy passengers get a generous 32.8in pitch, complementary meals, alcoholic beverage, blankets and pillows." In addition, "not one carrier in the Lufthansa Group offers a premium-economy product," added Sciot.
Brussels Airlines selected Lufthansa Technik Malta to retrofit the aircraft. The first refurnished aircraft were placed into service from spring 2012, and by the end of the year, all seven aircraft were fitted with the new seats, IFE, lavatories and galleys. SN's new daily scheduled services to New York JFK, which commenced in June 2012, operates with the new inflight product and the upgrade is becoming gradually more available on the African network.