Those in search of a proper bed in the sky need look no more – in 2011 Lufthansa overhauled its first-class cabin on the upper deck of 10 of its Boeing 747-400s. In a move to ensure a quieter and more exclusive atmosphere, seat count was slashed from 16 to just eight – enabling the airline to introduce full-length, dedicated beds next to each refurbished seat.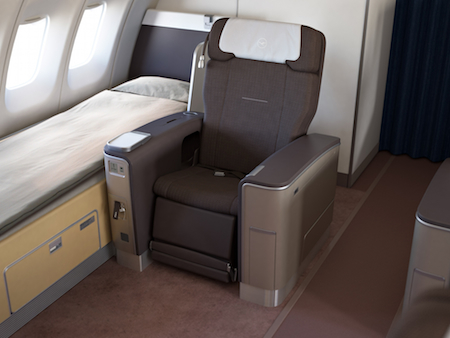 The beds have been crafted by Lufthansa Technik's VIP department, and measure about 8ft in length. A dedicated mattress from leading German supplier, Paradise, as well as temperature-regulating blankets and pillows are included, while sound-absorbing curtains and noise-dampening insulation beneath the carpet further ensure a good night's rest. There's also a new 17in IFE monitor, while matt-brushed metal and scarred leather finishes echo the airline's first class on its A380s. Each passenger has a drawer below their bed for luggage storage, as well as plenty of stowage possibilities for personal belongings in the seat consoles.
"We want to offer customers the same value proposition across our entire fleet," explains Christina Foerster, Lufthansa's outgoing general manager of intercontinental product (she has since been appointed vice president of network and fleet development). "Sleeping comfort, a quiet cabin and flexible privacy are the three key things that we try to give each first-class passenger on all our aircraft," she continues.
"The task was to develop a product with characteristics already familiar to passengers on Lufthansa's A380 first-class cabin but one that was also independent," adds Jochen Müller of müller/romca Industrial Design, which advised on the overall cabin scheme.
Trial and error
The airline tested multiple mock-ups of new seating products before deciding to revamp its existing seats and introducing individual beds: "We looked at a variety of different seats and layouts – similar to those we have on the A380 and some completely new ones," explains Foerster. "However nothing seemed to offer the feeling of openness we were looking for and there were also issues with privacy. We also wanted something that gave direct aisle access to every customer."
Foerster insists the final decision to refurbish its existing product was not based on cost – but rather the limited proportions of the 747's upper deck: "We looked at different products but they all had really high walls and they just didn't look 'first class' in that particular environment," she says. "They didn't give the same feeling as the first class we have on our other aircraft, where we have tried to create a more open, club-like atmosphere. We even looked at asymmetrical layouts where we had two people on one side of the aisle and one on the other – but it didn't look right. We said, 'either we do it right or we don't do it at all'."
If the upper deck was causing so many problems, why not just move first class onto the main deck? "We could have moved it to Zone A like we will on the 747-8I, but it's very tough to use the upper zone in a different way to bring more revenue," says Foerster. "The upper deck on the 747-400 is not as stretched as on the 747-8I and the emergency exits prevent you from installing lots of seats – even if you moved business class to the upper deck. If you moved, you would also have to lose seats make room to build an entire new first-class galley on the main deck. Currently the galley is in non-revenue space at the rear of the upper deck."
Foerster says the decision to refurbish still represents a sizeable investment: "I would say it is approximately 60% less to refurbish than what it would cost to buy and install new seats. But I think the investment in space is a lot more, so I wouldn't say that we really saved money. Obviously to revamp is not as expensive as buying a new seat, but the value of the space we are offering is much more expensive than any seat could ever be."
With a maximum of only eight first-class passengers, the airline is reducing the number of first-class crew from three to two. "It's all relative – we had three crew for 16 passengers and now we have two for eight. The ratio is actually better from a customer perspective," maintains Foerster.
Age concern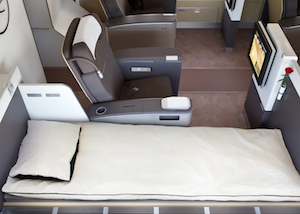 Clearly Lufthansa was not going to splash millions on what is now quite an old aircraft type, which it may well retire in the not-too-distant future. "We had to ask ourselves how long will this fleet actually stay with us," says Foerster. "How much are we willing to invest to put first class on board? And how many will we retrofit?"
In the end, it took the airline three years to come to a decision: "For most projects, the concept phase is very short and the realisation phase is much longer, but in this case it was the reverse. It took just a year to implement as we didn't have to certify a new seat, while the bed itself is considered as a monument so testing is less complex as it is not occupied for take-off and landing."
"The first project meeting was in March 2010 and the first aircraft underwent conversion by April 2011," adds Müller of müller/romca industrial design. "The timeframe for realisation was a challenge for every member of the project team. Our attention during the construction and prototyping process was particularly focused on having perfect stitch lines, wrinkle-free seat covers, smooth edges, clean curvature of all bump strips and the best haptic and optical finishes, even behind the covers and inside the stowage bins."
Refurbishment not only saved time and money, it also ensured a stock room full of spares: "The seats we are taking out can be used in the future to maintain those that remain on board," says Foerster. This is a shrewd move as the seats, which were originally delivered in 1998, are no longer available from Weber. "It's actually better to do it this way, otherwise we wouldn't know where to get the spare parts from any more," says Foerster.
Mix and match
Lufthansa is currently offering a mix of first-class products across its long-haul fleet (A330, A340, A380, 747-400) – but all for the same price. "We charge the same across the entire fleet," says Foerster. "Basically the customer pays for a first-class flight from A to B. We never differentiate in price based on aircraft type in case there is an aircraft change. Today, people pay the same price for an A380 as they pay for the rest of the fleet, which doesn't have the new first class yet. First class is not only about the product in the air but also the product on the ground – the first-class terminal at Frankfurt, the lounges, and the dedicated security channels. Most important of all, our customers tell us it's about exclusivity – the right environment and the right number of people. And it's not just about the seat, it's about being able to sleep well – all of our first-class products offer a completely flat bed with good dimensions and very few seats overall for added privacy and peace and quiet."
As a result, Foerster sees no reason to compensate passengers that find themselves flying on aircraft awaiting refurbishment, as the airline will only sell eight of the 16 available seats: "This is where I think it's important to educate the customer because they are paying the same today with 16 passengers as they will pay from April with eight passengers, so it's a great deal," she says. "We are giving a little two-headed rose to let people know that it's not a mere coincidence that they have two seats to themselves."
Ultimately some passengers will decide they prefer the A380 product, while others may favour the 747: "It's tough to choose because one has the better personal space and the other one has the better overall experience," admits Foerster. "The A380 has the better overall experience with a completely new cabin interior, more cabin volume and the new lavatories but the 747 has amazing personal space. Overall our goal was to give sleeping comfort, a quieter cabin and flexible privacy to everybody but we did it in different ways to accomplish it as best as we can on each of the different models."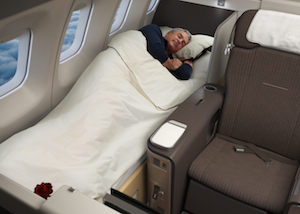 Foerster says there are no plans to specifically advertise the fact that the 747 offers a separate bed: "We will promote having a first class throughout the entire fleet and the fact that it is a really good first class," says Foerster. "That's what we stand for – we are true believers in having three classes on board our aircraft – first, business and economy. Many other airlines only offer business, premium economy and economy. Anyway, the Airbus A380 gets really good ratings for seating comfort, which are likely to still surpass the Boeing 747s after their retrofit because the A380's seats are more modern. The A380's first class seat also has a separate mattress for sleeping comfort, so it gets extremely good ratings from customers."
Next step
What about Lufthansa's new 747-8Is, the first of which was delivered in the first quarter of 2012? "All I can say is that it will have a fabulous first class, based on the first class on board our A380s," says Foerster.
The airline has revealed that the 747-8I will seat 386 passengers in total: eight in first class, 80 in a brand new business class (see here) and 298 in economy. Foerster refuses to label the new business cabin as 'high density': "It's tough to say what's high density and what's low density – from an airline's point of view everything is lower density to what we have today." However she says the new product will feature a fully flat bed with a choice between window or aisle seats, with no middle seats. "I like to think more in terms of bed length and sleeping comfort rather than density because that's what really matters in the end – and whether you have a smart configuration or a stupid one."