You may well have heard of Paperclip Design, with its many concepts that regularly receive accolades from organizations such as Crystal Cabin, Red Dot, Goldman Sachs and Good Design. However, less is known about the creative mind behind the concepts, and the purpose and progress of those concepts.
Back in 2005, as a young man who had just gained a mechanical engineering degree from the University of Hong Kong, James Lee was not short of options, but there was never any question which direction he would take. "Aviation had been my passion for many, many years. The reason I studied mechanical engineering was because I thought it would lead to aeronautical engineering," he explains.
Thus his next step was to attain a Master of Science in aeronautics and astronautics at the esteemed Massachusetts Institute of Technology, where he was also a research assistant at MIT's International Center for Air Transportation. Various commercial roles at Cathay Pacific followed, but Lee's burning desire to combine his skills with design saw the inevitable move toward creating his own design studio. "I'm passionate about design, so aviation and design is a natural combination for me," he says.
Paperclip Design began in 2006 as a part-time project while Lee was working at Cathay Pacific, during which time he developed the Paperclip Armrest (more on that later), but it became a full-time project three years ago when he left his job at the airline. He has since opened a studio in his native Hong Kong, where he shares workspace with a creative collective of engineers, architects, artists and designers, who all share ideas and collaborate on projects.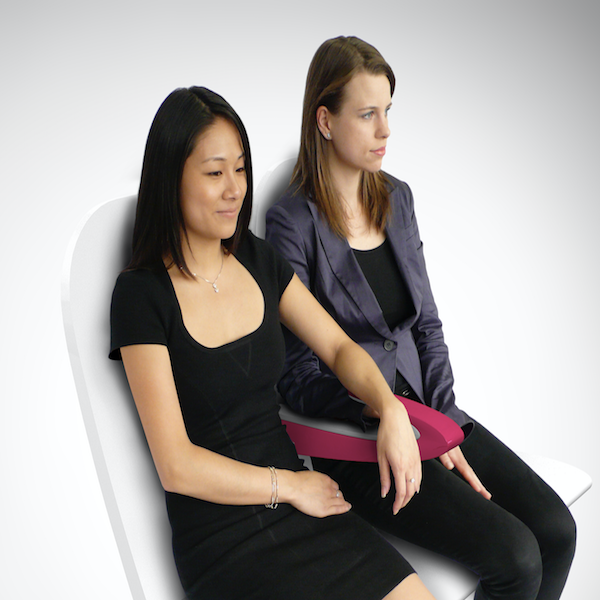 The philosophy of the studio is 'innovation, simplicity and elegance', and those who have seen Lee's concepts, such as the Meerkat, Checkerboard and Butterfly, will have noticed a focus on the economy and premium economy cabins.
Innovating within the constraints of the main cabin is where Lee feels his talents are best used, as he explains: "In terms of aircraft interior design, the most challenging space is in economy, where every half an inch makes a difference.
"When you work on premium economy and business, while you still have a lot of constraints because you always want to maximize the space, you can play a lot more with the space.
"Once you get to first class, space optimization becomes less of a problem. It becomes more an interior design project because you have so much space that it's not about squeezing an extra inch here and there; it's more like designing an apartment. In those spaces I would lose my edge because I'm not a designer by training. I never studied design, I am more of an engineer and I'm good at optimizing space, which is more about being analytical than styling," states Lee.
"I would say the more luxurious a project gets, the less it makes use of my talents, but having said that, I am currently involved in a private jet project. That's a bit ironic, but I love aviation so that's why I still find the project worthwhile and fun."
So as a keen observer of the economy space, which elements does Lee think need to be improved or changed? "I think there might be some basics in terms of ergonomics which have been taken as assumptions that nearly every seat manufacturer follows, but which might not be ideal."
His solution? "I have some ideas, such as alternative ways for the backrest and the headrest to be shaped, which I will be working on in order to test out my theories. I'll be doing work on the fundamental forms of economy seats as I think there are some very basic points of ergonomics that are worth looking into."
Flexibility
Lee's Checkerboard and Butterfly concepts indicate a fascination with the concept of 'convertible' seating, where a seat can be quickly altered to suit a class above or below. This is where Lee views the future of seating – and his company.
"Over the past 10 years, especially in business class, designers have come up all sorts of different ways to make seats more efficient, using less space and giving more comfort. That's the natural way of progressing. People will come up with even better ways to configure seats, but as a new entrant in this industry, I think I really need to be a step ahead, instead of being part of this business class arms race.
"I have placed my bets, and have chosen flexibility as my direction because I think the optimization of business class beds is reaching a plateau. It's really hard to achieve big improvements from what we have today," Lee states.
"Most importantly, as a new entrant to the market, if I want an airline to use my designs, I really have to give them a reason to use someone who's not famous. And I think that reason would be revenue."
Things are looking up
People often think of seating design in lateral terms, but what of the vertical opportunities? "Nearly all seat manufacturers use vertical space – it has been used quite extensively with current business class seats like Thompson's Vantage – but usually not entirely vertically. It is more like the cocktail tray might overlap the foot well space.
"To use vertical space further than that, it seems to me the major constraint would be regulations and safety, mainly the escape path," he says. "I do hope that the regulations can become more flexible so that more freedom can be given to cabin designs."
Tricky conditions
As a small player without the vast R&D funds of some industry names, does Lee find aviation to be a difficult sector in which to be innovative?
"Yes and no. On the one hand there are a lot of regulations in aviation which prevent radical design, but on the other hand, because there's a huge amount of cost and revenue involved, there seems to be a lot of R&D involved in aviation, which results in a lot more new products than in other industries. For example, if you look at seating, have you seen any new types of cinema seats or theater seats in the past two decades? In general, in trains or other key industries, you don't see them selecting new seats every three years. In that sense, there's a lot more incentive to innovate in the aviation industry."
The outside world
Speaking of other industries, does Lee draw influence from outside the aviation world? "When I design, I'm aware of things happening in the aviation industry, because from my other designs I have got to know the limitations and regulations, cabin dimensions – all these constraints.
"Any inspiration from other industries is mostly on styling. For example, if I want to style my seat to look very residential, like a living room, then I might look at that type of furniture."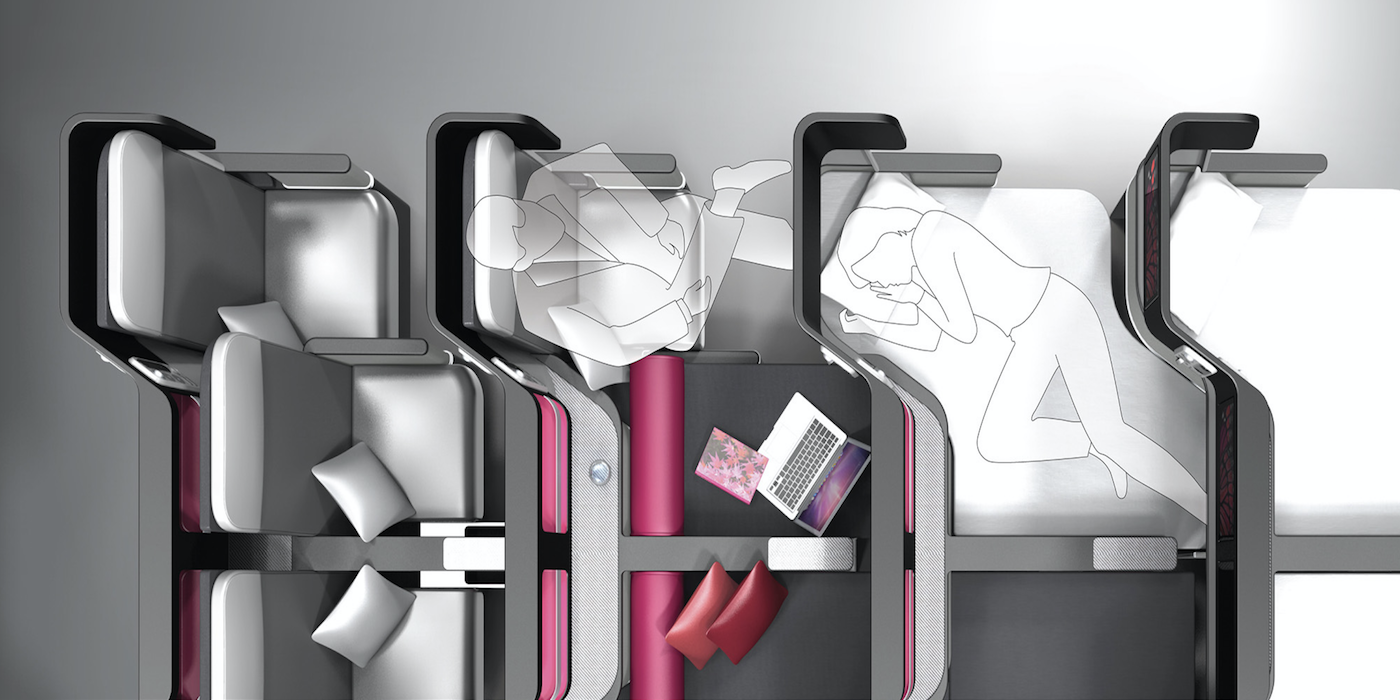 However, Lee's work is aviation-centric, because his USP is in the usage of space. "No other industry takes space so seriously as aviation. In that sense, I get a lot more inspiration from other products in aviation than any other industry."
So we know Paperclip's designs are innovative, but the big question is, when will we see them enter the commercial world? Lee is hoping to license his designs to seat manufacturers, with a focus on the Butterfly Convertible Seat.
The design is complete, and a full-size mock-up of the seat is currently being constructed at Paperclip's studio, which will be ready in mid-2015, following an expansion of the premises. In the meantime, Lee is talking to airlines and manufacturers and promoting his work through his many awards wins. As he says, "it's a long road ahead", but we have a feeling we'll be hearing more from the plucky Paperclip soon, especially given some recent Airbus news (see below).
Bold and British
As an innovative thinker, which airlines does Lee particularly admire? "British Airways and Virgin are both really innovative in their cabin interiors. If you look back at the past 20 years, it seems that a very large proportion of the real innovations are done by UK airlines or UK companies.
"For example, BA had the first flat bed in first class which was, at that point, a total game changer. It entirely changed the way that designers view the cabin. Instead of seats, they have suites.
"At this moment a lot of other airlines have better products, but at that time it was really extraordinary that they made that leap to offering a flat bed. Even to this day I admire BA's consistency in style across the cabins."
Paperclip Armrest
Where it all began: the armrest design that James Lee dreamed up in 2006 while at MIT and which lent its name to his company. The design – in the approximate shape of a paperclip – is intended to solve the problem of 'elbow wars' in high-density seating. Using a double-deck geometry, double the armrest space becomes available so neighbors can share the feature amicably. The armrest can be incorporated into existing economy seats, or even in other applications such as train or cinema seats.
If you don't like the styling, it can be specified in different shapes, forms or materials, as long as its basic criteria remain: the two levels must be approximately 3in (7.5cm) apart, with a roughly 8in (20cm) gap between the backrest and the upper level.
Explaining the current commercial status of the design, Lee states, "I'm still having some talks with some companies, but nothing is finalized yet. I did find the armrest was quite useful in getting media exposure. I probably get a lot more press enquiries about it than airline enquiries!"
Meerkat
Created in 2011, the Meerkat economy seating concept is intended to enhance the passenger experience, while minimizing weight and maintenance costs. One of the main features is an alternative to the traditional recliner mode, whereby the lower portion of the backrest cushion detaches to allow items to be stored securely behind, pushing the backrest forward to provide a deep recline for relaxation. The effectively shortened seat pan enables passengers to stretch their legs out underneath the seat in front, making full use of available space.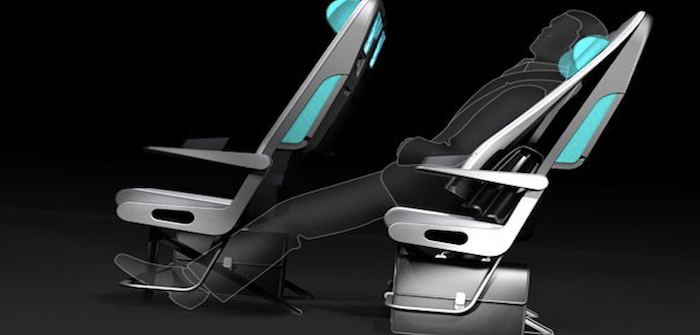 Other features include a shared literature rack between every two seats – does every passenger really need their own copy? – which can reduce inflight magazine weight by up to 50%, or 33% for triple seats; a headphone hook; a tablet stand; a fixed cupholder; a personal cabinet; an IFE box that doubles as a footrest; and of course the paperclip armrest.
Premium short-haul concept
Lee ventured into the business cabin with this conceptual study for short-haul premium-class seating. The design trades width for pitch in order to gain a better recline and easier aisle access, while that increased pitch (53-60in) also makes possible other features such as an ottoman. The staggered arrangement also gives passengers increased space and privacy, as well as providing easier access to non-aisle side passengers for crew.
The reduced seat width allows for an eight-abreast configuration on an A350 or B777; seven-abreast on an A330 or B787; or five-abreast on an A320 or B737. While it may be a little narrow, it is a short-haul concept, and Lee says that the seat width is alleviated by the staggered arrangement, which offsets adjacent seats to give passengers more personal space.
Checkerboard
Lee became known for the Paperclip armrest, but convertible seating is where he now focuses his attention. The Checkerboard Convertible Seating System concept, revealed in 2012, is intended to give short-haul operators the flexibility to adjust the cabin configuration for each flight to ensure the optimum number of economy and business class.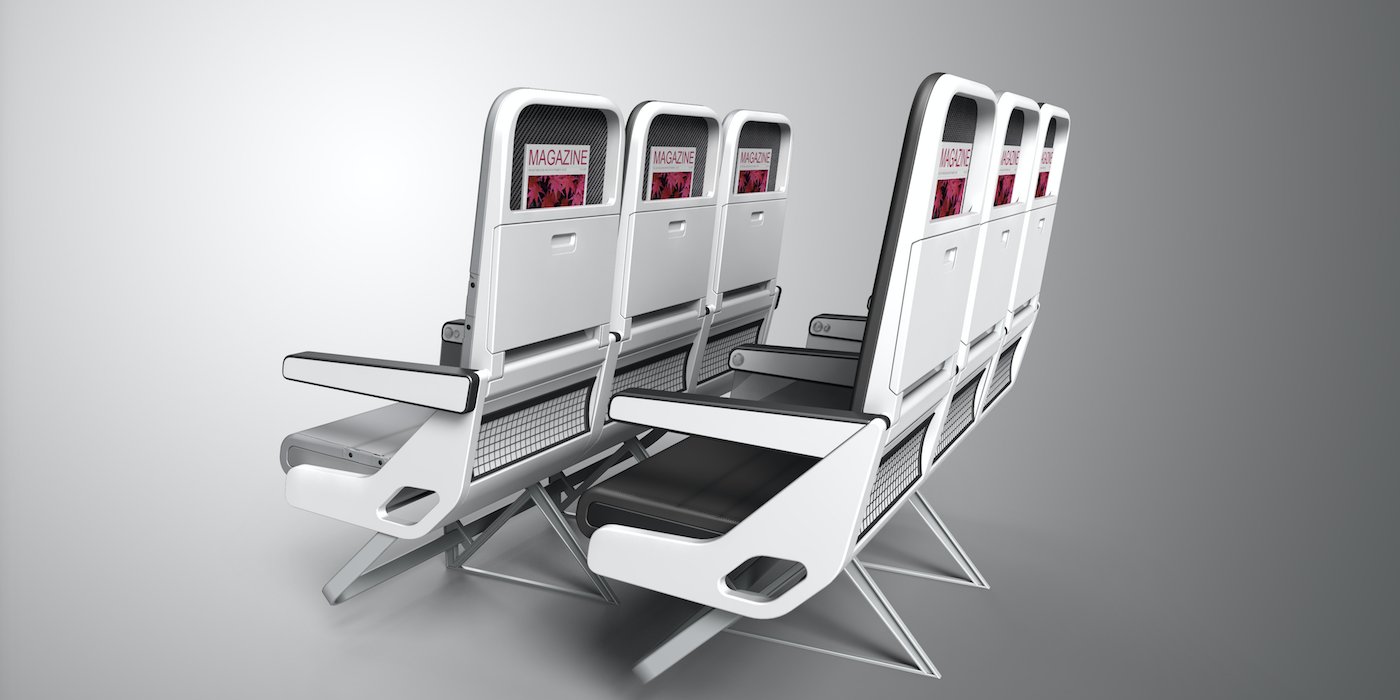 While some convertible seats only offer the option to alter seat width, Checkerboard is intended to give business travelers extra width and legroom, as well as a differentiated experience.
Every other seat, in both the x and y axes, can be folded to give more legroom to the seat behind. Thus every remaining seat, after the transformation to business class, will be next to and behind empty spaces, giving the occupants a generous, unobstructed open space in front and easier access to the aisle. The resulting business class also has a density very comparable to existing products, with 30in pitch installations equivalent to 40in pitch at four-abreast on a typical narrow-body.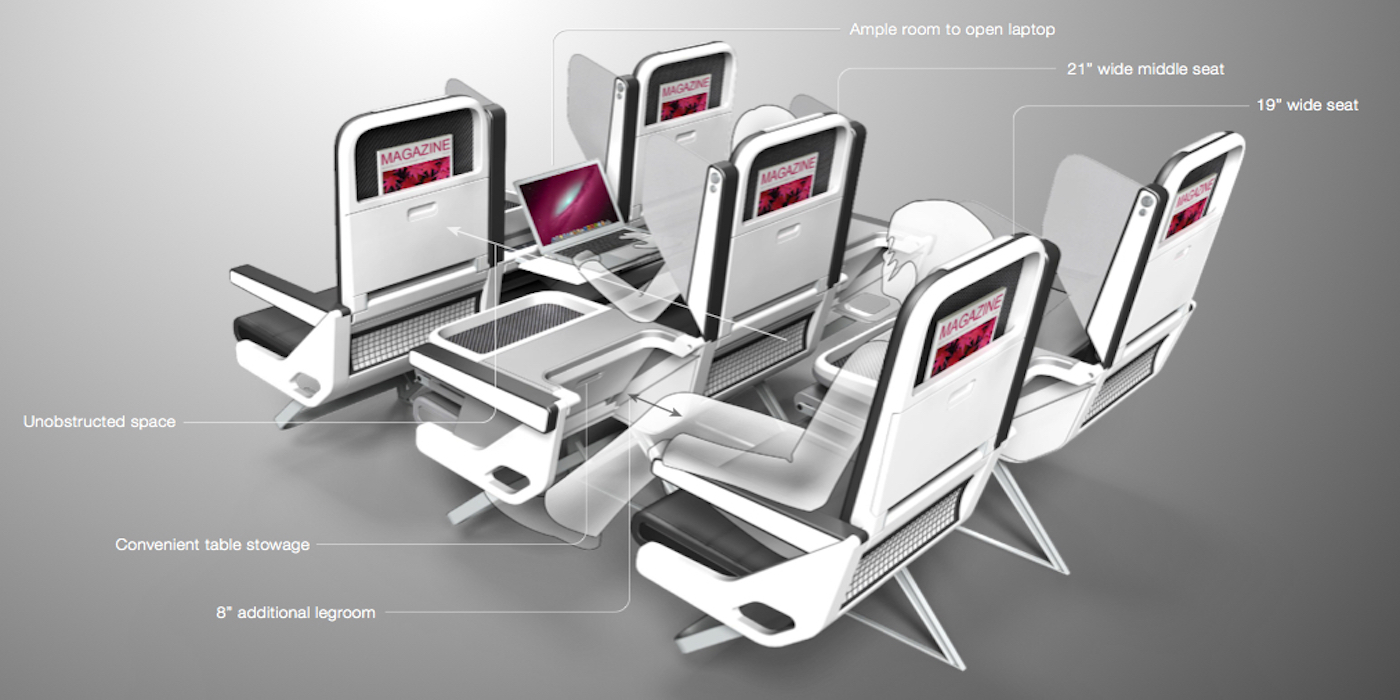 In terms of product differentiation, in economy mode, Checkerboard is a typical short-haul seat, with seatback table, high literature pocket, and a high pivot recline. When converted, the seat offers extra amenities for the business traveler, such as padded armrests, extra-large cocktail tables, additional stowage spaces, and the economy armrests can be raised to become lightweight privacy screens.
The folded seats create up to an additional 8in of legroom, while the raised armrest increases seat width from 17in to 19in for aisle and window seats, and 21in for center seats.
Butterfly
Butterfly is Lee's second foray into convertible seating. You may recognize the design as the winner of the 'Premium Class & VIP' category of the 2014 Crystal Cabin Awards, but following some correspondence from a certain off-highway equipment supplier, it is now called Butterfly. This long-haul concept is intended to allow a swift transformation between premium economy class and a business class flatbed suite to match real-time demand on each flight. The seat is designed for a 44in pitch on a B777 or 47in on an A330/A340.
Butterfly is composed of units of double seats, with the aisle seat offset backward. It is a staggered premium economy configuration when both seats are used. At eight-abreast on a B777-sized cabin, the premium economy seat width is up to 21in between armrests, and features include large cocktail trays, seat pockets on the side, as well as an adjustable ottoman.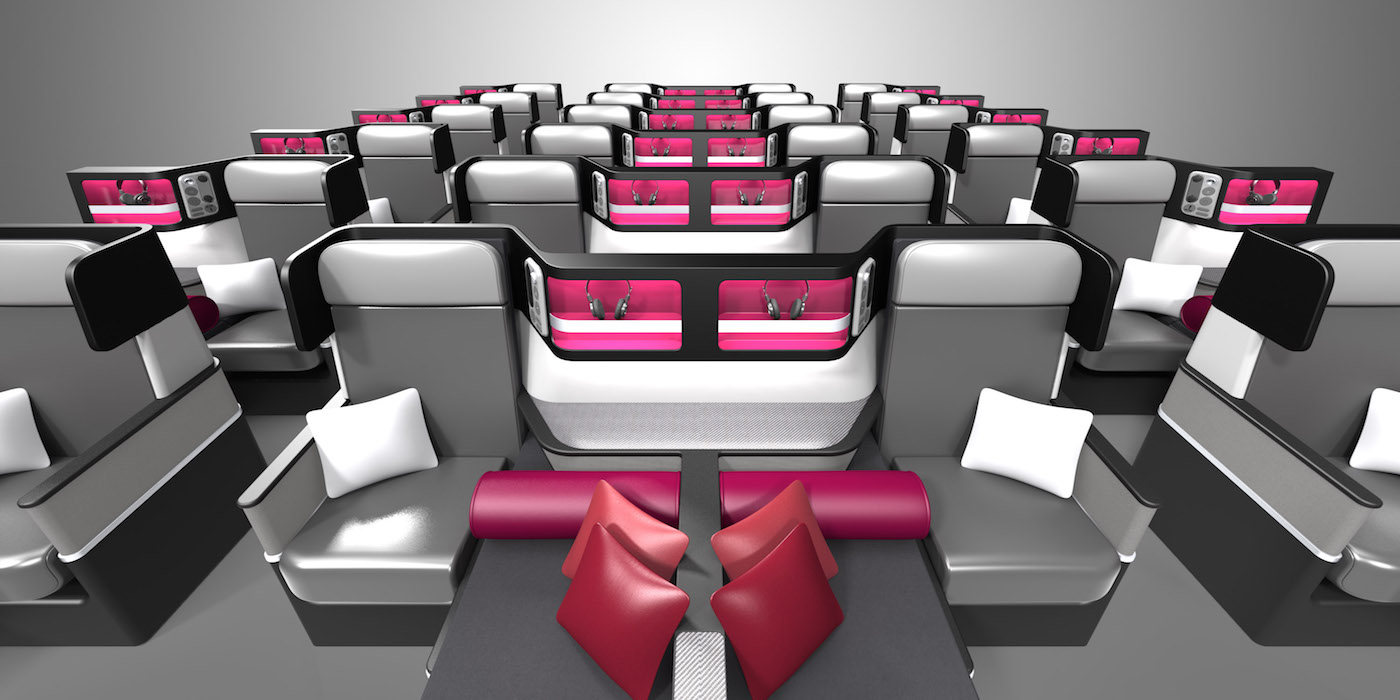 To convert the seat to business class, the inboard seat is flipped over to form a flat surface, creating a private suite for one passenger, complete with seat, a side couch which can also be used for companion dining, and direct aisle access. The addition of soft furnishings on the side couch gives a homey, living room-like ambience to the suite, while the feature lighting in the storage rack, which was initially blocked by the seatback, builds a club-like atmosphere for the cabin.
For sleeping, passengers simply flip the aisle seat over as well so, together with the side couch, a large diagonal sleeping surface is formed. At a 44in pitch the bed is 77in-long tip-to-tip, and up to 44in-wide at the hip area.
Update
During May 2015 Airbus invited innovators to pitch for a place in BizLab, an initiative that will see five start-ups supported through a mentoring and acceleration program, to speed up the process to transform ideas into credible businesses.
A total of 150 applications were received from all over the world, and a pre-selection process shortlisted 15 start-ups that were then invited to pitch in front of an Airbus BizLab jury in July, 2015. Of these, five were selected to be integrated within BizLab from September 7.
Paperclip Design was one of the lucky five, and James Lee will receive comprehensive support through a six-month acceleration program to help advance the Butterfly concept. Lee, and the other selected start-ups will interact with a large number of Airbus experts from various domains (technology, legal, finance, marketing, etc) and will benefit from the attention of a dedicated mentor. Lee has also been offered office space at Airbus, with access to prototyping and test facilities. A dedicated demo day with Airbus decision makers, partners, subsidiaries, customers, and venture capital has also been offered.
With this major boost, perhaps we will see Butterfly fly in the near future.