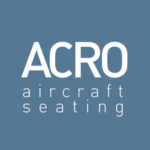 Website Acro Aircraft Seating
') } else if (width >= 425) { console.log ('largescreen'); document.write('') } else { console.log ('nompuad'); document.write('') } // -->
Acro Aircraft Seating is more than just a manufacturing business, we have an entrepreneurial spirit that drives us to fulfil our vision of Perfect Comfort for Passengers, supported by a dedicated team who share our belief – from designers and engineers, through to production, quality, sales and support.
Location: Crick, Northampton (NN6)
Salary: Competitive
EXCELLENT BENEFITS
25 days holiday + bank holidays
Pension
Healthcare schemes
Retail discounts
1pm finish on a Friday!
This is a fantastic opportunity to join our innovative, award winning and high-growth business and continue to develop your engineering career. As a Lead Design and Development Engineer you will own seating projects from concept through design, development, certification and into production.
Leading a team of engineers, you will provide day-to-day management, technical supervision, guidance, and co-ordination to efficiently deliver multiple engineering tasks, products, and projects, ensuring they adhere to required programme timings, specification, budget, product cost, weight, and quality. As a key member of our cross-functional team, you will play a vital role in shaping the product, working closely with Industrial Design, Test, Sales, Supply Chain and Production as well as airframe manufacturers and airlines.
Key responsibilities:
Defining, driving, planning, monitoring, and controlling the design engineering team output to ensure achievement of the defined schedule and specification
Lead and support direct reports with the design and development of the aircraft seat, including the checking of designs (including clash detection) and drawings (including tolerance stack assessment), raising, and managing ECR's, drawing sign off, ensuring accurate BOM output and authorising concessions
Provide status reports to management on project status
Preparing for, managing, and presenting internal and external engineering reviews on behalf of the team and leading problem-solving activities
Support the Engineering management in continuous improvement & best practice activities, including setting up systems, processes, tools to maximise the efficiency, quality of output and agility of the engineering team
Perform design activities of structural components, including metal, plastics and composite using Catia V5. Undertake design studies and progress your own work through to production and perform fundamental engineering hand calculations (including stress and stiffness) to substantiate the design of the product
Liaise with the Stress team to analyse and resolve structural performance concerns
Drive forward the development and certification of all seating products. Including formulating DVP's in collaboration with the Project Engineering function
Deliver the day-to-day supervision of direct reports. This to include: Supporting regular 1-2-1 meetings, team meetings, timesheet authorisation, holiday approval, sickness/absence meetings, goal and objective setting, personal development plans & appraisal reviews, performance discussions
To support Engineering management with recruitment activities and IT requirements co-ordination activities for their direct reports
To liaise with the customer and airframe manufacturer to ensure all design requirements are understood and agreed. To ensure an agreed technical direction can be manufactured
To liaise and develop relationships with key suppliers to successfully deliver technical solutions that adhere to our requirements, ensuring effective Design for Manufacture
To liaise with Production to ensure effective Design for Assembly
To liaise with all relevant Project Engineering and Certification teams to ensure all aspects of checking and approvals are met
Managing multiple projects in parallel to support the business needs
Ensure BMS procedures are followed, including the Project Delivery Process
To continually challenge manufacturing processes and materials to ensure innovation and continuous improvement is constantly being achieved
Skills and experience required:
Essential
Strong Mechanical or related Engineering degree
Experience of leading/managing/supervising a team of engineers and demonstrable experience of technical product ownership
High level of competence in planning, organising, and prioritising
Resilient, able to react to unexpected issues and develop solutions
Extensive experience from an aviation, automotive or other relevant sector
Extensive experience of a mechanical engineering related field utilising CAD for product definition
Must be capable of undertaking fundamental engineering hand calculations for example, stress analysis and reaction calculations
The ability to analyse problems and recommend a course of action
Sufficient exposure to the latest manufacturing techniques
Extensive 3D CAD capability and experience, preferably Catia V5
Must be an excellent communicator both verbally and written
Must be capable of adapting to a fast and pressured environment
PC literate
Desirable
SmarTeam or other PDM experience
Finite Element Analysis experience
Experience in working within an aviation seating sector
MS Project experience and capability
Experience of developing and implementing best-practice methodologies
The parent company of ACRO Aircraft seating is Zhejiang Tiancheng Controls Co., Ltd headquartered in China. We therefore welcome mandarin language capability as a desirable requirement.
We really want to hear from you so do not miss your opportunity to join us! Once you apply, your CV will be held on our central database. Please do let us know if you do not wish for us to retain your details. If your application is successful, you will be contacted in due course.
Please note: This advert may close early if sufficient applications are received.
Acro Aircraft Seating is an equal opportunities employer.
Please view our website for access to our Job Applicant Privacy Notice.