The 2023 Aircraft Interiors International Showcase issue is now available online! This special issue marks a landmark moment for Aircraft Interiors International, which is celebrating its 25th anniversary.
Our annual Showcase is packed full of cabin ideas, designs, materials, design approaches and technologies that can inspire future projects. The issue also has a few insights from 25 years of featuring the industry's top names. Their wisdom has aged well!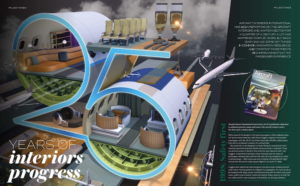 25 YEARS OF INTERIORS PROGRESS

Aircraft Interiors International has been reporting on the aircraft interiors and aviation sector for a quarter of a century. A lot has happened over those 25 years, but each year has had some things in common: innovation, resilience, and constant investments and improvements for the passenger experience. Join us for a look back over the years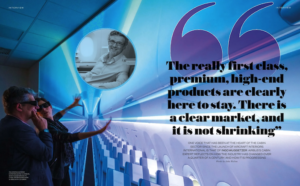 INTERVIEW: AIRBUS OVER 25 YEARS
One voice that has been at the heart of the cabin sector since the launch of Aircraft Interiors International is that of Ingo Wuggetzer. Airbus's cabin expert reflects on how the sector has changed over a quarter of a century, and how it is progressing
The studios and suppliers featured in this 25th anniversary issue represent a wealth of knowledge. What do they think the next phase of aircraft interiors developments will bring?
Many influential names from airlines and aviation have been interviewed by Aircraft Interiors International over the years. You may be surprised how well many of their views are still as relevant today

Thoughts, inspiration, insights and design solutions for recovery, from the world's leading aircraft interiors design houses…
TEAGUE: From concepts to reality, Teague has drawn on its breadth of transport knowledge,
a century of expertise, and unique insights to futurecast the cabins of tomorrow. But where do airlines fit into the new travel landscape?
PRIESTMANGOODE: Who needs to make the first move in shifting from a linear to a circular approach in aircraft interiors, asks Jo Rowan, associate director for strategy at PriestmanGoode
FACTORYDESIGN: The studio discusses the art of collaboration and how combining communication, organisation, respect and empathy between internal and external teams can deliver stunning results
FUTURESKETCH: Ali Ersan, the founder of FutureSketch, is aiming high with Caelum, a seating platform with a geometry designed to solve the problems of premium economy and narrowbody business class
TANGERINE: Tangerine explores how simplicity of thought propels a brand and elevates the customer experience. The new designs for Finnair achieve a distinct but subtle Finnish experience across all elements of the service, from ground to air
DESIGN Q: Howard Guy, CEO of Design Q, discusses the power of design when creativity is undiluted, and the importance of investing properly in good design

Materials, technologies, design innovation and ideas from the world's leading aircraft interiors suppliers
SEKISUI KYDEX: A deep understanding of science, design and trends, combined with the cutting-edge software and technology in its innovation centres, enables Sekisui Kydex to collaborate with the aircraft interiors industry to deliver design freedom
RECARO AIRCRAFT SEATING: The team at Recaro Aircraft Seating are addressing evolving passenger desires and changeable market forces with a range of seat designs and innovations that meet the needs of the industry
THOMPSON AERO SEATING: The VantageDUO business-class seat has been designed around the passenger, for the airline
DIEHL AVIATION: This major supplier is developing several lightweight innovations for the aircraft cabin that can save fuel today, help achieve tomorrow's climate targets, and enable new aircraft types tomorrow
SIMONA BOLTARON: The thermoplastics expert is developing innovative speciality products that address the key performance pillars for airlines, passengers and seat manufacturers: recyclability and recycled content
PERRONE PERFORMANCE LEATHERS AND TEXTILES: The cabin materials specialist outlines 10 ways to benefit from partnering with a dedicated aviation performance leather and textile specialist
TAPIS: With Promessa AV from Tapis, airlines don't have to sacrifice sustainability for style and performance
STELIA AEROSPACE: Stelia Aerospace has taken the business-class flight experience to a whole new level with Rendez-Vous, a revolutionary staggered seat for widebody aircraft, designed to offer passengers that perfect 'at home' feeling
ADIENT AEROSPACE: The aircraft seating expert has launched two new business-class options for narrowbody aircraft – the Ascent and Altitude seating platforms
ST ENGINEERING: Are you ready for a unique travel experience?, asks ST Engineering
J&C AERO: From gadget holders and braille signs, to spacious curved dividers, J&C Aero discusses what operators should not miss during their cabin retrofit programmes in 2023
AIRBASE UK INTERIORS: This leading provider of aviation soft furnishings reveals its Total Textile Management Solution and recent contracts