Planet 9, a private charter operator and aircraft management company based in Van Nuys, California, has added a fifth Gulfstream business jet to its Part 135 managed charter fleet.
The Gulfstream GV (N779WA) is now available for charter, featuring a recently refurbished three-zone interior, with 12 soft cream leather executive seats and two lavatories. The aircraft will be based at Naples Airport in South West Florida, a new operating base for Planet 9.
The operator has added two more pilots to support the new aircraft and will be working closely with Naples Aviation for aircraft handling, inflight catering and concierge services.
The ultra-long 6,500 nm-range aircraft is suitable for up to 14 hours' flying time. Its 1,812 cu ft cabin is flexibly designed for work, rest and relaxation and also features a well-equipped, sizeable rear galley and forward crew galley.
Inflight entertainment is via eight large Ipads, each loaded with movies. Connectivity is accessible via Gogo/Swift Broadband.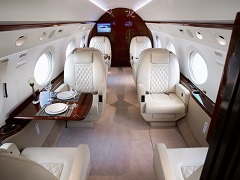 "At a time when the commercial aviation industry is reeling from the effects of the global coronavirus pandemic, the business aviation sector has really stepped up to offer both repatriation and special flights when the airline industry dramatically scaled back the number of scheduled flights. This has enabled us to get on to the radar of new flyers who hadn't considered private charter before," said Matt Walter, Planet 9's co-founder and director of business development. "These last few months we have widened our customer base, adding a number of first time (and also younger clientele) choosing us for (primarily) domestic and USA to European flights."
"This Gulfstream GV, with its high spec, comfortable interior, will be popular in the charter market and we are very pleased to be adding it to our AOC, and especially from a new Florida base, complementing our Van Nuys and Teterboro, NJ operations," added Walter.
This latest Gulfstream GV takes Planet 9's managed and charter fleet to 11 aircraft, including two further Gulfstream GVs, a Gulfstream G550, a Gulfstream G650 and a Bombardier Global Express.  Planet 9 also operates (and owns) for charter four Dassault Falcon 7Xs.