In a year which has seen many negative headlines for the aviation industry, United Airlines has made a major announcement that is great new for airframers, cabin interiors suppliers – and flyers. The airline has announced that it is adding 270 Boeing and Airbus aircraft to its fleet, representing the largest order in the airline's history, and the biggest to be placed by a single airline for 10 years.
The order forms a key part of 'United Next', a programme which includes the addition of 50 Boeing 737 MAX 8s, 150 B737 MAX 10s and 70 Airbus A321neo aircraft, as well as plans to retrofit the airline's entire remaining mainline, narrow-body fleet with the aim of 'transforming the customer experience'. When combined with its current order book, United expects to introduce more than 500 new narrow-body aircraft to its fleet: 40 in 2022, 138 in 2023 and up to 350 in 2024 and beyond. That means, in 2023 alone, United will take delivery of one new narrow-body aircraft every three days on average.
The airline is clearly bullish about recovery: indeed on 19 June United Airlines announced its Q1 2021 financial results, which laid out steps for the future, including making continued progress on its commitment to remove US$2 billion in structural costs, and investing in key customer programmes that will position the airline to capitalise on the recovery of business travel and long-haul international demand post-pandemic.
"We're poised to emerge from this pandemic with a future that is brighter than ever," said Scott Kirby, United Airlines' CEO, in the earnings call. "We've shifted our focus to the next milestone on the horizon and now see a clear path to profitability. We're encouraged by the strong evidence of pent-up demand for air travel and our continued ability to nimbly match it, which is why we're as confident as ever that we'll hit our goal to exceed 2019 adjusted EBITDA margins in 2023, if not sooner."
The news follows the airline's announcement on 3 June that it has agreed to purchase 15 of Boom's 'Overture' supersonic airliners, with an option for an additional 35 aircraft.
"Our United Next vision will revolutionise the experience of flying United as we accelerate our business to meet a resurgence in air travel," added Scott Kirby. "By adding and upgrading this many aircraft so quickly with our new signature interiors, we'll combine friendly, helpful service with the best experience in the sky, all across our premier global network."
You can view United's webcast of its latest developments HERE.
United is creating a new nose-to-tail 'signature interior' for the cabin retrofits, which will feature around 75% more premium seats (United First and Economy Plus) onboard per North American departure (53 premium seats on average), larger overhead stowage bins, seatback IFE systems at every seat, a bright cabin ambience with LED lighting, and the fastest available wi-fi connectivity. These interiors will help create a consistent passenger experience throughout the United fleet, giving passengers on connecting flights a better brand experience throughout their United journey.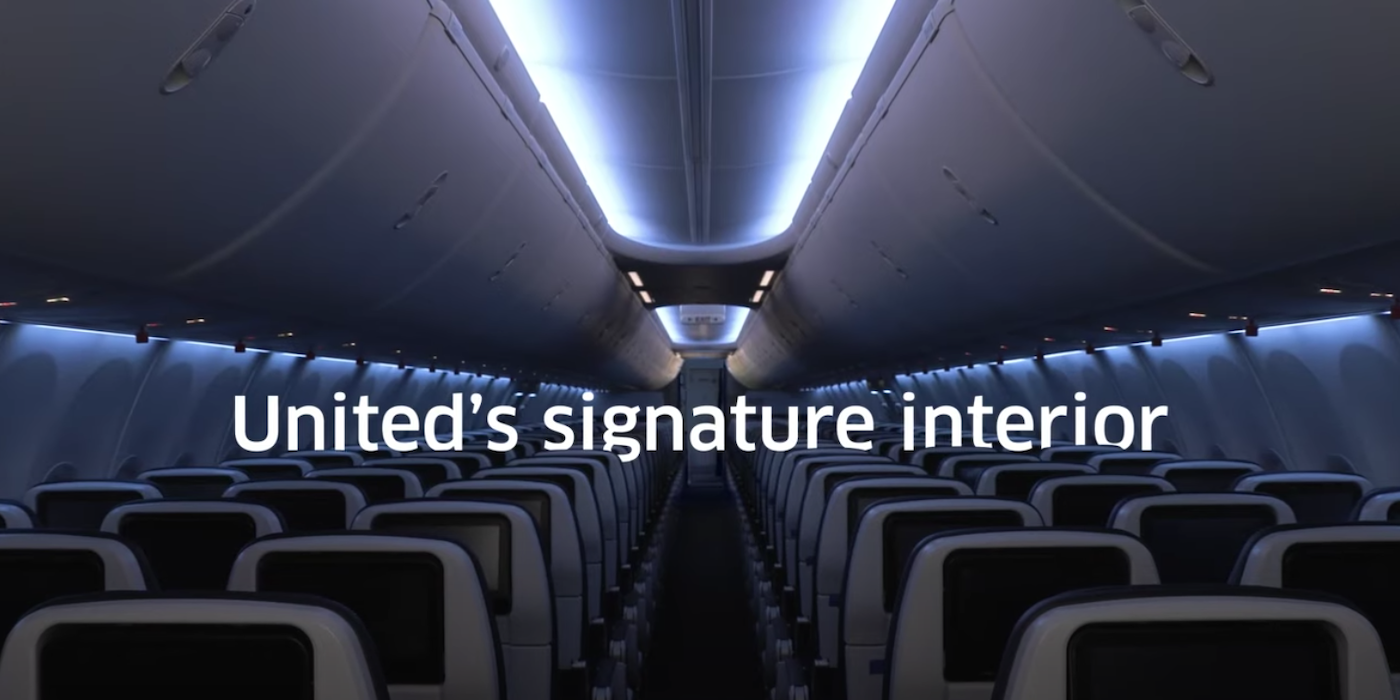 United intends to upgrade 100% of its mainline, narrow-body fleet to these standards, a programme expected to be 66% complete by 2023 and 99% complete by the summer of 2025. The first B737 MAX 8 with the signature interior is due to fly this summer, with the first B737 MAX 10s and A321neo aircraft to follow from early 2023.
The order will enable United to increase the total number of available seats across its domestic USA network by almost 30% per departure, and also to replace at least 200 of its single-class regional jets with larger mainline aircraft. United anticipates the new aircraft will yield an 11% overall improvement in fuel efficiency and a 17-20% lower carbon emission per seat compared to its older fleet.
The B737 MAX 8s will have 16 United First seats and 54 Economy Plus seats, while the B737 MAX 10s will have 20 United First seats and 64 Economy Plus seats, with the A321neo aircraft expected to have a similar seat count. The airline really is confident about the recovery of demand for premium class travel.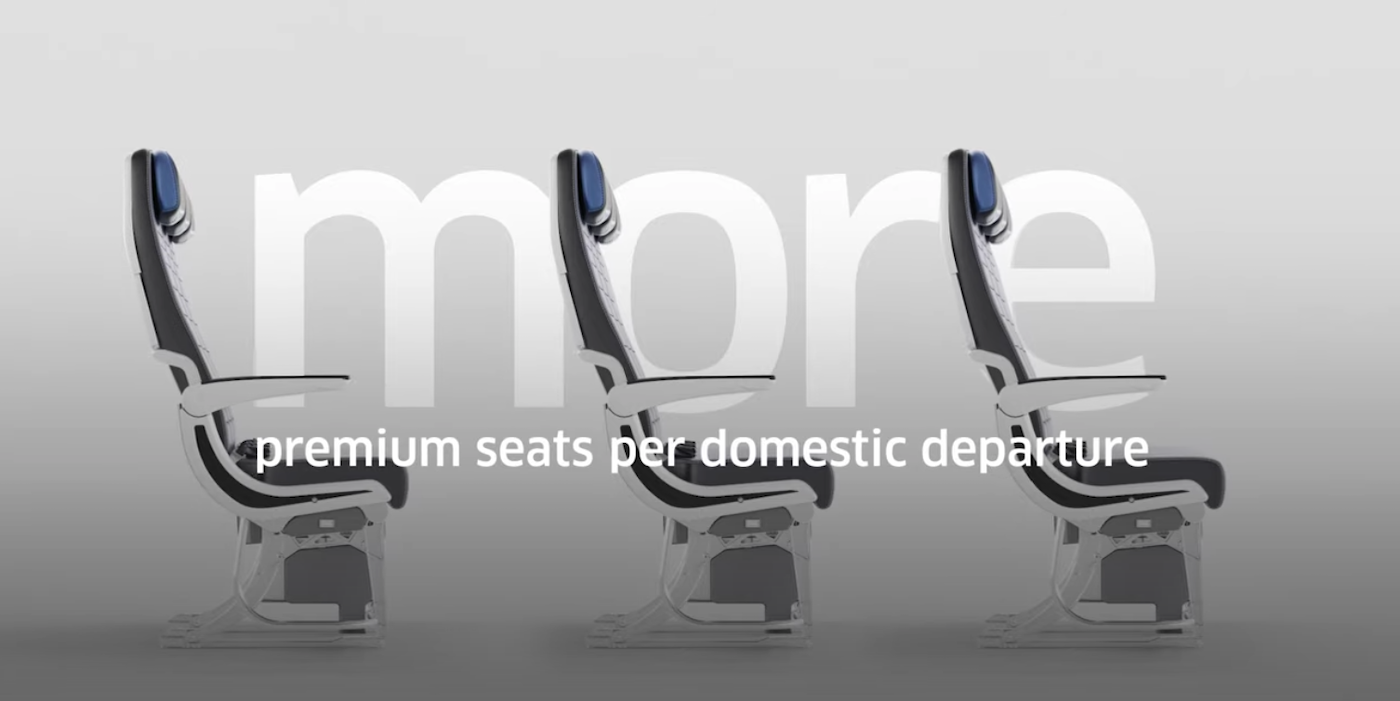 "While some airlines are reducing the number of economy seats with extra leg room, United will offer the most premium seats in North America, taking a different, more customer-friendly approach," said Andrew Nocella, United's EVP and chief commercial officer. "This is United playing to our strengths – the location of our US hubs means we're uniquely positioned to focus on premium products, business travel and global flying like no other US airline. Our new signature interior creates a more consistent product across our mainline fleet – with a focus on the amenities that customers value most like seat back screens, fast wi-fi and extra storage – to further set ourselves apart."
IFE investment
With fast wi-fi on board and a tough economic period for airlines, many would expect United to opt for a BYOD model for the inflight entertainment. However, the airline has decided that the customer benefits and perceptions of embedded seatback systems outweigh their purchase cost, weight and maintenance requirements.
The airline is fitting 13in HD displays in every first class seat, and 10in HD screens in every economy class seat on the 737 MAX fleet. Every seat on the MAX aircraft will also have electrical power outlets, USB charging ports and accessible IFE features for people with hearing or visual disabilities. The B737 MAX and A321neo fleets will also have Bluetooth technology so that passengers can connect wireless headphones to the seatback screens.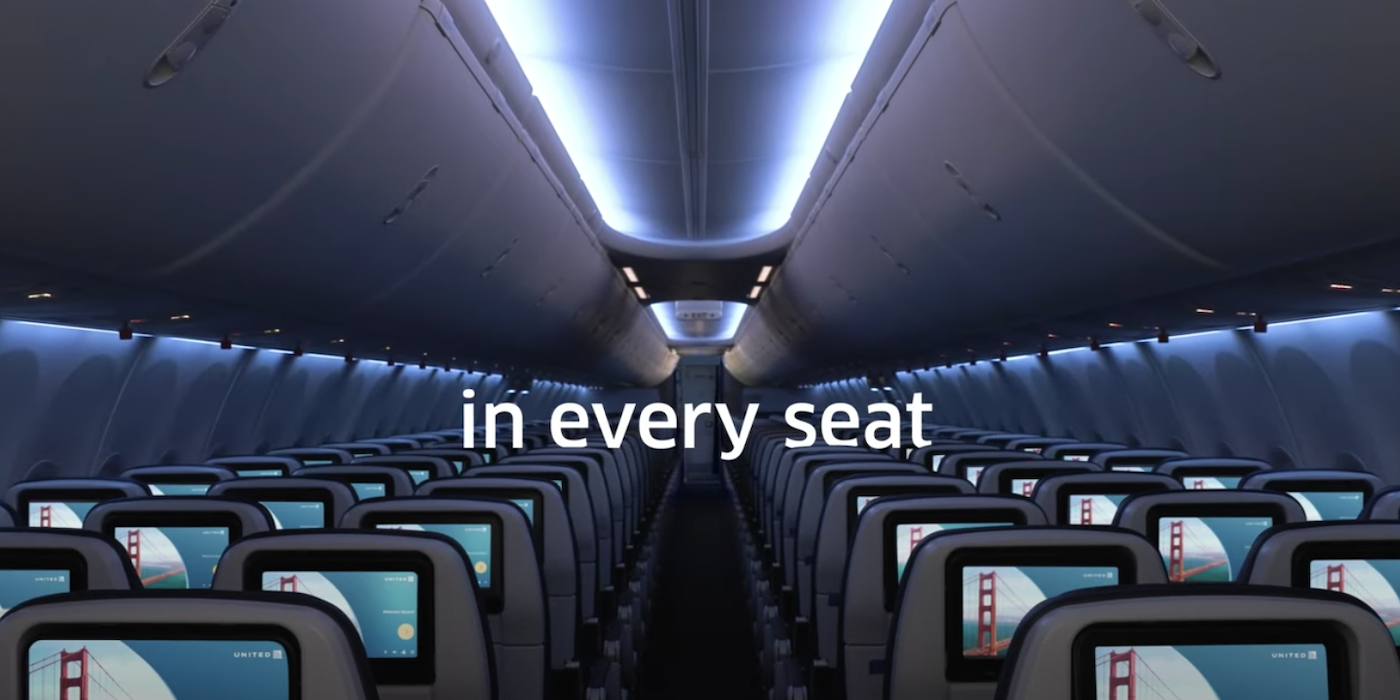 Customers will have free access to more than 2,800 content selections, including movies, TV shows and international programming, as well as audio playlists, podcasts and games. Customers also can watch documentaries and live concerts through United's exclusive collaboration with the Coda Collection.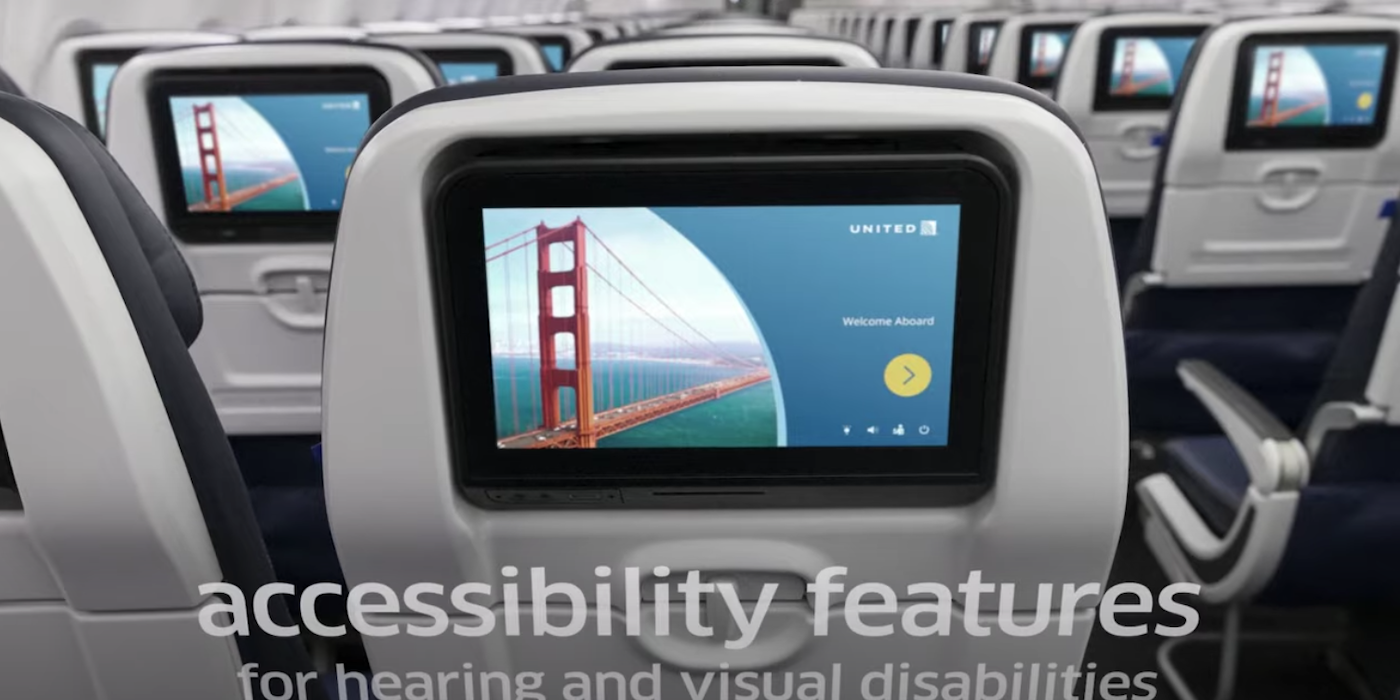 The bigger picture
United supports about 68,000 union jobs today – 89% of the airline's total domestic workforce. The airline expects that the aircraft orders associated with United Next will create a further 25,000 well-paying, unionised jobs at United, significantly lower carbon emissions per seat – and based on a study from the Federal Aviation Administration, the airline expects to drive more than US$30 billion in traveller spending from its flyers, and contribute an estimated US$50 billion annually towards the US economy by 2026.
CEO Scott Kirby added, "This move underscores the critical role United plays in fuelling the broader US economy – we expect the addition of these new aircraft will have a significant economic impact on the communities we serve in terms of job creation, traveller spending and commerce."
All United employees, including part-time workers, earn more than the federal minimum wage, and receive benefits including sponsored medical coverage, company-funded retirement programs like 401(k)s and paid sick leave, paid vacation and flight privileges. There is good scope for career growth too, with about 69% of the airline's senior leaders having been promoted internally, and more than 1,500 front-line employees promoted into management roles in the past seven years.
"The addition of these 270 new aircraft and reduction of single-class regional jets is not only good news for customers, it is excellent news for the 12,000 current United pilots, and the 10,000 more we expect to hire before the decade is out," said United ALPA Chair, Captain Todd Insler. "This is exactly what we planned for when we reached our industry-leading pandemic recovery agreement last year and kept United pilots on the property, trained and ready to take advantage of the rapid recovery in passenger demand. With the strength of our network, fleet, and pilot compensation, we are sure United will remain the destination of choice for the most highly qualified airline pilots."
The 25,000 well-paying, unionised jobs that could be created at United by 2026, including the following at each of the airline's seven, major US hubs:
Newark / EWR:                   up to 5,000 jobs
San Francisco / SFO:         up to 4,000 jobs
Washington, D.C. / IAD:     up to 3,000 jobs
Chicago / ORD:                  up to 3,000 jobs
Houston / IAH:                    up to 3,000 jobs
Denver / DEN:                    up to 3,000 jobs
Los Angeles / LAX:             up to 1,400 jobs