Canadian low-cost airline WestJet is entering an exciting new phase, with the carrier taking delivery of the first of its 10 Boeing 787-9 Dreamliners (with options for 10 more) in early 2019 . These aircraft also herald the introduction of the airline's first business class cabin and the next step in the carrier becoming a global network airline.
So what will passengers be able to enjoy in the WestJet passenger experience? The airline has strived to convey its national and corporate identity in the cabins, bringing in the PriestmanGoode design consultancy to create designs that CEO of WestJet, Ed Sims, describes as "world-class, distinctly Canadian and uniquely WestJet." Across all three classes in the B787-9s, the interior color, trim and finish schemes are inspired by Canadian nature and landscapes, with a color palette based around 'alpine lake blue' in economy class; aurora‑inspired hues in premium economy; and rich, summery earth tones in business class.
The airline has not revealed full details of the interiors hardware yet, for now only sharing that business class will feature lie-flat seating, touchscreen IFE, on-demand dining, and a turn-down service. Louis Saint-Cyr, WestJet 's VP of guest experience, stated that, "inflight comfort is enhanced by the uncompromising quality of the interior finish and custom details. Both WestJet and our guests are on their way to bigger things."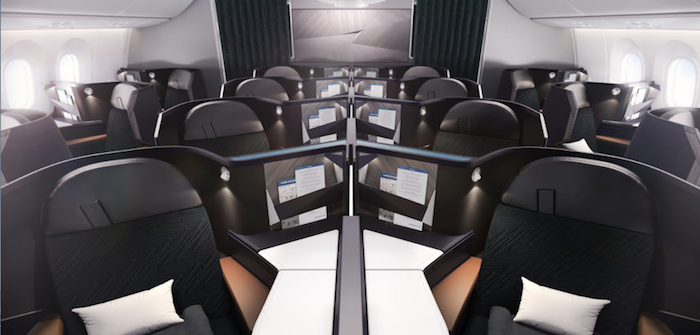 Premium economy guests will enjoy the features of economy such as seatback IFE and in-seat device charging, which will be supplemented with a larger living space, a premium menu and, perhaps most interestingly, a self-serve social area (below).
Ben Rowan, a director at PriestmanGoode and design lead on the WestJet project explained that the Dreamliner cabin color schemes are intended to take passengers on a "design tour of Canada", taking inspiration from the country's landscapes. "This new interior scheme will provide an enhanced and complete passenger experience that is uniquely WestJet. We believe this new in-cabin design will ensure WestJet can compete confidently in new markets."
New on the outside too
The arrival of Westjet's Dreamliners also brings in an updated logo and livery, created in conjunction with Ove Brand Design, Boeing and Teague. The team decided to change the font to Bliss, which they consider a more uniform and current style, with the previous blue of 'West' and green of 'Jet' in the branding changed to a single color to soften the regional emphasis on "west".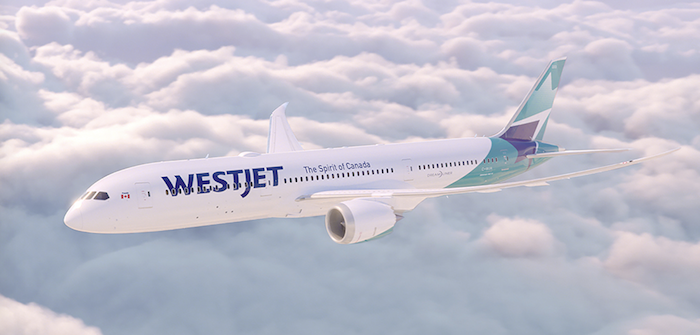 The Canadian element is conveyed through the maple leaf symbol, carried over from the current livery but with a more contemporary and bold look. The new livery brings together both of Canada's official languages with, 'The Spirit of Canada' appearing on one side of the aircraft and 'L'esprit du Canada' on the other.
The livery will gradually appear across WestJet's entire fleet as new aircraft are delivered in 2018 and as aircraft are repainted in their normal cycle. The Boeing 737 MAX-8 will be the first aircraft to fly with the new livery, and is due to appear in June.
"Although WestJet is an airline based in Western Canada, it is an international carrier, which is the reasoning behind using a single color across the full WestJet wordmark," explained Michel Viau, CEO of Ove Brand Design. "This is the most Canadian airline and it's now truly reflected in the new look and logo."