Jetliner Cabins: Evolution and Innovation by Jennifer Coutts Clay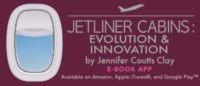 Amazon: JETLINER CABINS: Evolution & Innovation
Apple iTunes: JETLINER CABINS: Evolution & Innovation
Google Play for Android devices: JETLINER CABINS: Evolution & Innovation
Since first published in 2003, Jennifer Coutts Clay's pioneering book Jetliner Cabins: Evolution and Innovation has been an essential reference for aviation industry professionals and enthusiasts alike. Now available as an interactive E-BOOK APP for Apple, Kindle and Android-based mobile devices, the 240+ pages of Jetliner Cabins have been completely redesigned with additional text and images.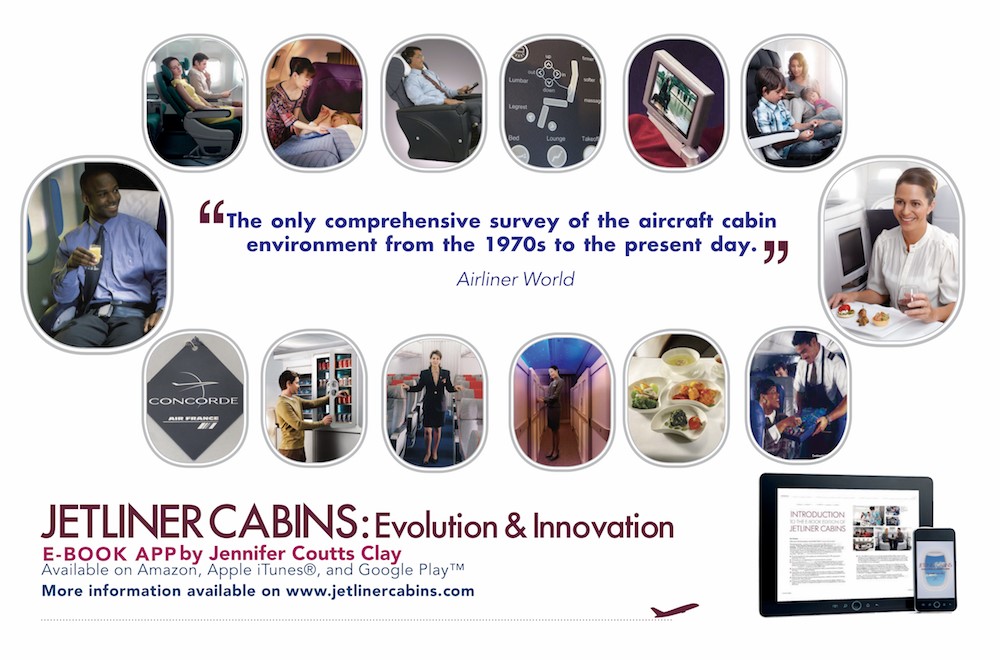 "The 'bible' on cabin design." —Amazon reader
"Jennifer Coutts Clay..touches in succinct tones on virtually every aspect of an airliner's interior—from aesthetics and design to technology and comfort. Finally, a must-see, must-read book that marries the world of commercial aviation with that of design." — SPACE Magazine.  
With the QUATRO+ System already operating on four major airlines with multiple STCs & EASA approvals (B737, A330, B767, A320) it has proven to be a reliable, versatile solution.
Our trust in the QUATRO-System is exemplified in our 'Life of Product' support. We urge you to contact Imagik to discuss a full turnkey solution and design a program that enhances your services and best meets your individual requirements.
"The inside story of flying..the evolution of cabin design..lavishly illustrated..a must-read for anyone with..a love of aviation." —British Airways News
"..information about everything from safety, seat design, and fabric selection to meal service accessibility and maintenance in first-, business- and economy-class cabins," — International Aviation Women's Association
"..describes the high art and technical bravura behind creating some of the smallest living spaces in the world..fully details the immersive variety, as well as the creative breadth, behind them," — Wiley
"As entertaining as it is educational." —Frequent Flyer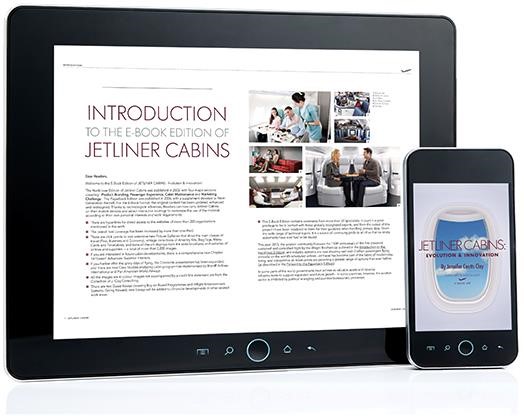 Using click points throughout the pages of this E-BOOK APP, you can navigate the content according to your own interests:
✔︎
rapidly navigate the core 16 Chapters on Product Branding, Passenger Experience,

Cabin Maintenance and Marketing Challenge

✔︎
explore First, Business and Economy Class
✔︎
click on Picture Galleries: 6,000+ all-colour images
✔︎
visit the websites of 400+ organizations mentioned in the text
✔︎
search keywords and the Index; select your preferred topics
✔︎
read significantly more content than in earlier Editions
✔︎
learn about 'green' cabin innovations
✔︎
access Comments from 50+ international Specialists, as well as Case Studies and Guest Essays
✔︎
view passenger accommodations featured on the latest new-generation aircraft
✔︎
flip your device to view one or two pages at a time
✔︎
zoom in and out for a better view.
Amazon: JETLINER CABINS: Evolution & Innovation
Apple iTunes: JETLINER CABINS: Evolution & Innovation
Google Play for Android devices: JETLINER CABINS: Evolution & Innovation