"Everything comes to those who wait" – the words of ANA president Shinichiro Ito during the 787's unveiling to the Japanese public at Tokyo's Haneda Airport back in July 2011. ANA's president is clearly a very patient man – as the 787's launch customer, the carrier was supposed to receive the first of its 55 Dreamliners on order in 2008. However, ANA's 787 didn't begin commercial service until September 2011.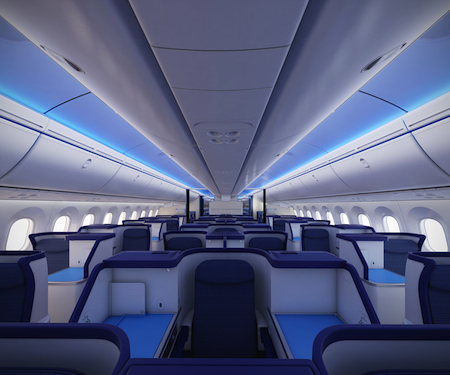 In preparation, Boeing and the airline began service readiness validation for the aircraft in July 2011. ANA pilots, together with Boeing, flew the Dreamliner on routes from Seattle to Tokyo and Tokyo to four airports across Japan, including Osaka (Itami and Kansai), Okayama and Hiroshima. Teams from ANA and Boeing validated more than 100 procedures, including towing the aircraft, conducting fit checks of ground support equipment, staging electronic flight bag data and completing maintenance actions, among other activities. "Our teams worked well together and the aircraft performed as we expected," said Mike Fleming, 787 services and support vice president.
To further facilitate staff training, ANA's first 787 aircraft was initially deployed on domestic routes with a high-density short-haul interior capable of carrying 264 passengers (12 business-class seats and 252 economy seats). It also performed a commemorative first commercial charter flight from Tokyo-Narita to Hong Kong. The aircraft was then used for scheduled flights on the Haneda-Okayama and Haneda-Hiroshima routes.
Inspired choice
But what can passengers expect to find on board ANA's 787s? Well that will depend on whether they are flying the short- or long-haul version of the aircraft. Both feature just two classes – business and economy – but ANA's long-haul 787s boast full-flat business beds while its short-haul 787s offer only cradle-style seating up front. There's also a big difference in capacity: short-haul aircraft offer 222 seats in total with 42 seats in business and 180 in economy. However ANA's long-haul 787s are equipped with 46 seats in business and 112 in economy, providing total accommodation for just 158 passengers – far lower than the 787-8's maximum capacity of 250 seats, as listed by Boeing. "The long-haul cabin is based on ANA's new Inspiration of Japan brand concept, first introduced on its 777-300ERs," explained Norihiro Kawate, the airline's senior manager of products and services strategy. "The aim is to increase space and privacy for passengers, as well as providing improved storage options for personal belongings."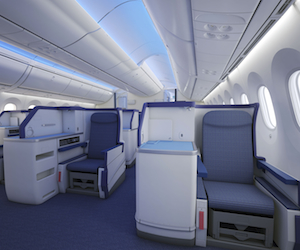 Similar to its 777-300ERs, long-haul business class features Sicma's Skylounge III product in a staggered 1-2-1/1-1-1 seating arrangement at 44in pitch, with direct aisle access for every passenger and a minimum seat width between armrests of 22in. "Each seat is aisle-side so everyone needn't worry or be bothered by other passengers when resting or sleeping," noted Kawate. "And you can enjoy a fully flat seat and plenty of personal room."
The track-mounted seat converts into 74.5 x 25.3in bed with fully retractable armrests to provide the best possible width when sleeping, while a privacy shell is designed to counteract any disturbance from noise. Two actuators per seat provide tracking and recline functions (seat pan and legrest). A 17in touchscreen IFE monitor is integrated into the seat shell and a universal PC power source, USB port and an iPod jack are included.
A generous side table on top of each side monument, in combination with individual lighting, help create an ideal work environment. There's certainly plenty of room for laptops and papers – in fact central single seats feature two such side tables – perfect for travelling bureaucrats and bankers overloaded with files and reports. If that's not enough, there's also a one-piece meal table that pulls out from underneath the side monument surface.
There's even a dedicated shoe drawer under the seat – a feature first introduced on the 777-300ER. The idea was to make passengers feel more at home – removing one's shoes before entering a house is customary in Japan – while it also ensures a more neat and tidy cabin appearance.
The trick was to persuade seat manufacturer Sicma that such a feature was necessary in the first place: "A seat maker naturally thinks of the seat as just a seat," explained Koichi Tsuzuki, a senior director for product strategy at ANA who led the Inspiration for Japan rebranding project introduced on the 777-300ER. "But we were thinking of it the way interior designers would – as furniture. It's part of a whole. It took a long time to get them to understand why we wanted to do it. We were asking them to rearrange the already limited space under the seat where the electric cables and other connection cords and gadgetry is housed."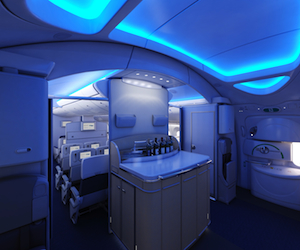 Meanwhile ANA's short-haul 787s serving Asian destinations such as Hong Kong, China, Singapore and Bangkok feature 42 Sicma Majesty cradle-style seats in business class in a 2-2-2 configuration. Each seat is equipped with a 12.1in touchscreen IFE monitor (10.6in for first row units), power and USB dock.
Right: Business class features a full-height chilled bar unit, while economy sees a self-service bar installed in the entrance area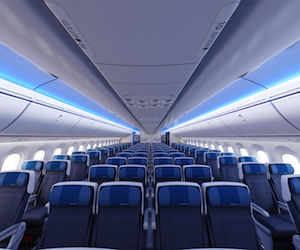 The economy section of both its long- and short-haul 787s sees Sicma's AIRgonomic FX seating units installed. The seats feature a fixed backshell to ensure no intrusion into passengers' living space: "We didn't want passengers to be bothered by people sitting back," explained Kawate. ANA opted for a 2-4-2 configuration, despite the majority of 787 customers choosing nine-abreast seating. "We wanted to enhance the comfort for passengers in economy class," added Kawate. Long-haul seat pitch is a generous 34in, and passengers get a seat-mounted 10.6in IFE monitor, in-seat power and USB port. Short-haul economy seat pitch is 31-32in with 9in seatback screens installed.
Both classes on both versions of the 787 feature Panasonic's eX2 IFE platform – this reflects the three-year delay that the airline has suffered – Panasonic's latest product is its Android-based eX3 system, which is considerably more advanced. "Panasonic only unveiled it eX3 system in April 2011," remarked Kawate. "Hence it was not available at the time of system implementation for our 787s."
Overall, Kawate was philosophical about the long wait to receive the aircraft: "It was regrettable to have it delayed seven times," he said. "However, we trust this time will be used to deliver the best possible aircraft in the shortest possible timeframe."
Window of opportunity
Despite the delay, there's no doubt that ANA received an aircraft with some exciting new cabin features – all fitted as standard by Boeing. First of all there's the Dreamliner's 47cm tall and 28cm wide windows – 30% larger than those installed on the 767. "Their size and location give a really remarkable view of the flight," said Tom Galantowitz, Boeing's 787 interiors director. "One of the really key aspects is that any passenger can see out of the windows." An electronic dimming function integrated into each window adds to the excitement: "There's no comparison to a shade, because you can have it at a setting where you can still see through the window yet not disturb the other passengers around you," added Galantowitz.
Passengers will also welcome the more expansive overhead compartments, which are 30% bigger than those on the 777, with enough room for four standard carry-on bags. They'll also notice the much improved cabin atmosphere – air pressure will be maintained at an equivalent altitude of 6,000ft, in comparison to 8,000ft on its previous aircraft, while humidity will also be increased.
The 787's much celebrated entrance area, with its iconic vaulted ceiling and integrated mood lighting, provides a warm welcome when boarding, emphasising a sense of space and drama. "Passengers will know they are on a 787 the minute they walk on board," stated Boeing spokesperson, Lori Gunter. "Its interior is unmistakable. From its high ceilings to its larger windows and versatile LED lighting, we have designed the Dreamliner to delight our customers' customers. And, as important as the visible touches are, the lower cabin altitude, higher humidity and cleaner air will mean that passengers arrive at their destinations feeling more refreshed. They may not know why but they will feel a difference."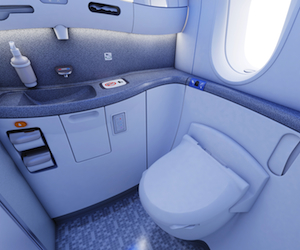 Individual touches added by ANA to the overall passenger experience include lavatories jointly developed by Toto, Jamco and Boeing that feature 'washlet' technology – a toilet seat equipped with a hot water washer. Such toilets are common in Japanese homes, hence the airline was keen to introduce them in flight. "Washlets have quite a reputation in our market," explained Kawate.
Kawate is genuinely excited by the improved passenger experience the 787 offers ANA's customers, particularly those travelling in business: "You can enjoy a fully flat seat and lots of personal space," he stated. "Passengers will sleep well, be able to eat a delicious meal, and enjoy the entertainment programming or work with ease. Introducing staggered seats in business ensures greater privacy, while the fixed seat backs in economy also help in this regard."