Passenger confidence is key to the recovery of air travel. Designers and suppliers around the world have come up with ideas to help flyers feel safer in the cabin and more physically separated from their fellow travellers. From low-cost cardboard isolators, to 3D-printed air blades, a wide range of ideas has been developed very swiftly to help reassure nervous passengers.
HeadZone
While passengers will be keen to know what cabin hygiene or germ transfer measures airlines have taken in the current Covid world, they may feel more reassured if they can take more control over their personal space by bringing their own safety measures on board. Passengers need to be in the right frame of mind to fly with confidence – or indeed in the right HeadZone, as Factorydesign has named its latest cabin safety solution, which wraps around the head to give support, personal separation and a sense of reassurance.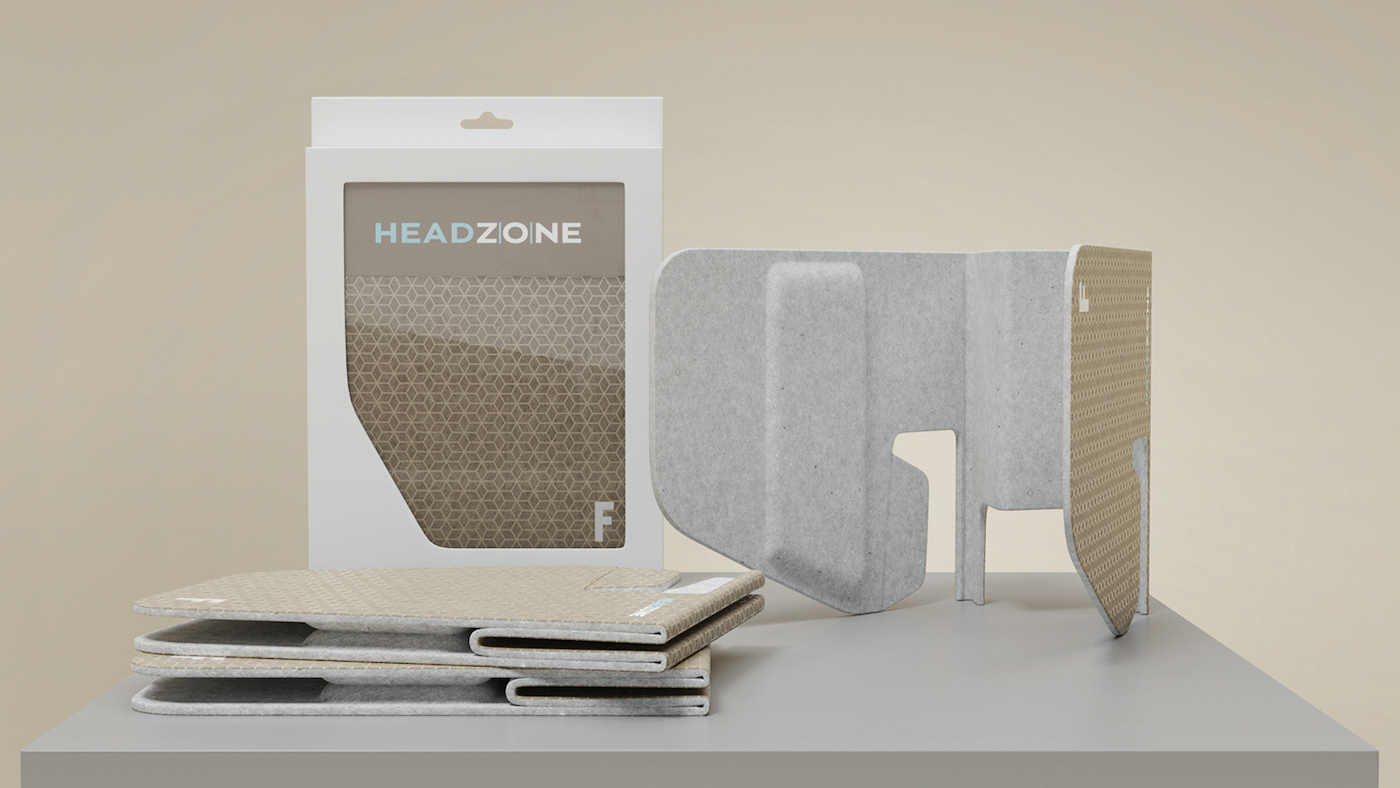 The London-based design agency has devised HeadZone as a simple and affordable way for economy passengers to feel safer in their seated environment, with a simple foldout product made from recycled cardboard that is simple to manufacture, user friendly and multi-use.
The partially moulded design has a dual-layer construction. The unit slips over the back of the seat, and fold-out ears reinforce the side head supports.
Factorydesign envisions HeadZone being available for purchase by passengers at the terminal, or supplied by the airline (or railway company) as part of a flight/travel purchase.  There are opportunities for branding, sponsorship and high-impact advertising, which could help enable airlines or railway operators to provide the units free to customers.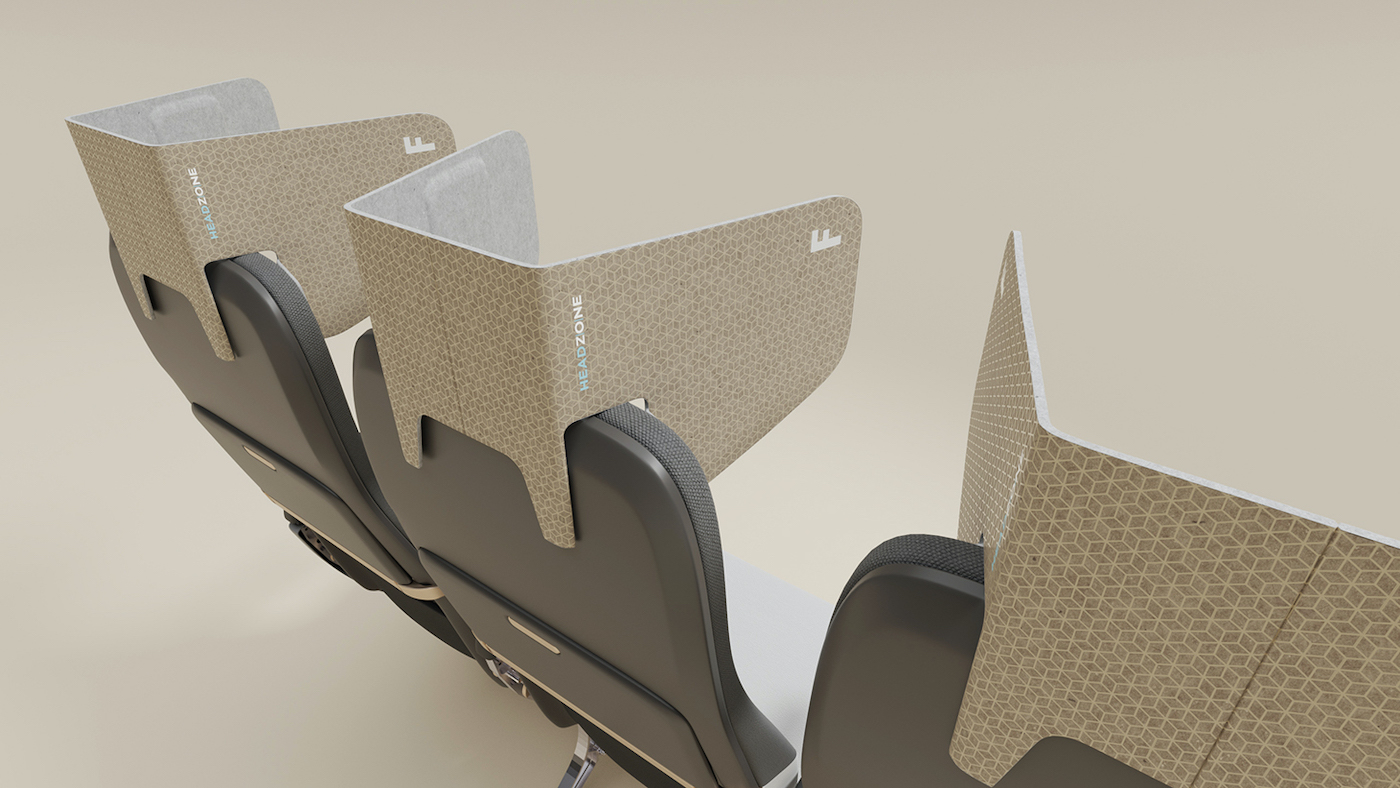 Isolate Screen
Factorydesign has created another design to help passengers feel shielded from one another. Many airlines are currently experiencing reduced passenger loads, and the studio identified an opportunity to transform a vacant seat into a screen that maximises personal space and helps separate passengers from each other or the aisle. The studio's 'Isolate Screen' kit consists of a translucent thermoplastic screen mounted on a lightweight table top, supported by the armrests and secured using the seat belts.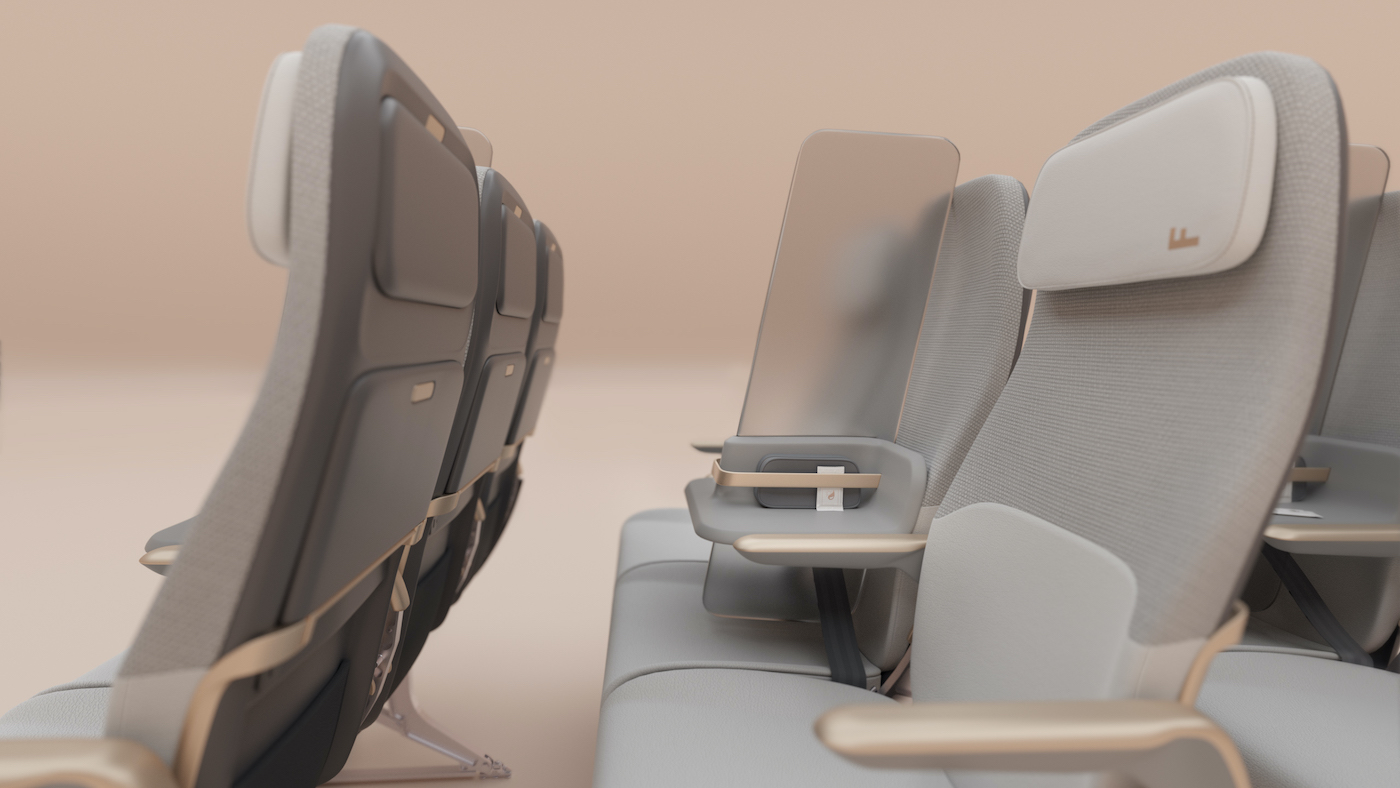 If an airline thinks its passengers are seeking a deeper sense of isolation, the screen could be specified in a lightweight thermo-formed foam with a cleanable leather trim that gives more visual separation, with both versions designed to be easy to clean, without any 'dirt traps'.
Physical and respiratory protection
Some of the latest safe Covid travel concepts aim to reduce physical touchpoints between passengers while some others provide respiratory protection. Molon Labe Seating has taken a wider view by adapting its S2 economy class 'Stagger Seat' that addresses both physical and respiratory protection.
An interesting option for the seat is a system that can vent fresh cabin air from the headrest directly towards the passenger's face, with controllable flow rates and direction similar to overhead cabin vents.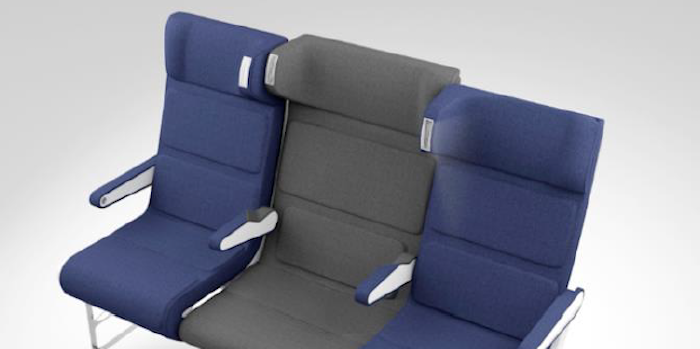 The seat features a large one-sided headrest that acts as a physical barrier between passengers, and which can be rotated 180° to give a more open option for passengers travelling with friends and family. The staggered layout of the seat increases lateral space whilst reducing contact points between passengers, while the staggered armrests further reduce contact points between passengers.
Hank Scott, CEO of Molon Labe Designs plans to complete the seat design by the end of 2020. "Our aim is to look at a long-term solution by making these post-Covid specific changes to our S2 design, addressing both passenger comfort and confidence," he states.
Soft cabin divider
Airflow down the cabin could be disrupted by fitting Jamco America's Soft Divider, a leather-wrapped eyebrow-type hanging class divider for single-aisle aircraft. The simple design has a larger surface area than Jamco's previous hanging dividers, which could potentially reduce the spread of germs, as well as creating additional visual and physical separation between the passengers either side of the unit.
The divider also opens up additional legroom for the seat behind without reducing cabin density, or in some cases allows an additional row of seats to be fitted, depending upon aircraft configuration. As the unit is flexible, it can bend sufficiently that it will not restrict seat recline, and only encroach into passenger space to a minimal degree. Upon request, the Soft Divider can be formed to follow the contour of the seatback in the reclined position.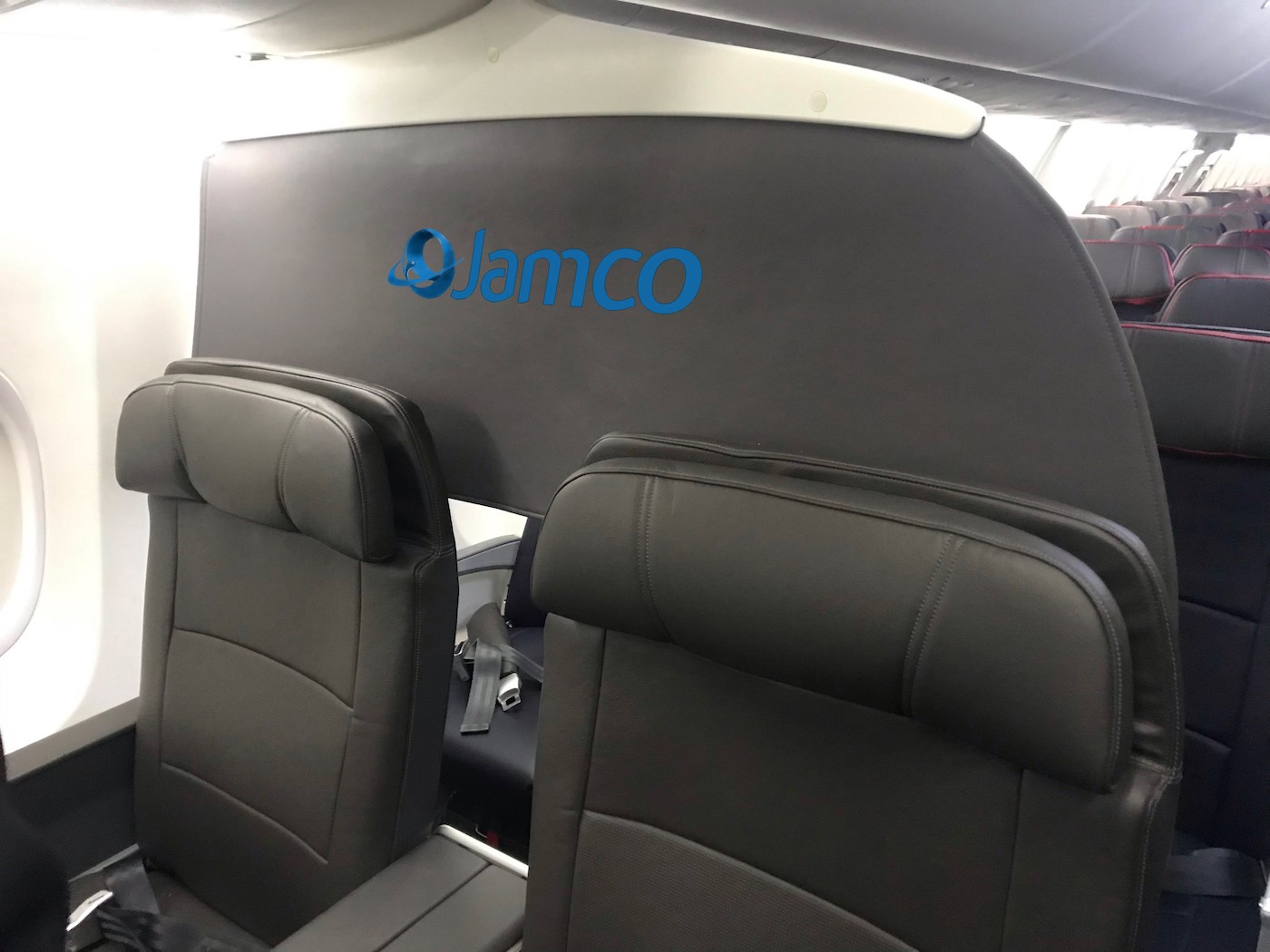 According to Jamco the divider is easy to install and integrate with existing header provisions certified for Boeing 737 divider systems, and is scheduled to be certified for the Airbus A321 later this year.
Lightweight polycarbonate dividers
Inspired by the spit protections fitted in many shops and supermarkets to help protect against the spread of Covid-19, Lufthansa Technik (LHT) has designed seat dividers which are installed around the headrest of the middle seat in order to separate passengers.
Installation is simple: the lightweight polycarbonate divider is inserted into the magazine compartment of the seat behind and then 'clicked on' to the table mounting. One shipset of dividers can be installed within few hours during a night shift, according to LHT.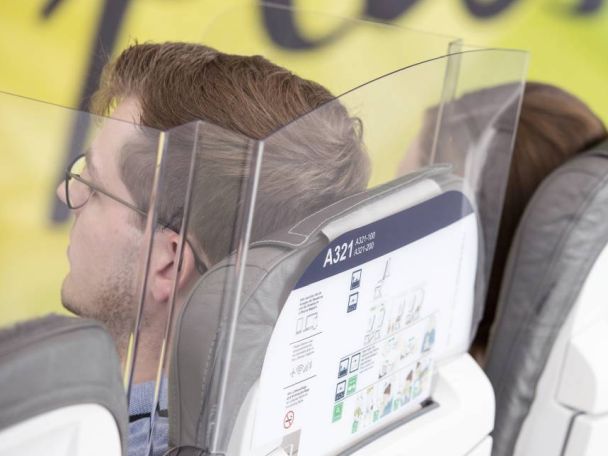 LHT says that airflow tests have shown that the shields prevent the spread of aerosols, without reducing the beneficial ventilation effects of the cabin air conditioning. The dividers have been designed in cooperation with Krueger Aviation GmbH and the process of acquiring an STC (Supplemental Type Certificate) has already started. LHT expects the dividers will be available in two to three months.
Disposable seat covers
AviationRFI's 'Dual Disposable Seat Cover' is intended to help reduce germ transfer from seats to clothing during travel. The one-piece cover is double-ended, with one end suitable for fitting to an aircraft seat, and the other a car seat (useful for taxis, etc).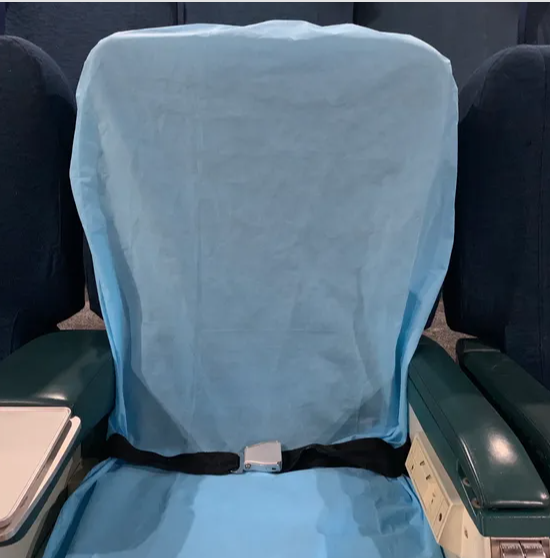 The lightweight cover is made from medical-grade PPE fabric, and is recyclable and disposable. The company is reporting enquiries from around the world, with increasing interest from airlines and frequent flyers.
Flying in a bubble
A rather more extreme approach has been taken by Stuttgart-based Design and Science Lab, which has created a concept for a physical, sealed barrier between passengers. The design is a full cocoon that fits over an aircraft seat and its occupant, keeping them completely isolated in the cabin.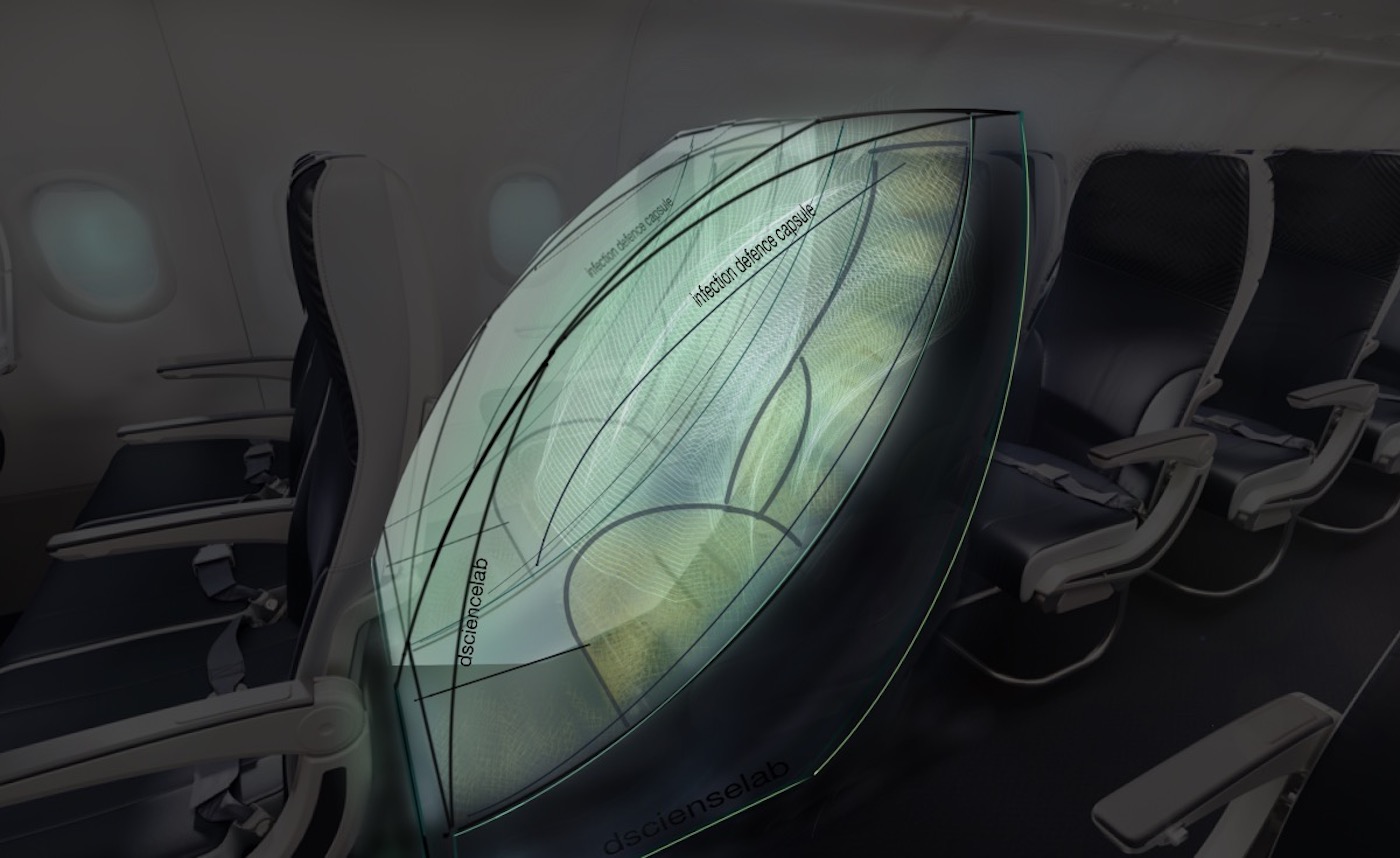 "The solutions that have so far seen the light of the world are rather half-hearted and not of high efficiency," stated Stelios Delivos, founder of Design and Science Lab.
Glass shields
Dutch company, Aviation Glass, has developed large glass screens that can be fitted onto existing aircraft seats to give a greater feeling of protection. The tempered and laminated AeroGlassShield screens are designed to be fitted between seats, and meet EASA safety regulations.
Jaap Wiersema, managing director of Aviation Glass explained the design, "When the Covid-19 pandemic swept across the world in March this year, we had already been discussing the application possibilities of our AeroGlass product, including aircraft windows, with several airlines and aerospace OEMs. When the consequences of the corona crisis for the airline industry became clear, various parties in the industry asked us to help them come up with ideas that would allow them to fly without jeopardising the health of passengers and crew."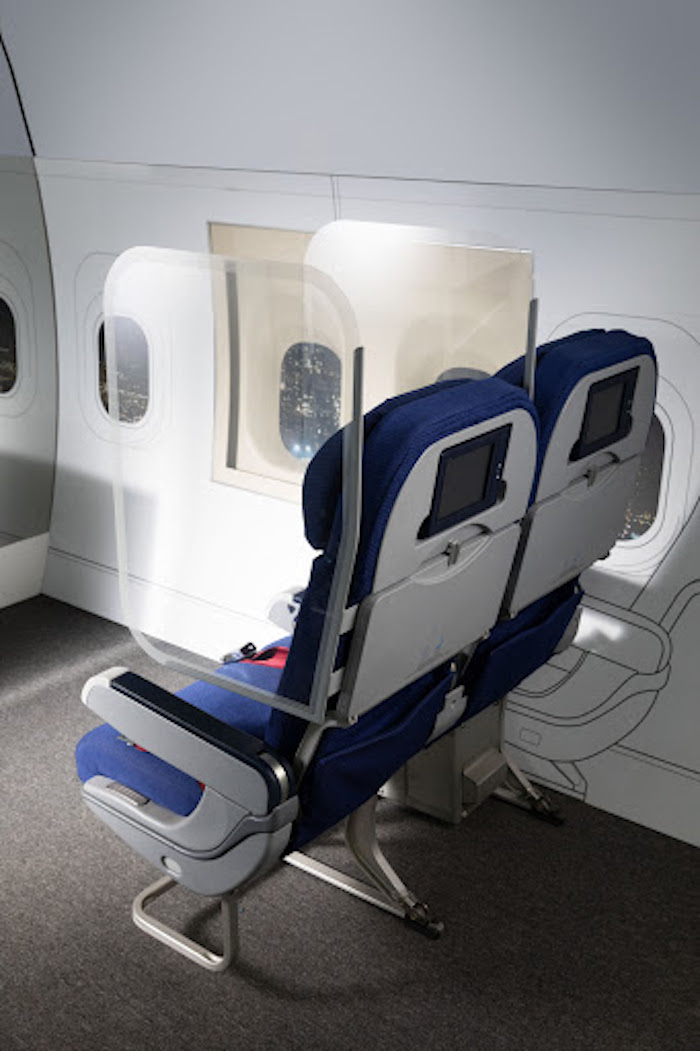 The company regards the polycarbonate screens currently being used in public transport and shops as being relatively heavy, as well as potentially flammable. Wiersema says that the AeroGlassShield is scratch-resistant, fireproof and easy to clean, and is lighter in weight than plexiglass.
According to Wiersema, the AeroGlassShield has received "an enthusiastic response" from airline companies. "Currently, we are in the process of getting this application of AeroGlass approved. We are very positive that it will pass in the short term, as we have been supplying mirrors, room dividers and ceiling lighting system concepts for private jets and commercial aircraft for years now. We hope to equip the first aircraft with the AeroGlassShields between seats this year and thus contribute to the recovery of civilian aviation."
Removable Divider System
Aerofoam Industries' Removable Divider System (RDS) is a removable seat-blocking device that can be easily installed on any seating platform using the existing passenger restraint system, without restricting the function of the seat. This attachment method allows for quick installation and removal, and eliminates the need to make modifications to the existing seat assembly.
RDS has been designed in two different configurations. RDS Shield features a clear partition that provides a sanitary divide between passengers, while still allowing visual connection and communication between passengers and crew. The RDS Standard version does not include the partition, but still provides a physical object in place of the middle seat.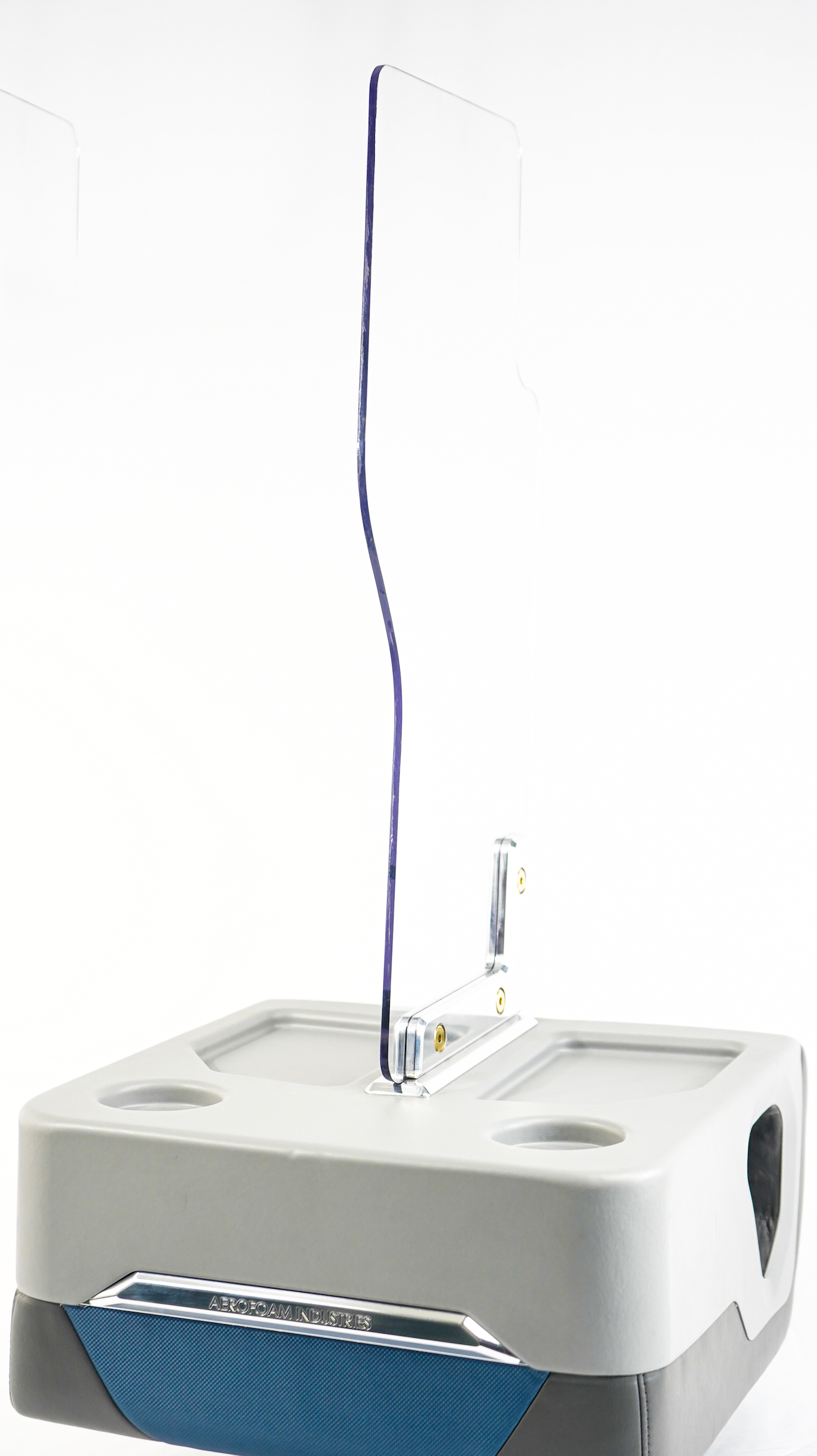 Both configurations include cup holders and recessed stowage for passengers on either side of the device and can be easily sanitised. Aerofoam's design team can adapt and configure the RDS to any airline brand identity, including those utilising multiple seat models, aircraft, or cabin layouts.
Passenger Protection Screens
Autostop Aviation, usually known as a manufacturer of seat covers, has been tasked by its airline customers to design passenger protective screens to help reassure passengers in economy class. A clear divider has been produced by the company's cabin solutions team and certification partners, and CEO Jon Robinson says the company has successfully completed trials of the screens on several aircraft, leading to swift airline approval.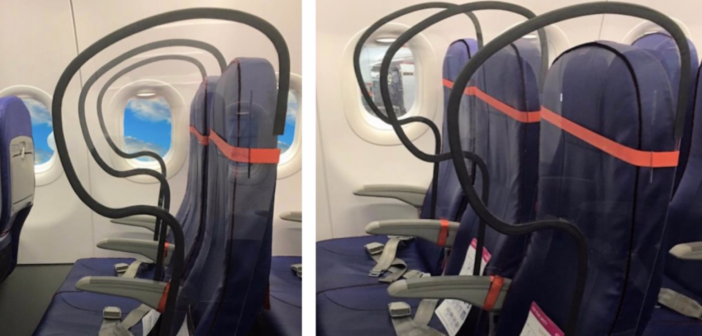 Airlines seeking to fit this modification will need to send their LOPA details and seat part numbers to the company, and its certification partners can then release the units on an EASA Form 1 and supply an EASA-approved SB and EASA Change Approval to permit installation.
A headrest with adjustable benefits
Reinhold Industries, a US-based company which has been producing aircraft seat headrests for 20 years, has designed an adjustable headrest that can be fitted to any economy seat platform, with both privacy and passenger safety in mind. The design is based on the company's existing bearing design for vertical adjustment, with constant torque hinges that allow the headrest to be folded around the seat occupant's head to give a greater feeling of protection and isolation in the cabin, with padded surfaces to enhance comfort.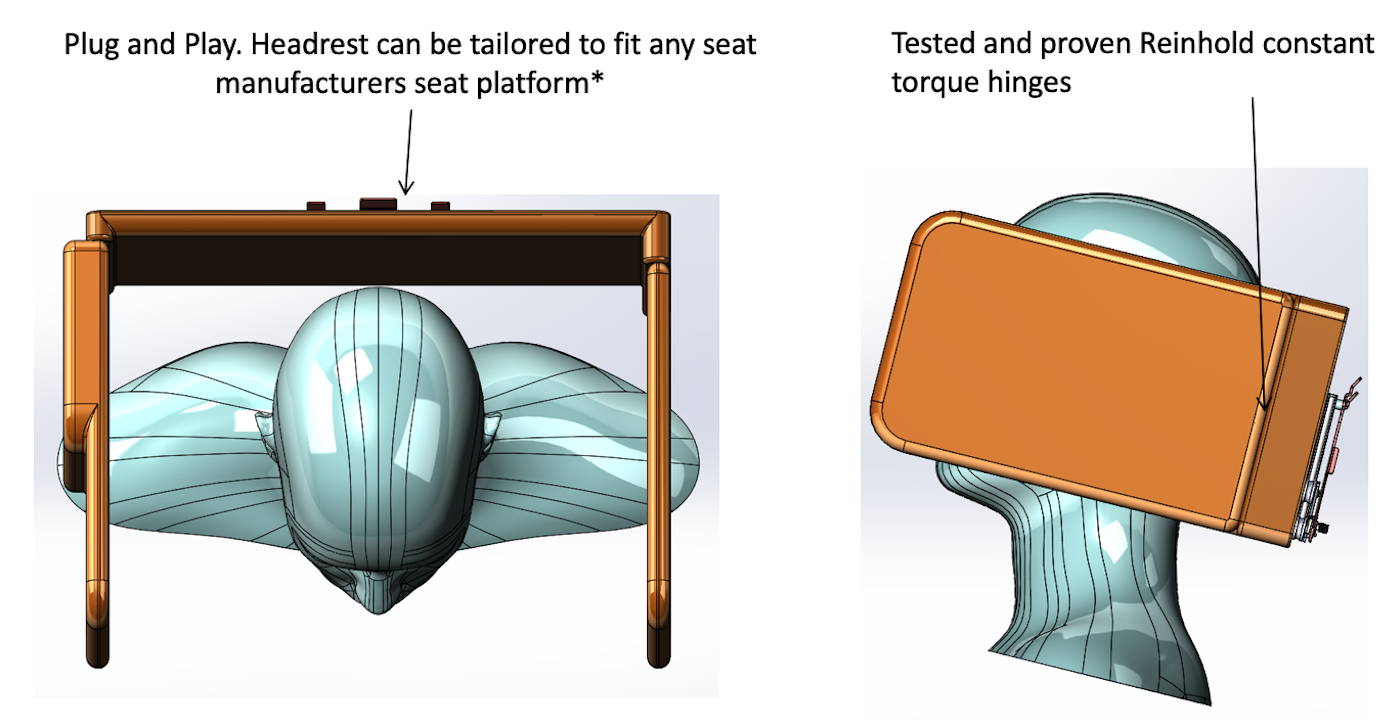 An enhanced version has also been developed for premium economy seats, which takes all the standard economy features and adds a little extra width and an optional tilt function.
PlanBay panels
Florian Barjot, a Toulouse-based aviation designer whose idea to fit a panoramic window in widebody aircraft we featured previously, has responded to the corona situation by devising something on a rather smaller scale: PlanBay a quick-fit, removable kit that can be fitted to unoccupied economy class seats to help separate passengers.
The kit is proposed to be produced from plexiglass or polycarbonate sheets to keep production costs low, with the clear panels enabling direct view of passengers by the cabin crew.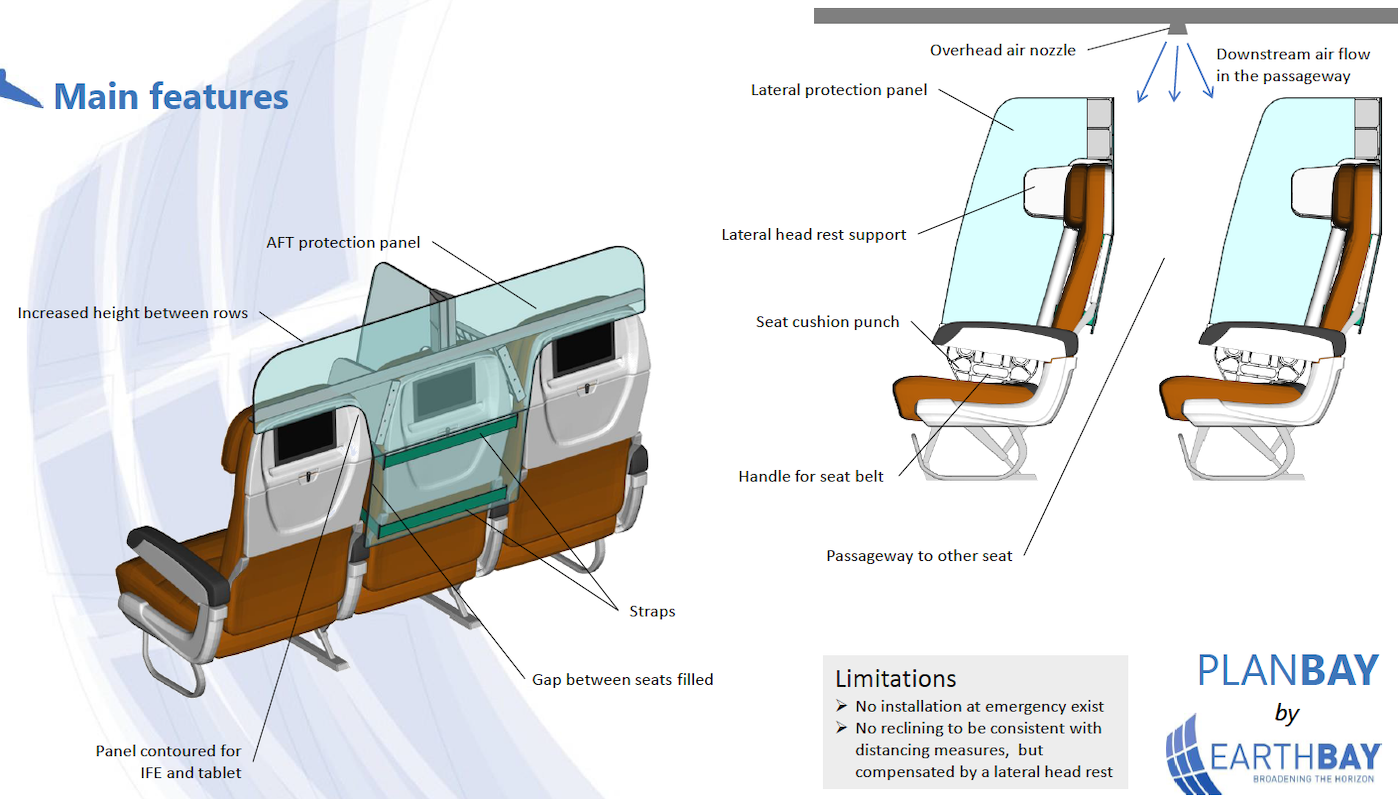 Glassafe
Aviointeriors proposes Glassafe as a kit-level solution that could be installed on existing seats to help separate passengers sitting in double or triple seats. The company has stated that Glassafe could be supplied in different versions for a range of existing seat models, with fixing systems that enable easy installation and removal.
The shield is shaped to maintain elbow space and to enable easy access to seatback features such as tray tables, magazine pockets or coat hooks. The transparent panels also enable disabled access, as the panels on the aisle side can be rotated to make ingress and egress easier.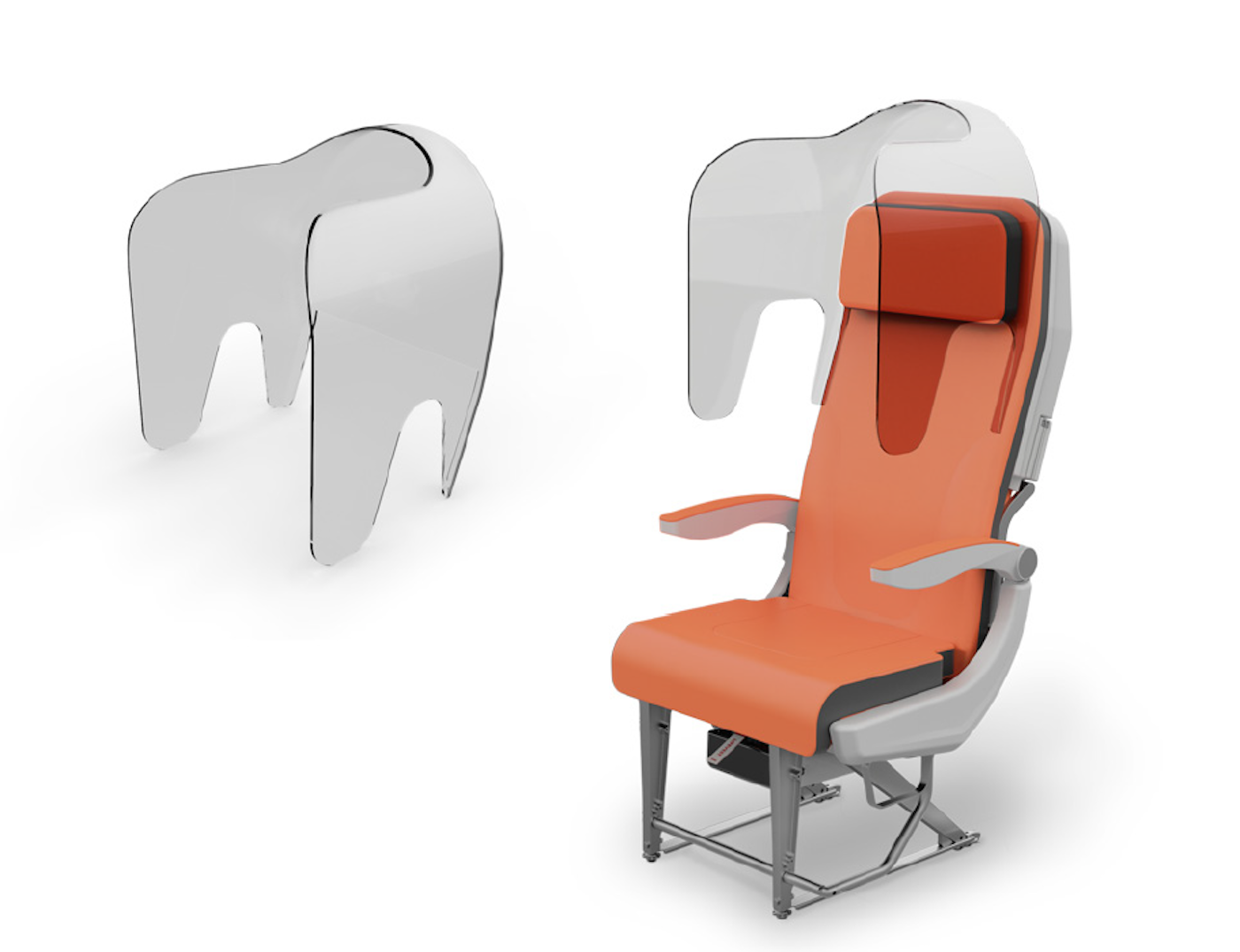 Aviointeriors says that Glassafe could also be supplied in opaque material or with different degrees of transparency, all of which are designed with easy cleaning in mind.
Cocoon concept
Priva is a concept developed by Golnoosh Torkashvand, a student at the Florida Institute of Technology, which is designed to provide economy passengers with personalised privacy levels. The unit consists of an adjustable interactive shade which opens and closes over the occupant's head on demand. Once deployed the wearer can choose adjustable visibility, dimmable lighting and IFE options, as well as a messaging system that facilitates communication with flight attendants.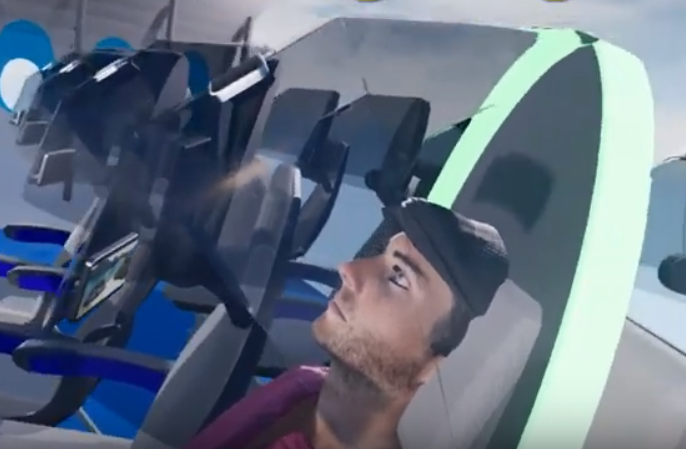 A barrier solution
Vision Systems, a company which usually specialises in cockpit shading systems, has adapted its designs to create a light, compact and transparent barrier that separates passengers and also features an anti-germ treatment – without requiring an empty seat between passengers.
The design has a roller system with a tear-resistant screen that does not generate additional vibrations, all made from aeronautics-certified materials. The barrier is quick and easy to mount and dismantle without modification of the existing seat, does not compromise the seat recline function, and is adaptable to any type of armrest – indeed the shape and dimensions of the screen are customisable to fit an airline customer's particular seat model or cabin design.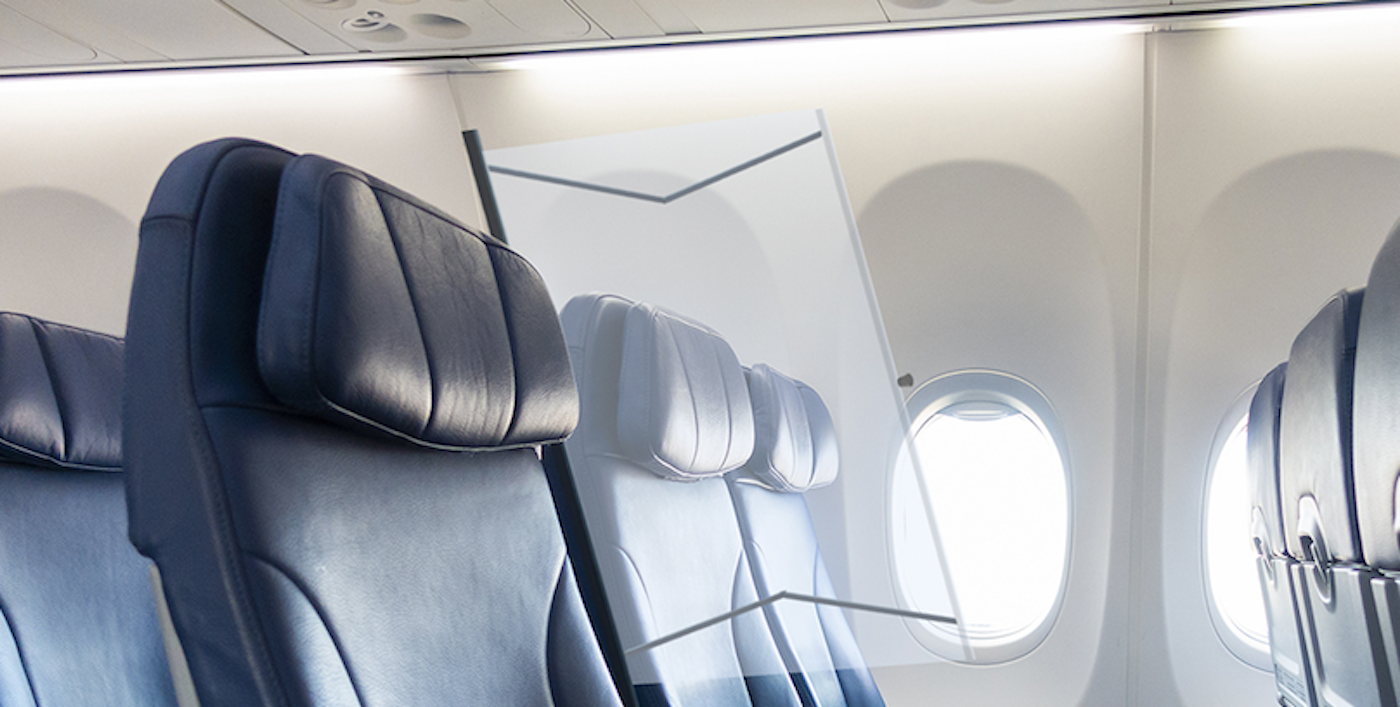 The Travel Safe range
Safran Seats has developed a range of designs collectively named 'Travel Safe', which is designed to address three objectives: social distancing without loss of cabin density, touchless interactions and virus-free surfaces.
The social distancing aspect of Travel Safe involves equipment such as Ringfence, a simple removable partition that isolates neighbouring passengers. Other designs include touchless interaction equipment for suite door actuation, and pedal actuators for backrest recline functions. The virus-free solutions incorporate a range of coatings for seats and tray tables which facilitate disinfection and cleaning.
Safran Seats has also launched a co-creation service for customers, named Create with Safran Seats. This service is designed to envision, create, assess and converge on new solutions for airlines in a short period of time. This offer is intended to lead to customised seats adapted to post-Covid-19 travel requirements.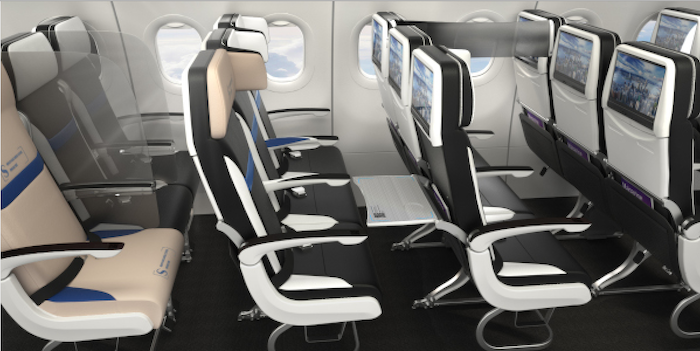 The Interspace seat design
Safran Seats has also announced an exclusive partnership to bring the Interspace seat technology to market. As part of this, the partners are working on the Interspace Lite equipment adaptation, which gives airlines the flexibility to easily reconfigure their economy cabins. An easily retrofittable table and shield fits over the centre seat, providing delineation and privacy between passengers by locking out either the central or outboard seats of a row.
Luke Miles, founder of Universal Movement explains, "We have sought to provide a solution that could allow airlines to get back on their feet much sooner than if standard aircraft seating were to remain the same. Our partnership with Safran is a significant step in helping support the industry and also make planes a much more comfortable space for passengers when they look to travel again in the future."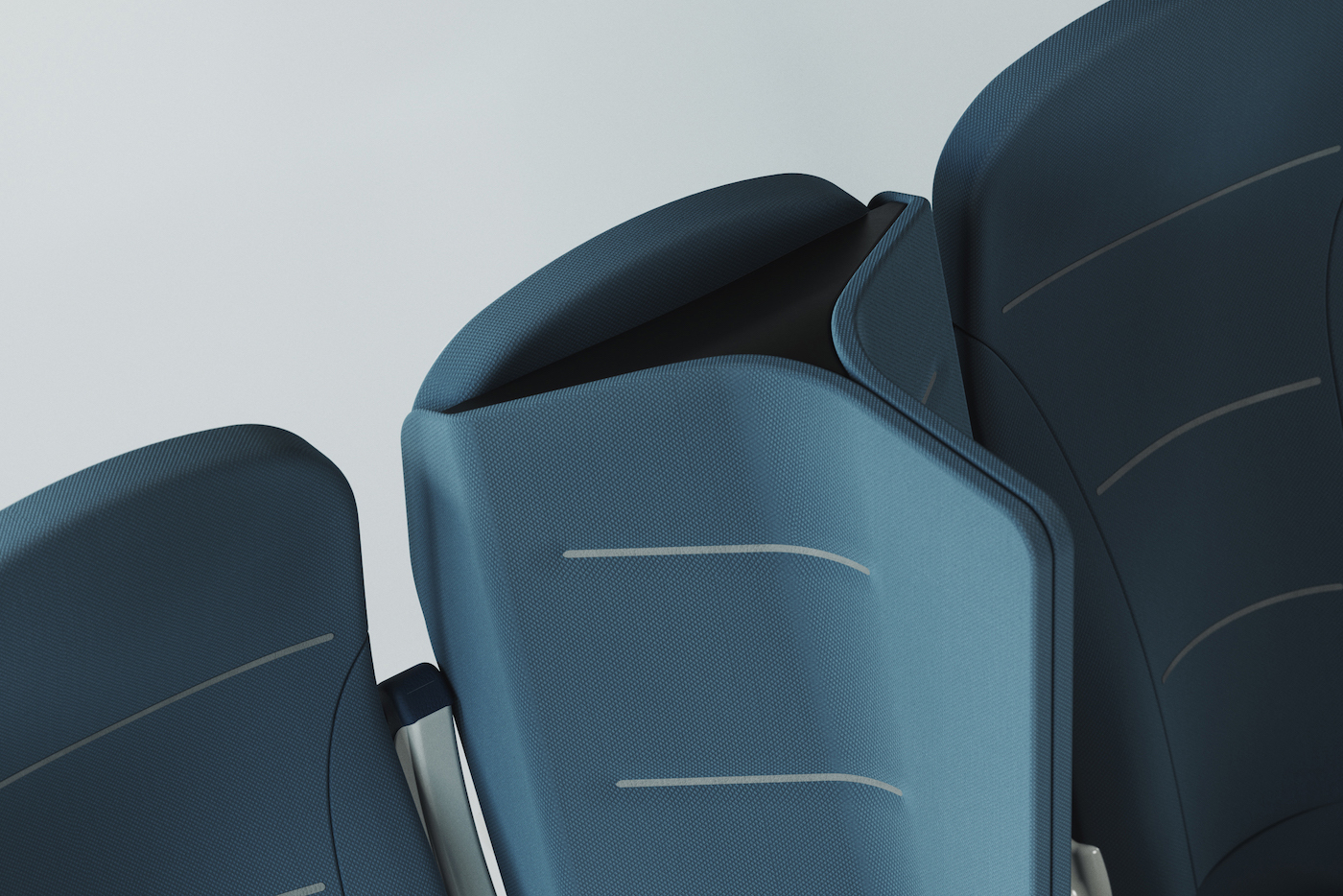 In response to demand from some airlines for flexible solutions to aircraft seating configurations in economy and premium economy cabins, manufacturing of the Lite and premium economy upgrade products is set to begin in early summer this year, with supply and kitting tailored to meet demand thereafter.
Design and development work will continue leading to a fully integrated Interspace product for economy and premium economy as a new seat offering.
A clip-in AirShield to minimise germ transmission
Aircraft are one of the safest modes of transport, even during today's Covid-19 threat, with HEPA air filters ensuring the quality and sanitation levels of recycled air remain incredibly high. However, Teague found that airflow on-board an aircraft is largely vertical, with air dispersed at the top of the cabin and along the sidewalls. The air is then pulled out of the cabin through ducts in the floor, filtered and refreshed every few minutes. This process can extend the trajectory of an infectious water vapour droplet past multiple passengers before it is decontaminated – potentially resulting in one person infecting several others.
In response Seattle-based design company, Teague, has developed the AirShield concept, a single 3D-printed component that fits directly onto the passenger service unit (PSU) positioned above every passenger in the cabin. Airflow from the existing overhead air-gaspers is channelled through the AirShield, transforming freshly purified air into engineered 'air-blades' capable of controlling the spread of droplets much more effectively.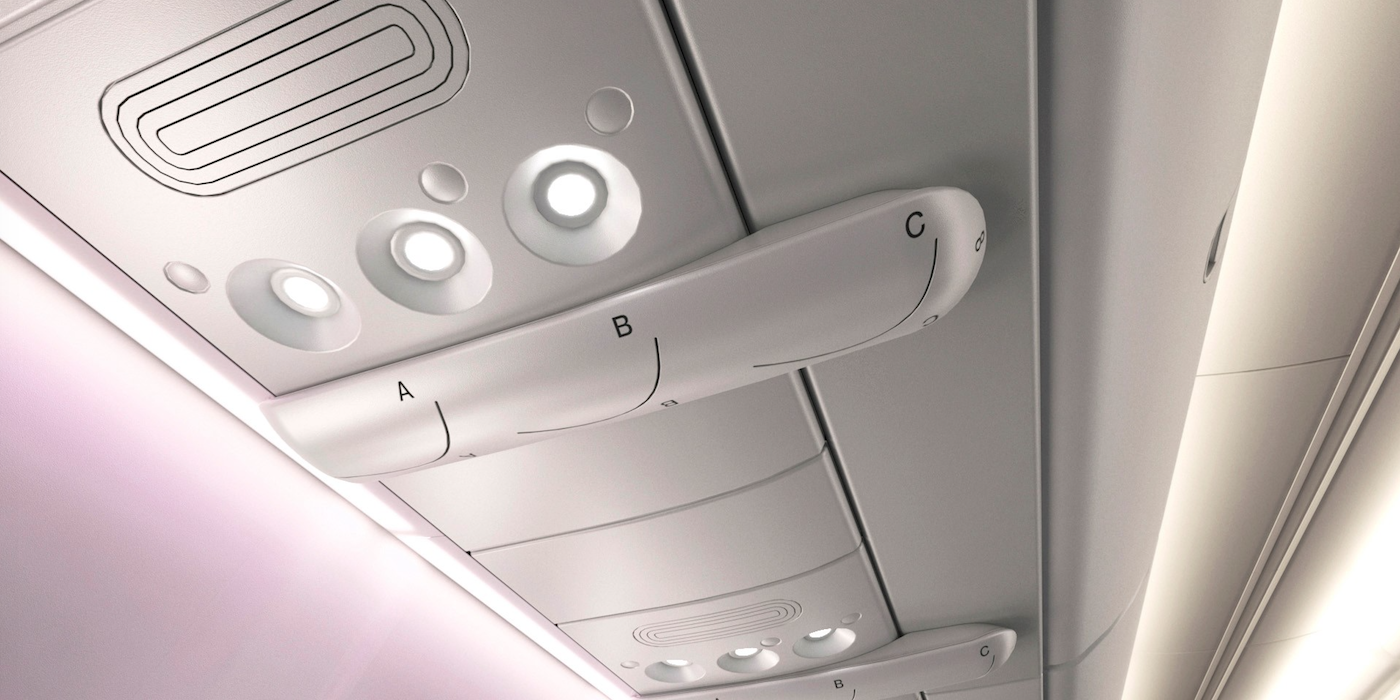 As a result, when a passenger breathes, coughs, or sneezes, the water vapour droplets are contained within that passenger's personal space and immediately re-directed downwards and out of the cabin to the HEPA filtration units, before they have the opportunity to enter the personal space of a neighbouring passenger.
"In an aircraft environment, it is airflow and not the distance that plays the most significant role in the spread of a virus. By engineering the cabin airflow to manage each individual's exhalations, passengers can have far greater peace of mind when seated nearby," explained Anthony Harcup, senior director of airline experience at Teague, who co-invented AirShield.
"For many airlines, it is simply not commercially viable to reconfigure entire cabins to adhere to social distancing measures – especially in economy class, where passenger density is at its highest. A reconfigured interior would also not guarantee passengers the same level of protection from infectious droplets travelling through the cabin when compared to AirShield
"Coronavirus and the use of masks will go away long-term; however, the world's expectations for elevated hygiene post-pandemic will remain. The enhanced interpersonal protection that Air-shield is set to deliver will be a valuable tool for the industry in the quest for a cleaner, safer cabin."
The AirShield concept is now entering its engineering development phase in anticipation of rapid deployment to help restore confidence in air travel.