In 2011 Virgin Blue, the plucky Australian upstart that dared to challenge Qantas on its own soil, was rebranded as Virgin Australia. A Boeing 737-800 and an Airbus A330-200 sporting the carrier's redesigned livery were added to its domestic fleet in May 2011. Both aircraft feature new economy- and business-class cabins with dark leather seating, and a gourmet menu created by Aussie masterchef Luke Mangan. The new features underlined a desire to transform the low-cost carrier into a modern airline that appeals to both the corporate and leisure markets.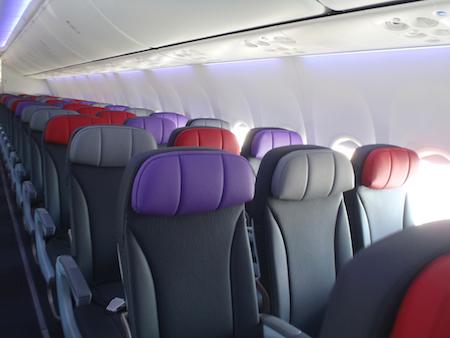 The A330-200, which entered service between Sydney and Perth on 26 May 2011, is the first aircraft within the carrier's domestic fleet to offer a business-class product. "For the first time in almost a decade, travellers will have a choice in business class within the Australian domestic market," said John Borghetti, Virgin Australia's CEO and managing director, during its launch. "With our excellent service, luxury leather seating, multichannel IFE and our range of high-quality meals designed by Luke Mangan, Virgin Australia's A330 service will provide an unparalleled experience in Australian skies."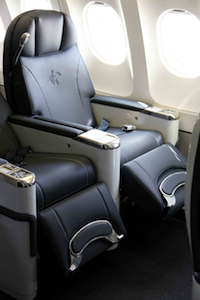 The carrier's first two A330-200s are equipped with 27 business-class seats from Contour installed at 62in pitch in a 2-3-2 configuration. Its third and all following A330s feature 24 business-class seats supplied by Weber, set at 60in pitch in a 2-2-2 configuration. In both cases, the seats feature individual seatback IFE screens, a smart dark matt leather finish and generous amounts of recline.
A range of high-quality Luke Mangan inspired meals that are prepared on board rather than merely reheated are included in the price of a business-class ticket. Options include Petuna Tasmanian ocean trout with asparagus and a salad of fennel or a small Caprese salad. There's also a barista-style coffee service and an extensive choice of fine wine, beer, spirits or champagne.
Amenity kits feature toiletries from Bulgari and Grown, while blankets, pillows and noise-cancelling headsets are also available. "Our launch amenity kit is from Bulgari but we are moving to a new range of male and female amenity kits from October this year [2011], incorporating Australian cosmetics from Grown," explained Martin Daley, Virgin Australia group executive of product and guest services. "Grown produce organic luxurious skincare products – owned and made within Australia."
The economy cabin on its first two A330-200s features 251 seats from Sicma installed at 31-32in pitch in a 2-4-2 configuration. Its third and following A330s feature the same number and configuration, but with seats supplied by Weber and set at 31in pitch. All seats are finished in the same dark leather, with headrests in shades of red, stone or lilac.
The IFE on its first two A330-200s is provided by Panasonic's 2000E broadcast system, while the same company's Ex2 AVOD IFE system features on all later aircraft. Both systems provide passengers in both classes access to 12 free-of-charge early release movies split across inbound and outbound flights. There are also 16 TV channels and a range of music videos, radio channels and the latest CDs to choose from.
Meanwhile Virgin Australia's latest 737-800 includes the new Boeing Sky Interior (BSI), which offers larger overhead lockers, mood lighting and sculpted sidewalls to provide an enhanced feeling of space. The airline already operates 54 of the aircraft type, with a further 58 on order – the latter all featuring the Sky Interior. The carrier is the first BSI operator on the continent, with rival Qantas not expected to receive its first one until later this year.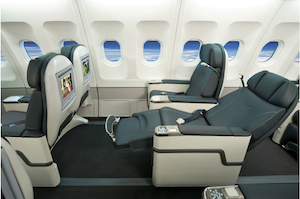 The new 737-800s feature eight business-class seats in a 2-2 configuration at 37in pitch followed by 168 economy seats at 30-31in pitch. B/E Aerospace provides its Spectrum First unit in business and its popular Pinnacle model in economy. A stylish custom-made plexiglass divider separates the two cabins, while a 'privacy enhancer' is installed in front of the first row to shield passengers from the galley and entrance area.
One key feature conspicuous in its absence on the 737s is an in-seat IFE system – some reports suggest this was after negotiations with potential supplier Panasonic broke down. "Our new BSI 737-800 aircraft are being delivered with no IFE installed," confirmed Daley. "We are nearing the completion of our fleet IFE and connectivity strategy review and will make a decision on this shortly. We have been talking extensively to our guests to understand all of their IFE needs and have reviewed the latest IFEC solutions available in the market. The latest AVOD systems, WiFi delivery, tablets and everything in between has been considered as part of this review."
Contemporary vision
Virgin Australia's creative director Hans Hulsbosch, who previously worked with the carrier's new CEO, John Borghetti, when the latter was at Qantas, said that the interiors of both aircraft types were designed to provide a more modern and luxurious feel: "The brief was to really update the brand – Virgin in Australia – to make it a sexier, slightly more upmarket, contemporary kind of brand – and that's what we've done," he stated. "The seating and experience of these cabins has been designed to say contemporary quality. The aircraft are stunning in their visual appeal, with a very modern simplistic look that creates more space in the cabin."
Hulsbosch partnered with UK-based aircraft seat cover design and manufacturing firm Sabeti Wain Aerospace to maximise comfort for passengers, who face journey times of over three hours on some transcontinental routes. "We pushed the padding to its absolute maximum, to really get as much comfort as we possibly could out of the economy seat," explained Hulsbosch. "And we did the same again of course with the business-class chair." The custom-designed and built laminated seat covers in both classes are finished in leather supplied by rohi (Wollsdorf).
As for the colour scheme, Hulsbosch says his aim was to create a bold contrast: "The seats are all basically dark grey – I wanted a black-and-white look in the cabin to make it very clean, stylish and fresh. The charcoal of the seats is very dark while the wall coverings are almost white. I believe this will last a lot longer and will not date so quickly as so many airline fabrics and designs do these days. It also gives me the flexibility in years to come to be able to make minimal changes to it to ensure it stays relevant."
The simple scheme also provides the perfect backdrop for what Hulsbosch considers to be the most important onboard feature – the staff. "The crew is the difference between a great flight and a bad flight," he said. "You always remember a comment a crew member made to you rather than the seat. The crew's new uniform is a very vibrant red, with a purple scarf. With a black-and-white cabin, the red uniforms really stand out from the rest of the environment, and your eye will always go to that crew member. That's the other reason why we kept it very graphic."
Random approach
But it's not all black and white – far from it – the economy cabin also includes headrest covers finished in three colours: a light red to compliment crew uniforms; a stone grey inspired by the seating; and a light purple to pick up on details such as crew scarves, ties and the violet shades of the cabin mood lighting.
Hulsbosch said he wanted to use colour to underline the fact that passengers in economy are individuals, rather than "cattle", as he put it: "I wanted to make every seat as comfortable as I possibly could and I wanted to change almost every colour of the seat – to give the impression that every seat – and every passenger – is special. I didn't want all the seats to be all the same. The headrest colours accentuate the feeling that each passenger is a little bit special."
Interestingly, there is no distinct pattern to the headrests – the variation in colour is completely random. "We're going to try on every aircraft to make that different, so you'll never sit on a chair with the same colour headrest," said Hulsbosch. "Each aircraft should always look fresh, new and different."
Unsurprisingly this idea caused some alarm when first presented to the aircraft manufacturers: "They couldn't understand that we didn't have a pattern," he continues. "It took quite a bit with Boeing and Airbus to push it through – each colour had to be individually certified but it's been worth it as the reaction we are getting is wonderful."
Hulsbosch freely admits he was also inspired by Virgin America, particularly when designing the new business-class cabin: "I looked very closely at and got a lot of inspiration from Virgin America – they do it really well and have a fantastic product," he stated. "They've got white chairs in business – but white for us was just too big a problem in terms of cleaning and caring for the product. We also really wanted it to be the same colour as economy to avoid making too big a difference between the classes."
Business-class seating features an embossed logo – a detail borrowed from the sports car sector: "We stamped the word Virgin in the seat to give it something a bit special and racey – we really got a lot of inspiration from Porsche."
Same difference
The rebranding exercise has been extended to Virgin Australia's long-haul fleet, which was previously operated under the brands V Australia and Pacific Blue. "Now we're able to provide not only one brand and one presentation of the brand but a seamless customer experience as time moves on," said Borghetti during the launch of the group's new livery. "And that's very important – consistency in brand is everything as you know."