Today, many airlines are following the lead of the low-cost carriers and offering a 'no frills' service in order to remain competitive and – on the whole – passengers have accepted this approach in return for lower ticket prices. However, at the other end of the spectrum, first class and other premium passengers are greeted by name and expect their chosen airline to satisfy their every preference. But what if there were an affordable way to offer every passenger a more individual and personalized customer experience?
Nowhere is personalization more pertinent today than in broadcasting. Think back to the time when viewers had to choose between a social event and the last episode of a cliff-hanger, or had to rush home from work to catch a big international football match. Now compare this with the on-demand viewing we expect today.
The existence of on-demand platforms and over-the-top (OTT) content providers such as Netflix or Amazon Prime means that instead of flicking through channel guides to see what's currently on, many of us now prefer to fire up streaming or catch-up TV services and pick up where we left off with our new favorite box set.
These services not only enable us to watch what we want, when we want – they are increasingly encouraging us to 'log-in' and provide relevant data so they can personalize their home page interface to make our preferred content more easily and quickly accessible. Personalization also extends to being able to choose our viewing device, whether mobile, laptop or smart TV.
The viewing figures tell their own story. Recent research from Conviva found that global viewing of streaming OTT content more than doubled to 12.6 billion hours in 2017 compared to 2016's figures, with the number of devices being used to watch going up by 9%, to 2.4 billion devices. This echoes the success experienced by Netflix, which surpassed the US$11 billion global revenue mark in 2017 and added 24 million new subscribers over the year.
Airlines offering in-flight entertainment (IFE) could benefit from this kind of personalization, but many have yet to grab the opportunity. If they want to keep passengers happy and feeling special, then they could provide access to an entertainment service that feels innately familiar. Catch-up TV and OTT services play a huge part in this. Suppose that passengers could watch a film, give it a rating out of 10 and then be given suggestions for other films they're likely to enjoy based on that rating?
Invariably, the inflight bandwidth isn't robust enough to enable passengers to access their favorite OTT services using their own log-in details. However, if airlines could create their own OTT service, complete with personalized content that can be accessed from the passengers' own devices, this could be a real differentiator from competitors.
Thankfully, there are now highly secure and scalable products on the market that fill this need. These enable mobility, seamlessly adopt to any client infrastructure and support broadcasting standards from any country. Their cloud monitoring capability also means airlines can supervise their usage remotely.
With the budget airline industry now offering transatlantic flights, this could be the perfect way to enhance the IFE on offer and keep passengers more engaged. For premium airlines, it's a great first step towards offering an all-encompassing customer experience where all in-flight services are personalized to the passengers' needs and preferences, keeping them happy and feeling they've been well looked after.
About the author: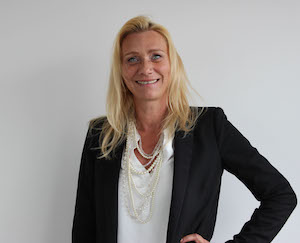 Ivonne Prugnaud is vice president of sales, worldwide enterprise, Anevia
About Anevia
Anevia is an OTT and IPTV software vendor that specialises in solutions for live TV, near-live, video on demand (VOD) and multi-screen. Anevia was founded in 2003 by the developers of the VLC media player, and since then the company has pioneered solutions across several public fields, including cloud DVR and multi-screen, and offers a comprehensive end-to-end encoding, transcoding, storage, packaging and delivery solution to the market. Anevia's solutions have been adopted by global TV broadcasters, telecommunication and pay-TV operators, video service providers and many private and companies. For more information please visit www.anevia.com.