An often overlooked component of any aircraft, floor panels play a much bigger role than just providing a flat surface to walk upon. Floor panels, or floorboards, are typically mounted into the aircraft's floor beams and help ensure the overall safety of the aircraft, passengers and crew during normal operations, rapid decompression events, and emergency landings.
In addition to acting as a reliable surface for passengers and crew, floorboards provide attachment points for different furnishings and components. These structural panels must be sufficiently stiff and strong to act as a supporting structure, versatile enough to allow for different cabin configurations, light enough to reduce aircraft weight, and durable enough to withstand use over time.
While fairly low fuel costs in the recent past have played a big role in sustaining airline profitability, gradually increasing oil prices are encouraging aircraft makers to push fuel-efficiency higher up on their agenda. Aerospace thought leaders are increasingly emphasising the need to boost the efficiency of aircraft while meeting international standards to minimise the environmental impact. The aviation industry is accountable for more than 2% of all human-induced carbon dioxide emissions.
Weight reductions are among the most effective and measurable fuel-efficiency initiatives. Robust developments in material science have hinted towards substantial benefits for aerospace companies and led to a variety of possibilities for product innovation. Advances in widely-used materials like aluminium and Nomex honeycombs to make aircraft floor panels more durable by minimising weight will help aircraft makers achieve greater efficiencies.
Global Market Insights forecasts that the overall aerospace floor panel market will hit US$230 million by 2024 [not taking into account the effects of Covid-19 on the market].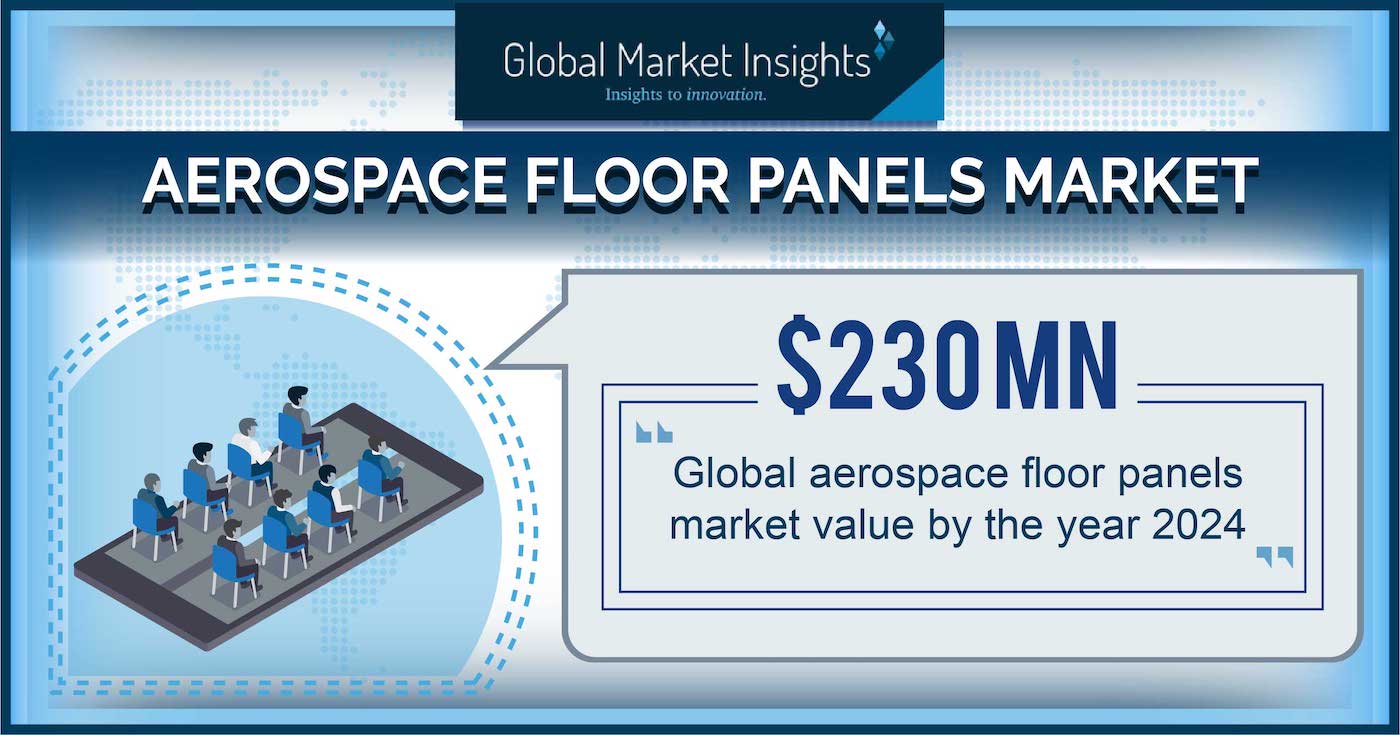 What is the impact of increased air travel in Asia Pacific?
According to the International Air Transport Association (IATA), current aviation industry trends suggest that the number of air passengers is likely to more than double to reach 8.2 billion by 2037. IATA also predicts that the Asia Pacific (APAC) region will be responsible for majority of this growth, with over half the total number of new passengers over the next two decades coming from APAC markets.
These trends can be associated with the combination of several factors, including rapid economic growth, favourable population and demographic profiles, and considerable improvements in per capita household income. Moreover, more and more people are now increasingly preferring air travel for tourism as it provides a faster and safer mode of transportation.
Consequently, the order intake for new carriers across OEMs is anticipated to remain strong in the near future. Aerospace OEMs are also upgrading their existing carrier fleets and manufacturing next-generation aircraft, which are more lightweight and fuel-efficient. Heavy investments in aircraft manufacturing will undeniably boost the demand for different structural components, including floor panels.
How will the emergence UAM transform the industry outlook?
Urban aerial mobility (UAM) has long been a focus for urban designers, city builders, policymakers and engineers. UAM basically refers to the movement of people and goods through the sky. From aerospace giants to startups, an increasing number of companies are now working on the technology that promises to transform the future of urban mobility. Short-distance air travel is soon expected to become just another normal part of urban living.
The utilisation of three-dimensional airspace could help reduce congestion, save travel time, minimise traffic accidents, and lower carbon emissions. A combination of various recent advances in aerospace is driving this change, which also includes the implementation of lightweight composite structural elements. Interestingly, improving the strength-to-weight ratio for aerospace floor panels will play a massive role in making UAM feasible for short-distance travel.
Big-name aerospace players have introduced exciting and innovative concepts in recent years, and they are expected to lead UAM innovation in the future.
In January last year, American aerospace giant Boeing unveiled the autonomous Passenger Air Vehicle (PAV) prototype, which features eight electric motor-driven propellers to ascend, hover and descend
Shortly after that in May, European aerospace leader Airbus demonstrated the four-seat CityAirbus. The aircraft, according to the company, offers remote piloting with advanced control features, quiet operation due to eight electrically-driven propellers, and a lower environmental impact
In recent news, American space agency, the National Aeronautics and Space Administration (NASA), along with a group of renowned companies and startups, is advancing plans to transform urban mobility through the Urban Air Mobility Grand Challenge.
The challenge series brings together companies working on novel transportation as well as aerospace management technologies. NASA claims that if fully implemented, the Urban Air Mobility system could enable air travel for things like taxi services, expanded air medical services, and package and cargo delivery.
Fleets of electric flying taxis are expected to completely reshape the future of urban transport. Floor panels being an integral component of any carrier, both OEMs and aftermarket players in aerospace floor panel market will witness lucrative opportunities over the next few years.
Industry participants are focusing on carefully balancing the specifications when designing floorboards to achieve benefits such as durability, strength, impact resistance and light weight. Future floor panels may also include additional functionality that can enhance features like conductivity and cabin configuration versatility.
Global Market Insights has prepared a market report dedicated to global aerospace floor panels, available HERE.