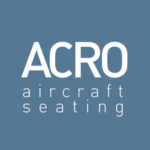 Website Acro Aircraft Seating
') } else if (width >= 425) { console.log ('largescreen'); document.write('') } else { console.log ('nompuad'); document.write('') } // -->
Acro Aircraft Seating is more than just a manufacturing business, we have an entrepreneurial spirit that drives us to fulfil our vision of Perfect Comfort for Passengers, supported by a dedicated team who share our belief – from designers and engineers, through to production, quality, sales and support.
This is a fantastic opportunity to join our innovative, award winning and high growth business and continue to develop your engineering career!
Location: Crick, Northampton (NN6)
Salary: Competitive
EXCELLENT BENEFITS
25 days holiday + bank holidays
Pension
Healthcare schemes
Retail discounts
1pm finish on a Friday!
Reporting to the Lead Design Engineer, you will undertake design, engineering and development tasks utilising the Catia V5 CAD system.  You will support the running of seating programmes, to ensure deliverables are on time and adhere to specification.  You will substantiate and evaluate designs through 3D analysis, engineering calculations and prototyping, and will ensure the design is carried out in accordance with the relevant Airframe Specification and meets the aesthetic and technical ambitions of the customer.  You will provide technical guidance and mentoring to members of the Engineering team, and will liaise directly with OEM's, Aircraft Manufacturers, and suppliers.
Key Responsibilities;
Manage, track and report project deliverables to ensure you meet programme deliverables on time and to the right quality and support multiple aircraft seating programmes in parallel, leading to on time & right quality design and BOM release to manufacture.
Take responsibility for the entire seat design, comprising of structural components and assemblies, trimmed parts and mechanisms.
Take responsibility for the correct delivery and quality of the project BOM, with all design work carried out using Catia V5 and SmarTeam.
Undertake design studies and progress your own work through to supporting production.
Perform fundamental engineering hand calculations (including stress and stiffness) to substantiate the design of the product.
Liaise with external customers to ensure design requirements are understood and achieved.
Conduct presentations of your work internally and at critical reviews to the customer.
Liaise with other internal departments including certification, stress, NPD and project teams to ensure designs meet the structural and aircraft airworthiness requirements.
Substantiate your designs from a 3D perspective to ensure clash detection and design for assembly have been evaluated.
Validate your design through evaluation of prototypes where appropriate.
Assist the Lead Engineer in running of the Applications Design Team and meeting key business objectives.
Skills & Experience Required;
Essential:
A mechanical engineering degree (or equivalent) achieved at 2:1 or above.
Minimum of 5 years post graduate experience in a mechanical engineering-related field utilising design engineering and CAD for product design engineering, development, and manufacture.
Ability to undertake fundamental engineering hand calculations including stress analysis.
Sufficient exposure to the latest manufacturing techniques such as composites, injection mouldings, vacuum forming, castings, forgings, extrusions and machined from solid.
Excellent communication skills, both verbal and written.
Exceptional problem-solving skills and the ability to propose innovative ideas.
Proven track record on managing projects from an engineering perspective, adhering to project milestones.
Diligent, enthusiastic, and driven, with an excellent work ethic, and a "can do" attitude.
Excellent planning and organisational skills.
Ability to work under pressure, prioritise and manage conflicting demands.
Good personal time management and comfortable working to deadlines.
Highly adaptable and capable of making decisions in a fast and pressured environment.
Committed, flexible and able to multitask.
Desirable:
Chartered Engineer or working towards Chartership.
Experience of developing and implementing best practice methodologies.
Experience in an aerospace seating environment.
Experience of robustness and reliability testing.
SmarTeam or other PDM experience.
Experience in the use of Catia V5 CAD software.
The Parent Company of ACRO Aircraft seating is Zhejiang Tiancheng Controls Co., Ltd headquartered in China. We therefore welcome mandarin language capability as a desirable requirement.
We really want to hear from you so do not miss your opportunity to join us! Once you apply, your CV will be held on our central database.  Please do let us know if you do not wish for us to retain your details.  If your application is successful, you will be contacted in due course.
Please note: This advert may close early if sufficient applications are received.
Acro Aircraft Seating are an equal opportunities employer.
Please view our website for access to our Job Applicant Privacy Notice.