Lufthansa has unveiled its Allegris aircraft interiors upgrade programme, with upgrades imminent throughout its long-haul aircraft fleet, from first class to economy. The programme will see around 27,000 seats installed across the group's new widebody aircraft, including Boeing 787-9s, Airbus A350s and Boeing 777-9s, and retrofitted on the Boeing 747-8s already in service. Allegris is a key part of the Lufthansa Group's  investment in product and service upgrades, with €2.5 billion (US$2.65bn) expected to be spent by 2025 on improving the customer experience, from cabin hardware to inflight service, to enhancements to the booking, airport, lounge and border experience.
As Carsten Spohr, chairman of the executive board and CEO of Deutsche Lufthansa AG, said of the new Allegris seating range, developed exclusively for the Lufthansa Group, "We want to set new, unprecedented standards for our guests. The largest investment in premium products in our company's history underpins our claim to continue to be the leading Western premium airline in the future."
First class suites – launching on the A350 in 2024
While many airlines have replaced their first-class cabins with business-plus alternatives, Lufthansa, following Qantas' A350 announcement last week, is building further upon its first-class offering with luxurious suites. Due to be introduced in 2024 on Lufthansa's newly delivered Airbus A350s, the aircraft will feature three suites – two outer single-occupant suites and a centre double suite, named 'the 'Suite Plus' – all made private and quiet with walls stretching up to the cabin ceiling and a closable door.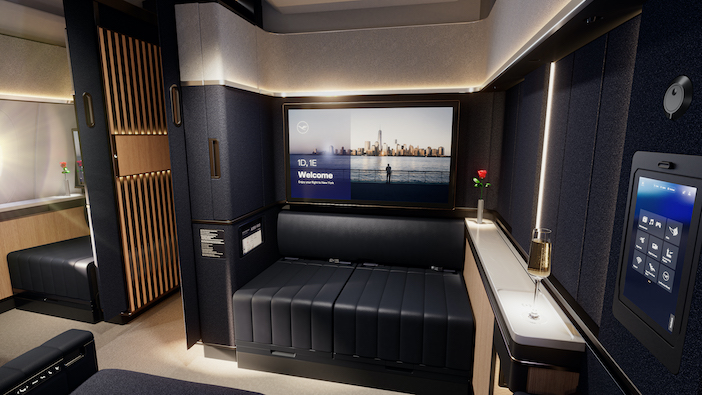 Each suite features a large table for working or enjoying restaurant-style inflight dining, a large IFE display and a wardrobe. The spacious double suite can accommodate two guests together, all the way from takeoff to landing, with the wide (climate controlled) seats able to be converted into a comfortable double bed.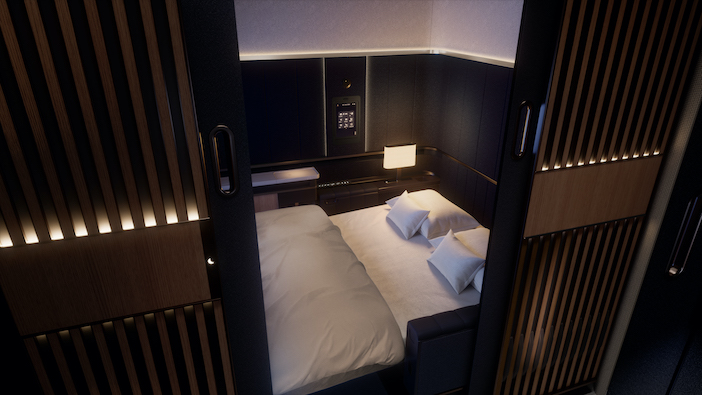 The suite is a bespoke design, created with PriestmanGoode (the London studio which also worked across the broader Allegris programme and customised the premium economy and economy seats – see below). A team of five designers from PriestmanGoode, including design director Daniel MacInnes, were dedicated to the project, and had to overcome several challenges. One obstacle to overcome was achieving certification for the high suite walls in an A350, while another was solving the problem of achieving a single point of access and egress for a double suite – the first time this has been achieved on any aircraft.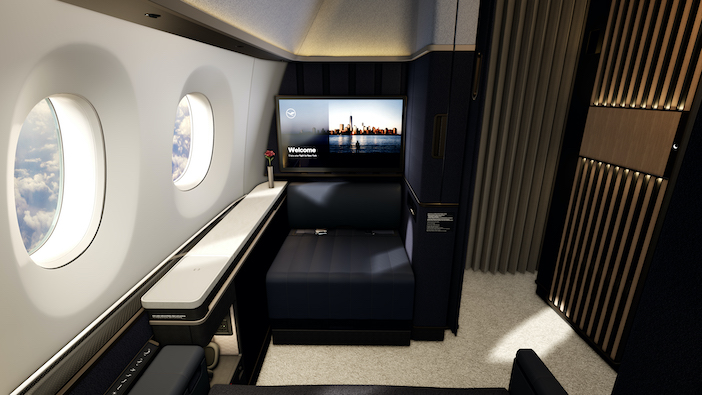 Business class: Seven seating options, four aircraft types, and one big challenge
While designing the A350 first class was a challenge, business class brought issues at a different level, as it has to span four aircraft types (B747-8, B777-9, A350 and B787-9) and attract and satisfy what was identified as a changing passenger demographic for the cabins. Once the domain of the sombre-suited businessman, the comfort of the business cabin is now an environment for broader demographics of travellers, with careers not so confined to desks and boardrooms. Many of the new breed of business travellers are used to being in charge of their own time and space, and they will all have different priorities from their inflight experience, from work to family, sleep to entertainment.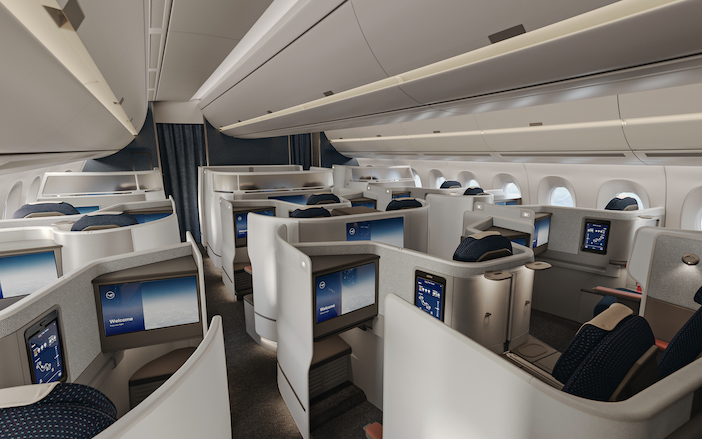 The solution was for Allegris to enable freedom of choice for business-class guests, with seven different seat types on offer, from a suite for privacy seekers, to a seat with an extra-long bed measuring 2.2m for those needing really a good sleep, an Extra-Space Suite option with generous space and desk areas for those catching up with work, a window seat with a baby bassinet for the family traveller, and a solo seat directly by the window for people who love the flying experience. A double seat is also available in the last row of the business-class cabin, with a centre console that can be retracted to transform it into a double berth for couples flying together. There is of course also the 'Classic Business Class Seat' option, offering a lie-flat bed and direct aisle access.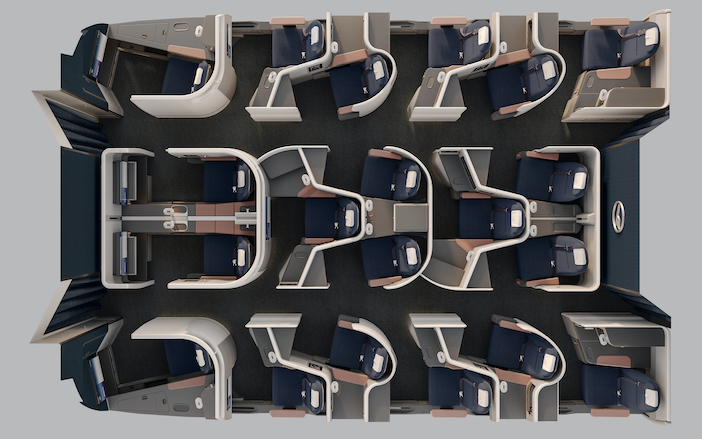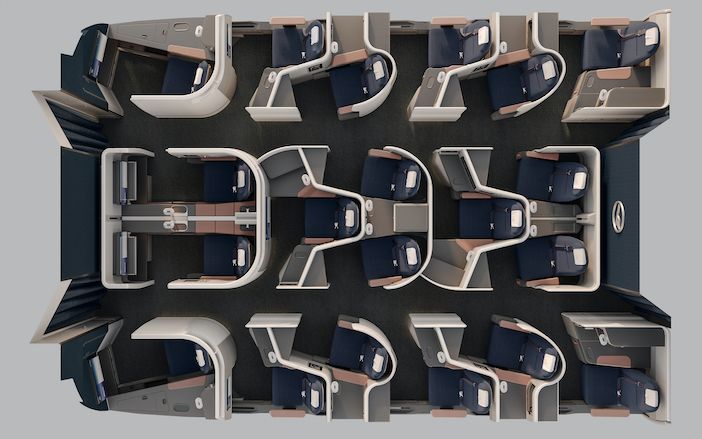 With so many variants of seat across multiple aircraft types, the Allegris business class is certainly a challenging project: one that involves three seating manufacturers: Stelia Aerospace (France), Collins (USA) and Thompson Aero Seating (UK).
Pearson Lloyd, a studio based in London, handled much of the business-class programme, from research to design – indeed designing every seat to be bespoke to the aircraft that it is intended for, meeting the sometimes conflicting needs of maximising both passenger comfort and passenger seat count. Over the course of some eight years, Pearson Lloyd built ergonomic seating models at 1:1 scale for six cabin layouts to evaluate user experience and ergonomics. The result was the multi-seat layout comprising seven different seat types.
The Lufthansa business-class suites in the first row (1-2-1) have a footprint of 2.2 to 2.5 square meters, depending on aircraft type, and feature chest-high walls and sliding doors. Travellers will enjoy an IFE monitor up to 27in, ample storage, a wardrobe and minibar. The partition between the centre pair of suites can be lowered to create a shared private space.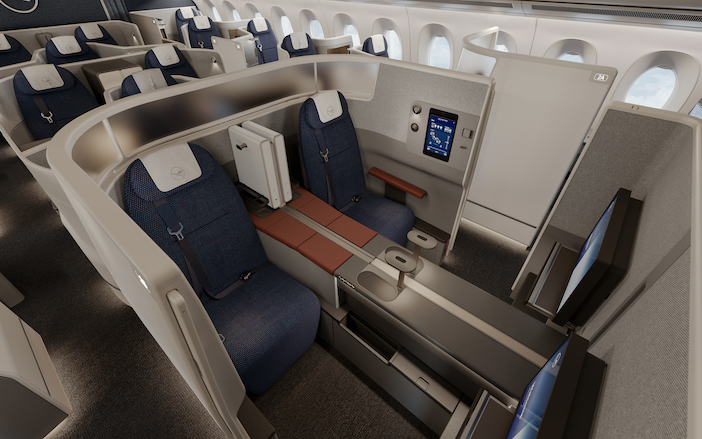 While there are several seating options, they all have many things in common: high seat walls and generous shoulder space, direct aisle access, beds at least 2m long, 4K high-definition inflight entertainment screens, large dining tables, wireless charging, noise-cancelling headphones and Bluetooth connectivity. All versions are also equipped with a heating and cooling system, enabling passengers to set their own seat temperature via a tablet-sized control unit that provides access to all seating, lighting, heating/cooling and entertainment functions. Another comfort feature for passengers sleeping on their side is a 'shoulder sink-in' on the bed surface, a softer area that allows the shoulder to sink into the seat, increasing sleeping comfort.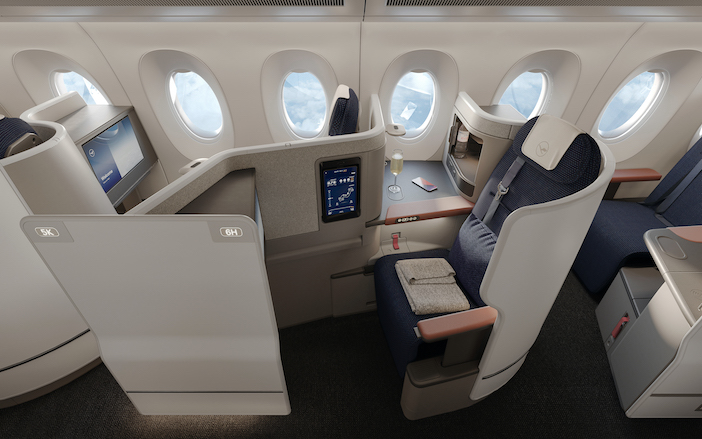 Sustainability was also considered in the seat designs, with manufacturing efficiency built in, including the optimised use of optimised material and resources in production. Luke Pearson, co-founder of Pearson Lloyd, has a passion for sustainable design, and was a speaker at the Sustainable Design Summit in London in November 2022. The event returns this November in London.
Premium Economy: more space
The Premium Economy Class may already be familiar to you as it was introduced at SWISS, part of Lufthansa Group, in spring 2022. Under the Allegris programme, the fixed backshell seat (the ZIMprivacy (PC-02) seat from ZIM Aircraft Seating) has been adjusted to add more legroom (a 39in pitch), a fold-out leg rest, and a deeper recline. Premium Economy Class passengers will also receive a travel amenity kit made of sustainable materials.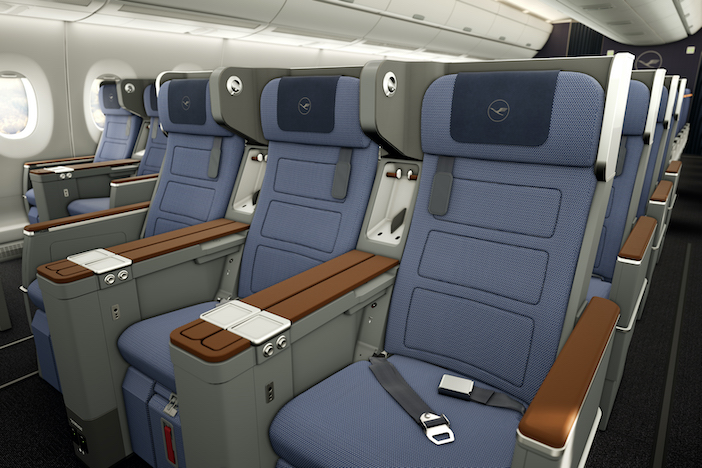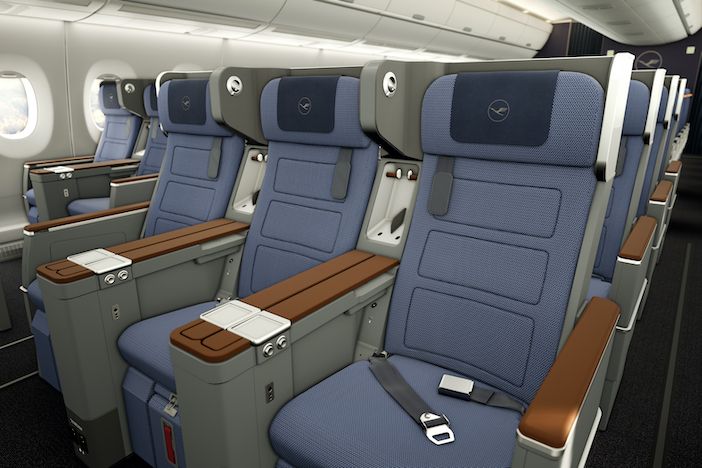 Economy: more choice
Recaro has secured a substantial order for the Allegris economy-class seats, which as standard will have a 31in pitch, tablet device holders and USB ports. Lufthansa plans to open up more options for economy class, including seats in the first rows with a 34in pitch, and being able to book a free seat next to you.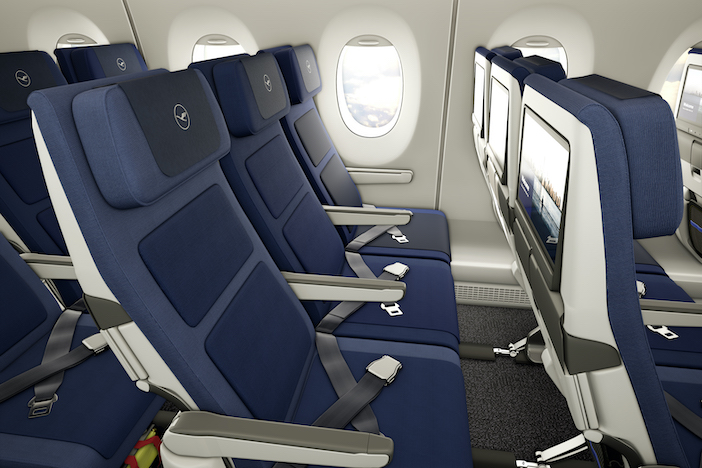 And an image gallery of the Allegris seats is available HERE.
A sustainable overall concept
Allegris arrives as the Lufthansa Group is in the midst of the largest fleet modernisation in its corporate history. By 2030, more than 200 new short- and long-haul aircraft are to be delivered to the Group's airlines (Lufthansa German Airlines, SWISS, Austrian Airlines and Brussels Airlines), with improved efficiency that will significantly reduce the average CO2 emissions of the fleet.
The Lufthansa Group has also set itself the goal of halving its net CO₂ emissions by 2030, compared to 2019 levels, and becoming CO₂ neutral by 2050.
As well as contributing to those sustainability goals through weight efficiency, the Allegris seat developers have ensured that recyclable materials will be used for all 27,000 seats, as well as for service items such as blankets, cushions, amenity kits and covers.