Emirates has teamed up with two big names from the beauty world: Dior and sustainable hair care brand, Davines. The tie-up isn't what one might assume is a luxury retail partnership though: it is for the airline's new dedicated cabin crew beauty centre at its Dubai headquarters. As its crew are the face of a global brand, Emirates puts great importance on the appearance of its crew members.
The Emirates Airline Beauty Centre, which will operate throughout the week, is designed to offer an immersive and unique beauty experience for more than 18,000 flight attendants and hosts in Dubai. The centre also provides a reception space for communication between the cabin crew and a team of centre consultants. Emirates crew can book in-person appointments with consultants for recommendations and advice on makeup, nutrition, fitness, skincare, hair care, and best practices for men and women. The centre's consultants have received specialist training from Dior and Davines, and also have practical experience, including in the fields of cabin crew and health, nutrition and cosmetology.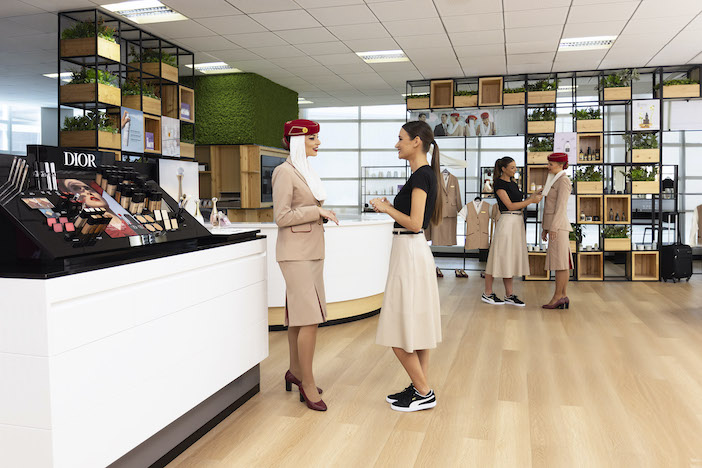 The Dior and Davins products are used exclusively for demonstrations at the beauty centre. Recommended products for cabin crew that maintain Emirates' outstanding glamour even on long-haul flights include Dior Hydra Life Intense Sorbet Crème to create a soft and moisturising base , and Dior Clean Radiant Foundation, which provides 24 hours of hydration, radiance and breathability to the skin. In addition to the long-lasting Dior 'Show on Stage' eye solution and Dior 'Backstage Facial, the 'Rogue Dior Forever Liquid' liquid lipstick will be recommended, being a vibrant Emirati red.
The Dior Sauvage men's range offers a range of products, including cleansers, face masks, shaving gels and aftershave conditioners, to ensure hydrated and supple skin. Davens' hair care products also include essential elements for Emirates crew, such as detoxification, moisturising, intensive shampoos, conditioners and hair treatments, as well as shimmering mist, shiny wax and hairspray to maintain the uniform look of Emirates' crew hairstyles.