Lufthansa Technik AG has received an order from an unnamed private customer for the VIP interior of a yet-to-be delivered Airbus ACJ320neo. The aircraft, which will be used for private travel as well as for charter operations, with capacity for 19 passengers, is expected to arrive at the company's cabin completion centre in Hamburg in late summer 2023, where it will receive its new interior by spring 2024.
The cabin design was created in a collaboration between the customer and Lufthansa Technik's in-house design centre in Hamburg. The layout of the cabin is linear, with an open 'Grand Entrance' behind the cockpit, leading through through various lounge and office areas, to a spacious and private master bedroom in the rear.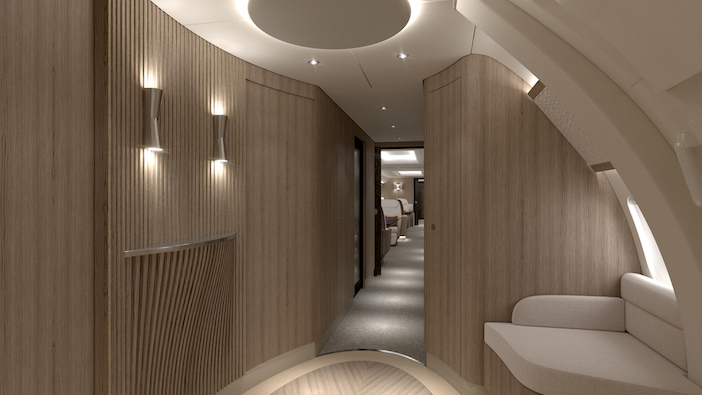 The cabin has also been designed for flexibility, so it is equally suitable for regular private trips for the owner and "his family" (the only clue to the customer we are getting), or for being chartered to travel groups. This flexibility is reflected not only in the choice of luxurious yet durable interior materials, but also in the certification of the aircraft, for which Lufthansa Technik will obtain Supplemental Type Certification for private and commercial flight operations.
As per the customer's request, only a few large screens – some of them retractable – will be installed in the cabin, with the focus instead being put on integrating passengers' personal digital devices,. Similar to a smart home, passengers will be able to individually transfer their personal content to the embedded displays. The aircraft will also feature a latest-generation satellite communication system, and a cabin air humidification system.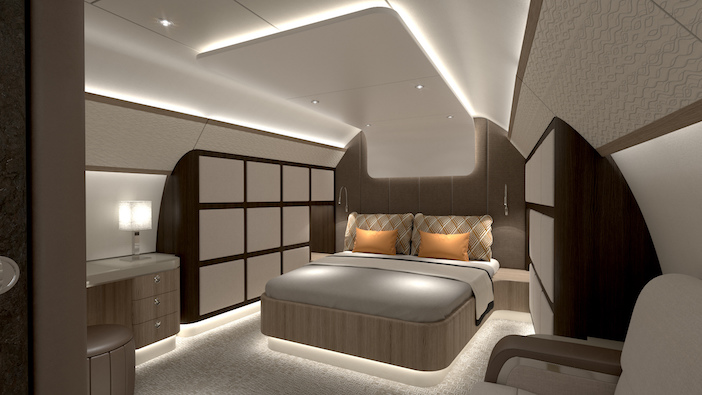 "With its flexible interior and a top-notch entertainment system, this aircraft will set completely new standards for narrowbody VIP cabins," stated Michael von Puttkamer, VP for special aircraft services at Lufthansa Technik. "But what pleases me even more is that we were able to convince the customer not only with our world-leading design, engineering and cabin completion expertise, but with a complete package of tailor-made services."
In addition to the completion of the VIP cabin, Lufthansa Technik will also provide an Aircraft Production Inspection Program (APIP), the Continuing Airworthiness Management Organization (CAMO) and, after delivery, aircraft maintenance and component support for the customer for an initial period of five years, as part of the contract.
Lufthansa Technik says its specialists have also succeeded in keeping the weight of the cabin interior within particularly narrow limits. As a result, this ACJ320neo with its four auxiliary fuel tanks and PW1100 geared turbofans from Pratt & Whitney is expected to achieve the full range specified by Airbus Corporate Jets for this aircraft type.