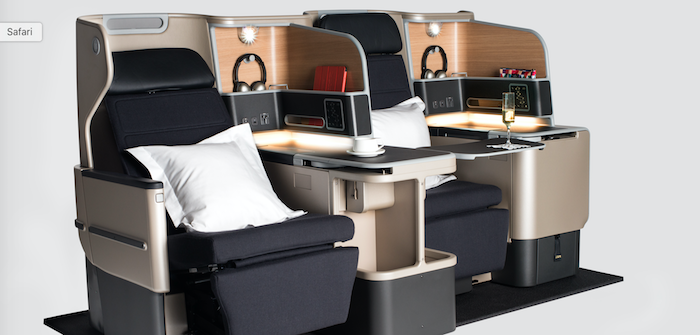 Virgin Australia has unveiled a major redesign of its wide-body business and premium economy cabins, including suite-style seating, cabin upgrades, more spacious seating configurations, and new bars.
The business class suites being fitted to the carrier's A330 and B777s are customized B/E Aerospace 'Super Diamond' seats, which convert into 80in lie-flat beds. These seats represent the first major product innovation to be announced under 'Virgin Vision 2017', the airline's new three-year strategy.
The suites are being installed in a 1-2-1 configuration, and include an adjustable armrest to increase the seat width when sleeping, a unique tablet holder, a retractable privacy screen between the center seats, Panasonic eX2 IFE touchscreens (16in on the A330s, 18in on the B777s), multiple lighting settings (including reading light, soft ambient lamp and brighter overhead light) and multiple stowage options. There are also new soft furnishings, including simply tailored hopsack seat upholstery with leather headrests and armrests.
Business travelers can also enjoy enhanced restaurant-style service with new Luke Mangan designed menus and table linen to complement the new suites, a "Deep Sleep" turndown service including large pillows and a duvet, and a new amenity kit featuring REN cosmetics.
Business class guests on the B777s can also enjoy a newly designed bar, offering face-to-face service for up to four seated guests and additional lounge seating behind the bar. At the rear of the B777s, an 'Extra Legroom Zone' has been added to the economy cabin.
Virgin Australia enlisted the support of design agency, Tangerine London, which led the industrial design of the new seats and cabins. According to the team, they drew inspiration from premium automotive interiors when designing the new business class.
Virgin Australia Chief Executive Officer John Borghetti said that the new cabin innovations, "mark a new era for our premium customer experience, both domestically and internationally. We believe the sophisticated new suites will set a new standard in business class travel, not just in Australia, but around the world.
"Our Virgin Vision to 2017 is to become Australia's favourite airline group and today's announcement is central to our strategy as it will see Virgin Australia deliver the best premium travel experience in Australia. "
The suites will roll out in Virgin Australia's A330 fleet in early 2015, with the first aircraft expected to be in service by March and the complete refit of the fleet to be finalized by August.
The roll out of the new business class product to the B777 fleet will commence from November 2015 and is expected to be complete by early 2016. The upgrade will also include the introduction of a redesigned business class bar, and changes to the premium economy cabin. These changes include a reducing the number of premium economy seats to 24, to give passengers an additional 3in of legroom (now 41in).
In other Tangerine news, the agency is celebrating its 25th birthday with a book launch – DETAILS HERE.