An estimated 1,200+ airline buyers and 14,000 industry decision makers are expected to convene in Hamburg, Germany, on April 2-4, for Aircraft Interiors Expo (AIX). The event will celebrate its 20th anniversary in 2019.
"Since 2000 where we had 77 exhibitors to now 20 years later and 500+ exhibiting companies, we have showcased the latest product innovations including aircraft seating, IFE and lighting and we're now firmly established as the global event for airlines looking for innovative technologies and solutions that will improve passenger experience," said Polly Magraw, event director. "The future of air travel is hugely exciting and we're looking forward to the next two decades at the heart of this industry."
There have been many changes in the industry since 2000 – including the advent of the Airbus A350, Boeing 787 and Boeing 777X. The organizers noted cabin interior expenditure for narrow- and wide-body aircraft is projected to exceed US$2bn by 2026 – double that spent in 2016.
More than 500 companies are expected to exhibit in 2019. Confirmed exhibitors include Airbus, Bauermeister Aircraft Interior, Beadlight, Inmarsat Global, Lufthansa Group and Panasonic Avionics.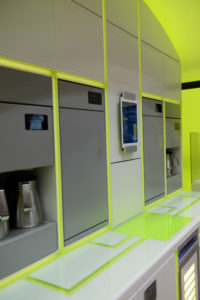 "Aircraft Interiors Expo is the definitive trade fair annually and it's the one place where you can really get a sense of the trends that are on the near- and long-term horizons," said Virgin Atlantic's director of customer service. "It's really the place to come."
IFEC will be a key focus at AIX, with a dedicated IFEC Zone. There are expected to be more than 100 exhibitors specializing in IFEC solutions – including AirFi BV, Astronics, Gogo and Kontron. IFEC technology will also be one of the categories in the Crystal Cabin Awards.
Another draw for attendees is the free-to-attend CabinSpace LIVE Seminar program, where industry experts will discuss trends and challenges covering the whole cabin, including IFEC.
The show is co-located with the World Travel Catering & Onboard Services Expo (WTCE), Passenger Technology Solutions (PTS) and the Passenger Experience Conference (PEC) – meaning visitors have access to four shows in one.
Visitors to WTCE will be able to see the latest travel retail and onboard catering products, offered by more than 350 suppliers. Meanwhile, passenger experience professionals can learn how to use technologies such as blockchain, biometrics, robotics, AR and AI at the PTS exhibition and Tech Hub program.