The world of aircraft cabin materials is ever-evolving, creating highly technical products that offer beauty and design freedom, all while complying with stringent aerospace regulations. The latest developments could enhance your next cabin design project…
') } else if (width >= 425) { console.log ('largescreen'); document.write('') } else { console.log ('nompuad'); document.write('') } // -->
Clear thermoplastic sheet
Sourcing design-forward materials that meet industry compliance and exceed passenger expectations is a necessity in the aviation industry. The Kydex FST product suite features speciality PC-copolymers produced exclusively by Sekisui Kydex, which enable designers to realise multi-faceted designs with low minimums and custom colour through the fully compliant FST range, which includes opaque, pearlescent and tinted colour/translucent options. The company has developed a fantastic new version: Kydex FST CLR, a clear thermoplastic sheet.
The Kydex FST range is formulated to meet all OEM requirements for aircraft interior components. It delivers excellent formability and a sophisticated finish, while meeting the flammability and smoke development requirements outlined in Federal Aviation Regulations (FAR) 25.853 paragraphs (a) and (d) and toxicity requirements for Airbus (ABD0031) and Boeing (BSS7239).
A sense of living space
Austrian leather and upholstery specialist, Boxmark, regularly cooperates with aircraft interior designers on projects, which creates insights that enable the company to anticipate upcoming seat design trends. One of the trends currently identified – perhaps unsurprisingly – is that passengers want to enjoy the comfort and convenience of their home while flying.
"We believe that we have recognised that designers are looking for new ways to bring the sense of a living space into the aircraft," says Rupert Gollner, head of the air division at Boxmark.
"With the business class bench, we are adding various design elements, including quilting and hand-crafted embroidery, to show how to meet the trend towards greater comfort but also individualisation," says Gollner.
As a long-term partner to the automotive industry, Boxmark has also noticed that certain aspects of automotive seat design have transferred into aircraft interiors. "The trend for two- tone seat designs along with accent stitching, for instance, has been influenced by the automotive sector," states Gollner.
Boxmark has also developed a seat with an integrated heating and cooling system – another feature derived from the automotive sector.
2020 design collection
Schneller has curated Duality, its 2020 design collection. Duality is a diverse concept, drawing on the feelings evoked by contrasting or complementing aesthetics. This feeling can be achieved through the reflection, movement or perspective created by the duplication of an object, or even within the object itself. Schneller's 2020 collection represents interpretations of this concept, capturing the complexities and duplicities created the merging of colours, textures, forms, lighting and techniques.
Throughout the development process of the collection, Schneller's design team explored hand-made patterns using various duplication methods including Xerox transfer, Shibori dying and hydrographic techniques. The collection is curated with a colour palette to unify the idea of duality, with muted earth-tones, rich aged-gold and warm neutrals signifying a timeless mood in contrast with an 'ephemeral palette' of energising cobalt and bold yellow.  The colours and patterns have been combined in complementary and contrasting motifs, while experimenting with the juxtaposition of technical organics with soft curvilinear elements.
Gleaming prospects: 'green' chrome
A chrome look is popular for many aircraft interior parts, but the electroplating process that is required to apply chrome is complex, expensive and harmful to the environment, with high rejection rates. To solve these issues, Mankiewicz has developed a paint that achieves a chrome look, but is claimed to be safer, faster, less costly and less harmful to the environment than electroplating.
Paint has been used for some time to simulate metallic effects, but a chrome effect has been more difficult to achieve. The solution is that the pigments in Mankiewicz's new paint are so fine that the human eye cannot discern them, enabling a metallic effect on the painted surface. The system can be applied as a single coat, with a palette that includes various colour nuances suitable for handrails and buttons, for example.
Step into space
Just in time for its 80th anniversary, Tisca, a family-owned Swiss producer of carpets, curtains and upholstery fabrics, has unveiled its latest carpet development: Tisca Colorvision.
Colorvision is an extremely dense woven carpet with a compact construction and a slightly staggered structure, which creates an attractive appearance and strong durability. This premium quality product is woven with a specially engineered Polyamide yarn, which combines the haptic and optical properties of a wool carpet with the durability and weight of a classic polyamide carpet. The benefit is high sustainability, resulting from durability.
Lightweight flooring launch
A new standard in non-textile floor coverings (NTF), the Batiflex AVR 185, is being launched by Gerflor this year, with a collection of patterns and colours that will add to the company's already extended Batiflex range. This lightweight NTF has a unique product construction specially engineered to comply with the most stringent durability, performance and safety requirements. The flooring will be presented in a range of R-Wood, Tempo and Stone textures, which will offer airlines a new opportunity to design unique and appealing interiors.
Enhanced coatings
For many years the flexible single-pack IP 1050HF coating has been popular with HSH Interplan's customers, with its diversity in use and ease of use providing a solution for OEMs and helping give a second life to many cabin elements such as leather seats, armcaps – and even hot air balloons.
The company has been refining the coating to create the 1055HF flexible coating which, together with the newly developed eco-friendly Interplan Surface Cleaner (SC), is designed to give perfect adhesion on the most difficult substrates available today. The surface cleaner is designed for use with all HSH Interplan coatings.
Interplan is also preparing to launch an NMP-free coating version of 1055HF for flexible substrates, with outstanding fire resistance. New hybrid technologies have been used to further improve flexibility, abrasion and solvent resistance.
Designs brought to light
Airdec Plus, a combination of a semi-transparent thermoplastic and a transparent decorative laminate film, is the latest product innovation from Isovolta Aviation & Transportation. When combined with Hidden Depth, a new decorative effect developed by the company, two designs can be combined in one product on almost on any surface, with a high level of customisable available.
The decorative surface can resemble the surrounding decorative laminate films in the cabin, but as soon as the LED light source is switched on the behind Airdec Plus, a second, hidden design or pattern appears and completes the design. This backlit decorative surface with special effects can enhance cabin and seat design, and is available in almost unlimited colours and patterns and a wide range of textures. Various sizes and thicknesses round off the package. Airdec Plus extends the design possibilities for the cabin beyond the inflexible surfaces and offers almost unlimited special effects.
3D virtualisation for digital CMF decisions
In the design process, material validation can be lengthy and challenging when several iterations of physical samples are sent between locations, and traditional digital renderings often fall far short of representing the real material's colour and texture.
However, X-Rite's Total Appearance Capture (TAC) ecosystem provides an unmatched level of realism in digital material capture and 3D virtualisation, closing the gap between real and virtual materials through full appearance measurement.
Using this technology and more, the appLab and designLab teams at Sekisui Kydex aspire to improve concept, design, and delivery for customers. From technology such as the TAC to an entire suite of thermoforming equipment in the appLab, rapid prototyping is the goal. Plan a visit to Sekisui Kydex's facilities to explore the latest in 3D virtualisation and use vivid colours, textiles, imagery, technology and real-world examples to create your own own virtual prototypes.
Paint with light and colour
Imagine a material that comes to life when illuminated from behind, allowing you to paint with light and colour to create stunning sweeps of light throughout an aircraft cabin. Kydex Lumina, a proprietary opaque thermoplastic material from Sekisui Kydex, is manufactured with Infused Imaging technology, giving designers the power to craft truly bespoke experiences using colour and images.
Beyond simply filtering light, Lumina actually transmits it, creating bold new effects by dampening certain wavelengths and helping others shine more brightly. Lumina is not a lighting system; rather it is a new way to customise the aircraft environment without the harsh edge or high cost of complex LED lighting systems. Lumina does more than redefine what thermoplastics can do in aviation interiors, it can allow each passenger to individualise their environment using light.
Adding intrigue to aviation interior design is not the only attraction of Lumina. This material is a low heat release, aviation-compliant material created specifically to support innovative ideas for backlit applications. It also has excellent formability characteristics and is resistant to the chemical reagents and cleaners commonly used in aviation interiors.
Accelerants of innovation
In the competitive world of design, time-to-market is a critical success factor. Innovation is possible when all physical and digital elements are under one roof. By leveraging design with the right people, tools, technology and equipment, digital and physical designs can be rapidly brought to life at Sekisui Kydex's facilities.
Coming together for one common goal with an ambitious vision and aggressive deadlines is the epitome of what the company's appLab and designLab are designed for – a common ground and resources to rapidly iterate.
"Collaboration is the accelerant of innovation," said Matthew Coder, Alaska Airlines' manager of onboard experience after seeing the results of the A/B Project revealed at the RedCabin Aviation Summit on 4 December 2019. The A/B Project speaks to the power of rapid prototyping and strong partnerships across the supply chain.
Lightweight synthetic leather
Willow Tex, the manufacturer of the leather alternative brand, IZIT Leather, has developed a new lighter weight synthetic leather for aircraft seating applications. IZIT Leather XRT was developed and manufactured at the Willow Tex production facility in Mount Airy, North Carolina, using the company's proprietary Ecocel technology.
Ecocel is a solvent-free micro-porous foam layer within the leather structure that improves overall durability, including abrasion/scuff resistance and hydrolytic stability so there are no delamination concerns. This proven technology has been used in automotive seating for over 12 years and is now available in a lighter weight quality for airline seating.
IZIT Leather XRT is lightweight at 360gsm and has been shown to meet the oil burn flammability requirements for aircraft cushion assemblies.
Choose it, feel it: warm or cool
This year will see Lantal introducing what it hails as the world's first seat heating and cooling system. The comfort concept is based on the 'airflow' seat cover material, which creates an individual microclimate for the passenger. So how does it work?
It all starts with the materials selected for the seat covers. A commonly used yarn in Lantal's fabrics is wool, which has balanced thermal insulation properties, meaning it provides warmth in the winter and cool comfort in the summer. Wool fibres naturally wick moisture away from the body, keeping passengers dry and preventing dampness.
However, Lantal has gone one step further with its modular, easy-to-install seat heating and cooling system, which lets passengers control how cool or warm they want to be in their own seat. To enhance the effectiveness of the system, Lantal has also developed air-permeable seat covers, which make the aesthetics as pleasing as the function. Lantal's annual Conceptual Forecast collection for seat covers, carpets, and curtains shows how much value the company places on outstanding design in aircraft interiors that enhance passenger well-being.
Flooring on a diet
The weight of the latest generation of Sky-Tiles by Interface aircraft carpet has been reduced by some 12%. The flooring, being marketed by SkyPaxxx Interior Repairs, is 100% recyclable, and this weight reduction makes this aircraft flooring truly eco-friendly. With further advantages such as eliminating serging or binding, fraying and shrinking, along with an appearance guarantee, Sky-Tiles can provide airlines with an attractive total cost of ownership value, while selective replacement enables maintenance efficiencies and improves the passenger experience.
SkyPaxxx is also introducing modular non-textile flooring (NTF) for galleys and entryways. The modular NTF comes in convenient 1m2 tiles ready to be installed in any aircraft. The unique construction requires no heat weld between seams and allows for easy replacement of individual tiles, or removal for aircraft inspection, while providing durability and ease of maintenance.
SkyPaxxx has also announced a full-service engineering division. With over 100 years of experience, the SkyPaxxx engineering team offers a wide range of aircraft solutions in aircraft conversion management, fleet support, maintenance planning, design, modification engineering, drawings, repair solutions, and liaison support, providing quality and affordable solutions for any aircraft system or component.
Time to market = time to money
Lead times are an important factor for airlines, and the faster you can get your product to your client, the better your presence will be in the industry. With this in mind, Soisa Aircraft Interiors has developed a new method to deliver dress covers in half the usual lead time.
This method has been enabled by developing a new leather available in half the usual lead time, increasing capacity and segregating operations by customers, and consolidating its suppliers locally – which together results in a claimed lead time of two to three weeks from PO to SS delivery.
Can flooring be sexy?
From mood lighting to sleeker curves, there is no doubt that there has been a movement towards 'sexy' aircraft cabin designs. Flooring plays a huge part in that ambiance – however, aircraft flooring often goes unnoticed unless something like Lonseal's Lonmistral is used – especially its new zebrawood design.
Real zebrawood is a rare and expensive hardwood, but Lonseal has reproduced this design in sheet vinyl flooring. The contrast between light and dark streaks resembles the stripes of a zebra, a bold and adventurous design that gives the space an exotic and luxurious feel. An animal print is known to be a timeless pattern; however, it must be used wisely as too much can overwhelm and stress-out passengers.
Lonmistral is suitable for small private jets and large passenger airplanes, is EU REACH compliant, and also meets FAA requirements FAR 25.853a and FAR 25.793. The flooring comes with GreenAir (low VOC) and GreenMedic (anti-microbial), which are exclusive Lonseal formulations.  Lonmistral is part of Lonseal's Featherweight aircraft flooring line.
Green and clean
Wollsdorf has developed two new innovations: the BrighTan ecologically friendly tanning method, as well as the Evo+ antibacterial leather surface treatment. The bright tanning process of BrighTan represents the current state-of-the-art in tanning and combines the functionality of modern leathers and ecological requirements. The tanning process is completely free of heavy metals, chrome and glutaraldehydes.
Evo+ provides protection against bacterial colonisation, and within only a few hours after application, bacteria on leather surfaces are effectively reduced by 99.9%.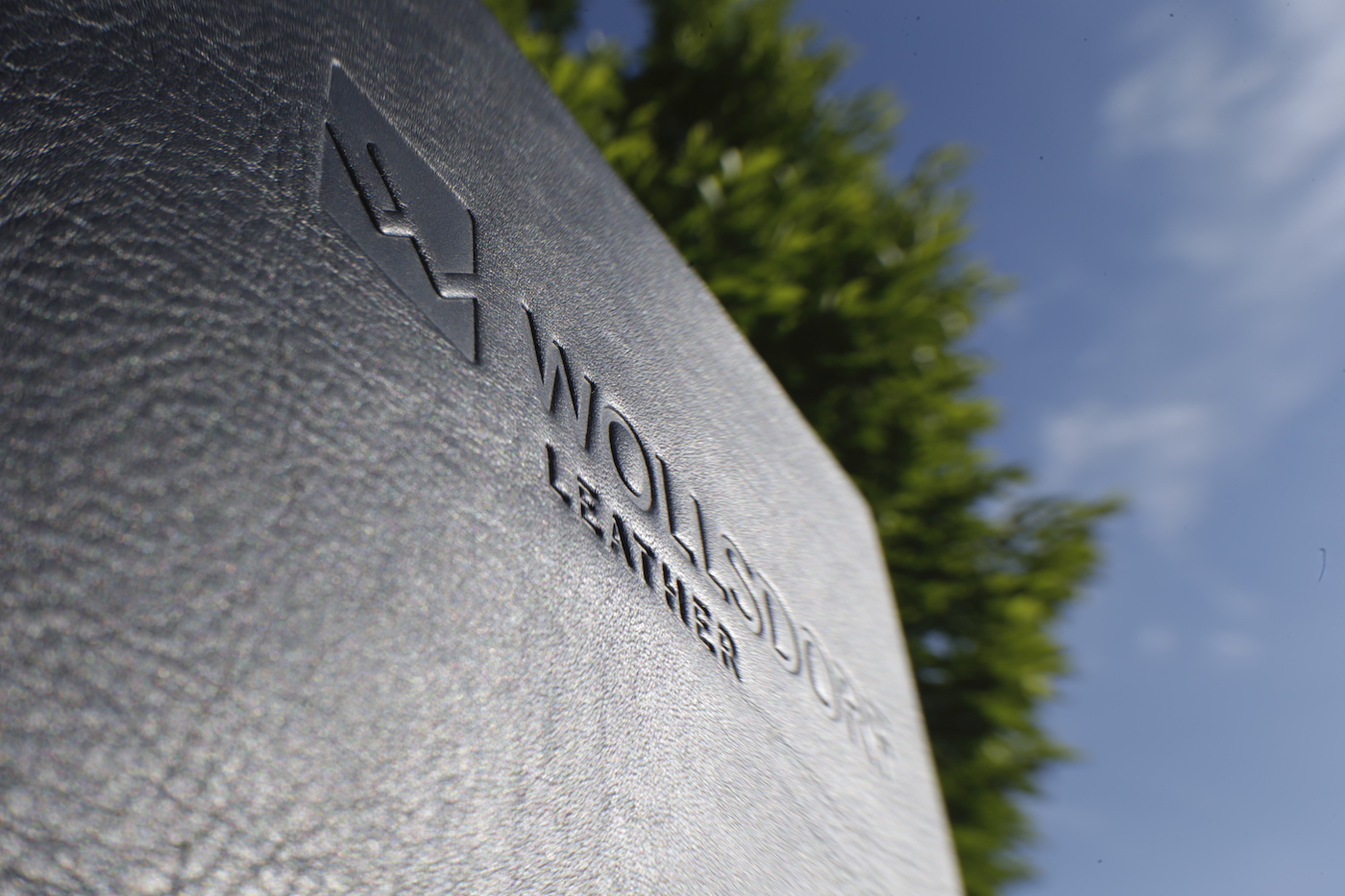 Recycled carbon fibre
The recycling of materials is becoming increasingly important due to the increasing restrictions on carbon dioxide emissions. For example, in the production of carbon fibre, around 3,000 tons of waste is generated annually in Europe alone. Some of this waste comes from rovings, cut waste and production waste from CFRP production, and these fibres can be processed into non-wovens and then processed into components.
3D Icom GmbH, a manufacturer of composites and part of the LuFo aviation research programme, is researching the behaviour and possible uses of these non-wovens in collaboration with the FIBRE institute in Bremen and the University of Augsburg. The partners report that initial results show possible applications in the area of surface heating, which for aviation can be used in applications such as heated base plates or heating tools. These promising possible applications, together with the high sustainability of these non-woven materials, point to an interesting future for carbon fibre waste.