Aircraft cabins are receiving closer scrutiny from passengers so they can feel reassured about cabin cleanliness and safety from other passengers, as they seek to minimise the risk of contracting Covid-19 during flights. Lufthansa Technik (LHT) has responded with three new ideas to keep cabins hygienic.
Passenger separators
Inspired by the spit protections fitted in many shops and supermarkets to help protect against the spread of Covid-19, LHT has designed seat dividers which are installed around the headrest of the middle seat in order to separate passengers.
Installation is simple: the lightweight polycarbonate divider is inserted into the magazine compartment of the seat behind and then 'clicked on' to the table mounting. One shipset of dividers can be installed within few hours during a night shift, according to LHT.
LHT says that airflow tests have shown that the shields prevent the spread of aerosols, without reducing the beneficial ventilation effects of the cabin air conditioning. The dividers have been designed in cooperation with Krueger Aviation GmbH and the process of acquiring an STC (Supplemental Type Certificate) has already started. LHT expects the dividers will be available in two to three months.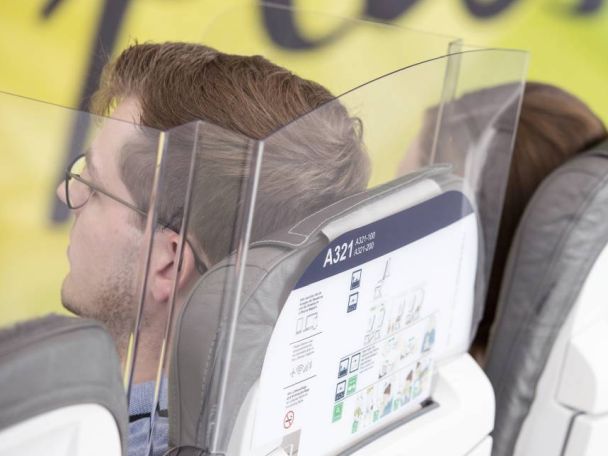 Surface sanitisation
Cabin surfaces must be disinfected regularly in order to avoid smear infections, so LHT's development team looked into creating an efficient method for cleaning touchpoints such as armrests, surfaces, trays, and buttons. Their solution is TiTANO, a sanitiser applied using an electric spray method, which LHT claims reduces the survival rate of bacteria and viruses to below 90% within five minutes. Within 24 hours the surface is germ-free, and this protection lasts for one year, says LHT.
For its Engineering Bulletin, LHT is are currently testing different materials in its in-house laboratories to test how TiTANO reacts with cabin surfaces in terms of  corrosion, discoloration and wear. The team is also testing for health issues to make sure that the chemical doesn't provoke allergies or have other side effects for crew and passengers.
Sanitary lavatories
UV-C light is a popular sanitation method used in hospitals. LHT has transferred this procedure to aviation by developing mobile UV-C lamps (pictured above), which can be easily installed in any lavatory, irrespective of the manufacturer or model, with a wireless option also available. The lamps enable a lavatory to be disinfected within 44 seconds, which makes it feasible for cabin crew to regularly sanitise lavatories during flight.