Lantal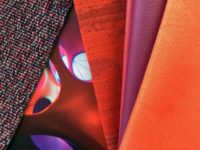 Lantal is a leader in the design, production and distribution of textiles and services for the international community of aircraft, bus and railway operators, and for executive jets. Since 1954 its passion has been to create aircraft interiors that reflect airlines' heritage and branding, as well as achieving the ultimate in well-being for passengers. Lantal's experts provide forward-looking advice in the domains of style, design and execution.
Customers can choose from a wide range of stock items to easily coordinate a complete aircraft interior with single-source convenience. But the strength of Lantal's team is in translating inspirations and ideas into customised interior solutions. All seat cover and curtain fabrics, carpets, genuine leathers and TEC-Leather comply with airworthiness requirements and are easy to maintain.
For more than 135 years, the Lantal Textiles Team has been working passionately every day to develop, design and manufacture the best-performing textiles. We are looking forward to serving you, too. You are invited to contact us for samples and further information.