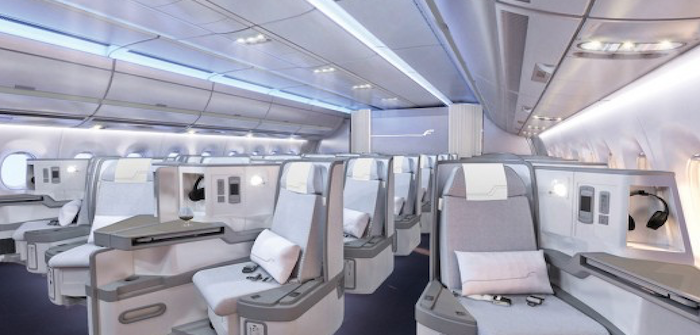 With its strong history of innovative design, it is always exciting when Finnish flag carrier Finnair reveals a new project – even more so when that project is Europe's first A350 XWB. In keeping with its strong sense of Finnish style, the airline selected Helsinki design firm dSign Vertti Kivi & Co to design the interiors of its long-haul flagships. A conservative palette of grays has been selected for the CMF, which will be a backdrop to the airline's colorful crew uniforms, blankets and serviceware, all designed with Finnish design house Marimekko.
The airline decided on a 297-seat configuration for its 11 A350-900s (it also has an option for a further eight), with 46 in business class, 43 in economy comfort and 208 in economy.
For the business cabin, Finnair has changed its long-haul seat from the Zodiac Seat UK Vantage model fitted to its A330 and A340 fleet, to the Zodiac Cirrus III seat from the A350 catalog. The 1-2-1 layout means direct aisle access for all business passengers, who will also enjoy fully flat beds, a 16in touchscreen IFE display, and AC and USB power outlets.
The long-haul economy seat (below) has also changed, from the Recaro BL3510 to the Zodiac Z300 slimline seat, configured 3-3-3 at a 31in pitch. At the front of the economy cabin is a new class for Finnair: economy comfort. Seats in this class offer an extra 4in of legroom over economy seats, plusher headrests and higher-quality headphones. All economy seats have an 11in touchscreen IFE display and USB power outlet. Wi-fi is available throughout the aircraft.
Vertti Kivi, CEO of the design house, explained the designs: "We have worked hard to create a special customer experience on board the new A350 XWB aircraft and are proud to bring Finnish design to Finnair's passengers. Our Space Alive concept means dynamic lighting, colors and moods to suit the time of day, destination or season. For example, when descending in the East the aircraft can be awash in warm orange tones, and surface interiors may glow in fresh blue hues when arriving in Helsinki."
When Finnair begins operating its first A350s in the second half of 2015, they will initially serve Shanghai, Bangkok and Beijing, with Hong Kong and Singapore routes to be added in 2016.