Aviation enthusiasts aside, do the flying public really notice or appreciate which aircraft type they are traveling in? According to Airbus research, they do. As an example, over a two-year period Airbus used in-house metrics and sites such as Routehappy and TripAdvisor to measure the sentiment of passengers who had taken a flight in an A380, and found that when the A380 is associated with an airline, that aircraft generates a better brand sentiment with passengers than the airline's name alone.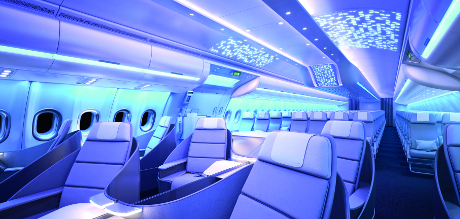 This finding that aircraft type can be important to airline brand perception has led Airbus to create a new brand of its own: Airspace by Airbus, which will fly on the A330neo in late 2017 with launch customer TAP Portugal. By offering strong, consistent and recognizable cabin characteristics that passengers appreciate – such as the minimum 18in seat width in economy – Airbus hopes that passengers will actively seek out flights with Airspace cabins, favoring airlines that fly them.
"Airspace is a tool that helps airlines better face the challenge of social media," explains Kiran Rao, Airbus's EVP of marketing and strategy. "When passengers book flights they look at social media to compare airlines, seats and experience, and that is driving change. In the past we created a great product and enabled airlines to customize it as they wanted, but today we're reaching out to passengers because they make big decisions based on product and experience. So we've listened to our customers and our customers' customers."
Crossing branding lines?
The question is, isn't ensuring the happiness of customers' customers the job of the, well, customers? After all, airlines will surely be more concerned about immersing passengers in their own onboard brand experience, rather than the Airbus brand.
"We've had this debate with airlines," responds Rao. "Think about an apartment. If the rooms are wrongly proportioned, the floors are of low quality, the windows are badly positioned and the lighting is poorly placed, then even if you bring in the best furniture in the world, the apartment will still be poorly designed. Airspace offers [the aircraft equivalent of]a luxurious apartment for you to bring in your own furniture and make it fantastic. We are not interfering with airlines' branding; we are actually providing a way to enhance it."
(Jana) white space
The key is that an Airspace cabin is a blank canvas, finished in floor-to-floor white, a shade named Jana white that was introduced in the A350 and designed by Airbus to work well with LED light of any color (16.7 million variations are available). Airbus first experimented with this 'any color as long as it's white' concept with the A350, about which François Caudron, SVP of marketing, says Airbus "didn't get a single negative message".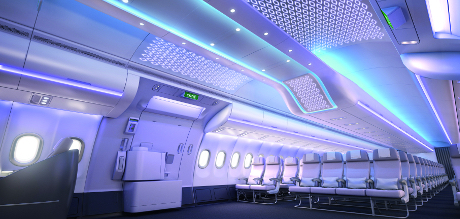 "The key customization feature for airlines remains the seat and all its attributes, its features, the trim and finish, the custom carpets, the features in the galleys, and the decoration on monuments," explains Caudron. "What is being offered is the framework. It is white for everyone and they paint the cabin with light. Airlines love it, as they can project the exact ambience they wish by programming the system. We didn't get any messages about Airspace being too restrictive when we disclosed it to customers."
Perhaps the biggest fan of the commonality of Airspace cabins will be leasing companies, which, according to Caudron, account for 48% of Airbus aircraft orders. If a leasing company is placing an aircraft with a new operator, the work required to convert the cabins to the new carrier's interior choices will be minimal.
"For lessors, having an Airspace cabin guarantees strong residual values for the aircraft," states Caudron. "High residual values are good for airlines as well – it means they are investing in the right product. That's what Airspace is bringing to the community."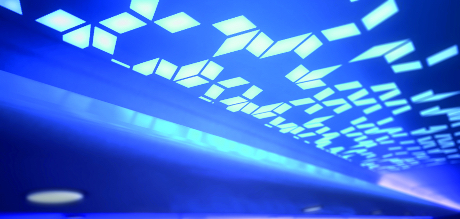 Many airlines will be happy with this approach, but there are a few carriers for whom a standard cabin could be considered anathema, a prime example being Etihad. We posed the question of how the customization demands of an airline like Etihad could be met with Airspace to Paul Edwards, head of industrial design at Airbus: "It's always a balance between delivery of aircraft, cost of aircraft, and how much they are able to customize. It would become an individual definition discussion between them and Airbus about what is achievable, how long it would take and where the costs lie."
Something that all airlines will like is the space efficiency of the A330neo cabin, which in the same footprint as the A330ceo can accommodate an additional 10-14 passengers without the cabins feeling more cramped. Features such as space-efficient lavs have enabled Airbus to carve out this extra space, and a new overhead stowage bin design with a claimed 66% extra capacity means there is also more than enough room for the additional baggage.
As Rao states, "We are using the space more wisely and efficiently. The Airspace concept actually gives passengers a greater feeling of space and a better experience through the design language and design concepts."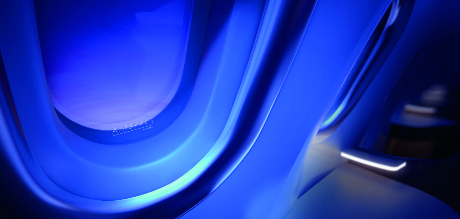 Space language
When Airbus first had the notion of creating the Airspace brand, it began an intensive design research process. Studies were carried out from a passenger point of view, information gathered from social media, and customer focus teams that consulted key members of airlines about products, pain points, what is important to them, and what they thought would be important in the future.
A 40-strong design team at Airbus's Hamburg and Toulouse centers then used this research to develop the Airspace cabin concept, including trim and finish designers, lighting designers, product designers and a few engineers. An unnamed design agency was also brought in to give an external perspective on the project.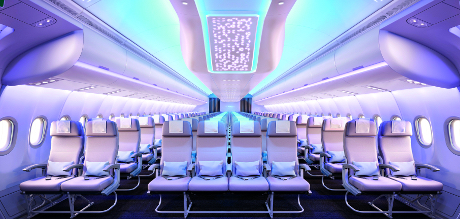 "We wanted to create a clear and defined design language about how we design the cabin, with straight parallel lines, continuous split lines, continuous surfaces, and using lighting to make elements like the bins 'float'," explains Edwards.
"Our design language is built on our European heritage. We have a really classical, contemporary and simple approach, with simple, straight lines. We do make shapes curvaceous where needed though – for example, flat sidewall panels would look great, but they are curved to give every possible millimeter to the passenger.
"We're trying to create something really timeless, something that lasts. But it's not just about creating a style, because if you create a style then it dates, and that's something airlines don't like. It's about leveraging our European heritage of classic, simple versatile design. Everything we do is for a reason; it's a balance of the visual, the aesthetic and the functional. Nothing is there as a superfluous piece of beautification. It all goes back to us creating a backdrop for the airline branding."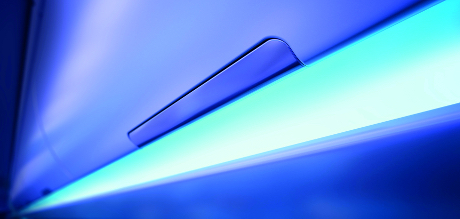 The future
The Airspace cabin design you see in these pages is largely what appears in TAP Portugal's first A330neo. However, that is just the beginning, with Airbus's plan being to progressively roll Airspace out across the complete product family, with the initial focus being on wide-body models.
As Rao explains, "If you look at the A320 and A380, they are individual products with individual features, but as we work through the Airbus family, they will all become Airspace aircraft."
Looking further ahead, Airspace will evolve to reflect new technologies and trends. Airspace is a brand, not a set of rules, so as new technologies such as 'bionic' 3D printing – as shown in Airbus's recent 'bionic partition' concept – become relevant, they can be applied in the cabin.
"The response we've received so far from airlines is very positive," concludes Caudron. "They say it's great that Airbus is investing money in where airlines make their money – the cabin. They say it's great to see Airbus backing innovation and harmonizing cabin product across different aircraft. That is really being perceived very positively."