With its Desire Lines principles, the new Zodiac Aerospace LifeStyle interior offers a unique spin on the concept of a flexible cabin, shifting from movable architecture to an architecture that enables passenger movement. The resulting environment challenges the traditional standards of cabin layout and aircraft interior configuration. It is built on the principles that travelers need room to move during long flights, and that redesigning a seat, and then adding technology and luxurious detailing, should not be the sole focus for designers, OEMs or airlines, when striving to improve the passenger experience.
Zones with purpose
The LifeStyle cabin draws its inspiration from urban planning and is thus presented as a 'white model', in line with the best traditions of architecture.
Tom Eaton, advanced concepts team manager, and Victor Carlioz, advanced concept engineer, both of Zodiac Aerospace, acknowledge that elements of the proposed architecture are inspired by some cabin features that were enjoyed on some classic aircraft. Lounge areas and sleeping berths, for example, are not in themselves new creations, and some of the seating design considered in the LifeStyle cabin is relatively conventional. But, as they both emphasize, following some conventions is essential to the objective of the program: getting this concept to fly.
"Many things in the concept are not entirely brand new, but they are actually very relevant to timing. Our industry is ripe for this innovation, for this dialog, between ourselves and our customers," says Eaton. "The aerospace industry has dreamed about the future of flight, and very often those dreams are quite fantastical, but for various reasons very few make it into the real world. They remain a flight of fancy. For us, as an aerospace manufacturer, which is responsible for products that actually fly, it was critical for us to base this product in the real world, in line with real-world constraints." This approach, he emphasizes, is "the only way you'll bring true innovation to the marketplace".
Carlioz believes that this more grounded and practical approach will also appeal to passengers because it answers one of the common complaints of most passengers today, whether that complaint is itself grounded in reality or merely perception: that we've lost track of the inherent romance of flying as part of the journey.
True romance
"There's a romanticism about traveling," says Carlioz. "Airplanes in the past had lounge areas, and we wanted to bring that back. I think a lot of people would enjoy this space."
For innovation to matter, it must solve a problem and it must create a better new reality. For airlines, that means creating significant product differentiation and an opportunity to give customers a passenger experience beyond the conventional, and also a practical, viable model with financial benefits that justify the investment in such a radical departure from traditional cabin layout.
Zodiac Aerospace has kept this firmly in mind. While adaptable to all existing long-haul aircraft, the LifeStyle cabin was initially modeled on a B777-300 platform as a baseline aircraft that typifies wide-body structures. "One of the key drivers for us was to maintain a very realistic passenger journey," says Eaton. "We took the -300 as a figure derived from an average of all the airlines flying to all travel points."
Within that baseline B777 cabin interior, Zodiac has identified spaces that could be better optimized – for example, some dead space that could become experiential and revenue space – without interfering with safety zones. Instead, new zones take on alternative purposes that can accommodate the range of activities passengers might want to engage in at different phases of flight. New zones also create opportunities for additional revenue: sales of berths to economy and economy plus customers, for example, or new service models that let passengers help themselves to snacks or to shop for duty-free items.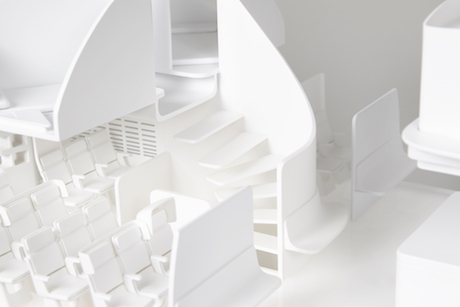 The structure thus laid out, and broken up into activity zones, also allows for equal or greater passenger density, while eliminating the pain points usually created by such density for passengers. Key to accomplishing these seemingly conflicting goals is better use of both lateral and vertical space within the fuselage.
From dead space to lively zones
"We highlighted in blue areas the zones that offer new opportunities," says Eaton. "Not every airline fully utilizes its cargo capacity. As more airlines fill the skies and fly more frequently, it's much harder for them to fill their bays. So we thought there must be better ways for airlines to generate revenue, and indeed there are. We also looked at the crown and we know that some of the space is used, but a lot remains unused."
Beyond the well and the crown, Zodiac identified fallow space around the perimeter of the cabin, at the windows, and at the galleys and cross aisles too. By questioning the basic principles of grid layout and service by class, the LifeStyle cabin's originators set themselves free to create a hybrid interior that offers economy and premium services, with economy and premium flight experiences, but within a more accessible and adaptable framework.
Mapping the journey
To determine space allocations for the various zones, Zodiac created a 'journey map', measuring the varying activities at different phases of flight for day flights and night flights, and allotted room appropriate for those activities, some of which could be a passenger experience enhancement, some of which could be booked for a higher fare, and others that could be sold as unbundled products.
In the modular economy cabin, partitions allow light to pass through, while creating more personal spaces.
A nine-abreast cabin configuration, divided by partitions, wingback adaptors and tide breaks, would give airlines the opportunity to offer passengers new booking options for seats as singles, couples, families or groups.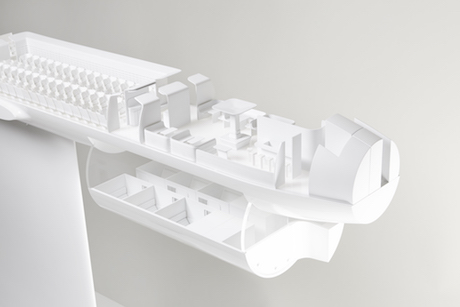 A galley for crew can be transformed into a 360° destination where passengers can gather, stretch their legs and enjoy refreshments. Passengers who wish to sleep in privacy can book berths separately. A temporary lounge, created by the partitions, creates a zone to stretch and socialize, with self-service grazing, and shopping opportunities available on modified pop-up service carts, which can also be converted into snack bars or retail showcases.
Clearly separated premium cabins let passengers flow from a lounge and restaurant environment to 'universal rest' seats that allow flexible posture, and are ideal places for the multiscreening modern traveler to work and play. Roomy private berths, more like private apartments, let flyers sleep undisturbed in full-sized beds.
"The flying experience today is very seat-centric," Eaton explains. "You sleep in your seat, you rest, you eat, you watch TV there."
Zodiac feels that this is too much activity all in one space, and that some passengers can feel awkward doing all this among strangers, who may themselves be engaged in something else.
With the LifeStyle cabin's zones, all that changes. "The seat becomes less of a focal point, and it's the aircraft as a whole that becomes part of the passenger experience," says Eaton. "We want passengers to get up, move around and experience different services, in a different way. That's what allowed us to de-couple the services that are traditionally connected to the seat."
Bringing the concept to life
LifeStyle is a big concept to wrap one's imagination around and it requires a radical shift away from familiar cabin class divides and service models.
To help customers visualize the benefits of LifeStyle's interiors, Zodiac worked with a creative agency to make a rich augmented reality demonstration of how real humans would interact with such a space. The space within the LifeStyle's white architecture model comes to life as real actors, represented as sketches, move around the cabin.
The idea was to create crossover technology in service and industrial design, whereby they cross over to deliver something that is more compelling. In practice this meant that a 3m-long model was created, and the motion graphic overlays positioned along that.
To accomplish this vision, motion capture technology was used, which saw actors, with nodes placed on critical areas of their bodies, using the space. That then created data, which was inputted into a 3D model, and a rendering created to demonstrate the natural movement of passengers within the cabin.
This augmented reality 3D modeling served a dual purpose in the LifeStyle cabin project: it was a research tool to find out what needs to be fine-tuned, and it also serves as a toolkit for better conversations between Zodiac and airlines about the nature of travel and how service can also form the cabin environment.
Free movement and adaptability
Just as the LifeStyle cabin sets passengers free, its modular nature also frees airlines to adopt what works best for their brand identity, and to play with the many variations made possible by reconsidering the use of space within the fuselage.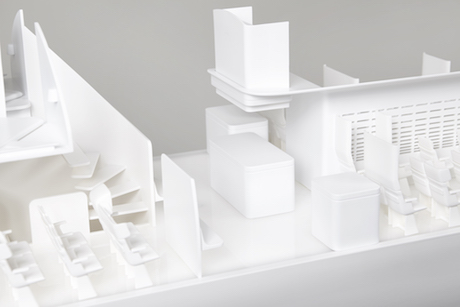 "It's really up to the airline to determine how it's offered. When an airline sees a space like that, it can then imagine how it can differentiate the space," says Carlioz. "We proved that everything works together."
North star
For Zodiac Aerospace, the unifying principle of the LifeStyle cabin also reflects a new stage in the company's identity, according to Eaton. "It is a cultural piece for Zodiac internally. As a huge corporation made up of many separate business units, what's really important to us at the moment is to try to unify that structure and organization," he says. "This project is the North Star. It's something we can all work toward. It really helps us shift from being a manufacturer that delivers various products and services. It's a unifying force for us."