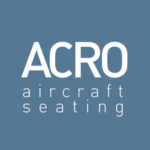 Website Acro Aircraft Seating
') } else if (width >= 425) { console.log ('largescreen'); document.write('') } else { console.log ('nompuad'); document.write('') } // -->
Acro Aircraft Seating is more than just a manufacturing business, we have an entrepreneurial spirit that drives us to fulfil our vision of Perfect Comfort for Passengers, supported by a dedicated team who share our belief – from designers and engineers, through to production, quality, sales and support.
This is a fantastic opportunity to join an innovative, award winning and high growth business and continue to develop your procurement career.
Location: Crick, Northampton (NN6)
Salary: Competitive
EXCELLENT BENEFITS
25 days holiday + bank holidays
Pension
Healthcare schemes
Retail discounts
Reporting into the Procurement Lead and working within the Supply Chain Department, as the Buyer you will take full responsibility for the day-to-day order book management.  You will develop and manage working relationships with suppliers and secure on-time delivery of material.  It is important that the required quality is met or exceeded, and that supplier performance is always class leading.
Key responsibilities:
Utilise MRP/ERP data to ensure purchase orders are placed effectively and on time, to achieve OTIF at optimal cost. Ensure data is maintained and accurate at all times.
Take full ownership over part pricing, ensuring purchase orders are confirmed.
Maintain timely communication / escalation of supply chain risks, working under the guidance of Procurement Lead's in delivering strategic business objectives.
Own and coordinate the relationships with suppliers, setting and reviewing KPI's on a regular basis. Ensure they 98%+ OTIF and lead corrective action to realign variance to target.
Ensure that supplier capacity is secured to support current and new product introduction demand working closely with Procurement Leads, Operations, Quality and Engineering.
Establish, maintain, and respond to supply chain risk assessments.
Carry out regular supplier reviews to share information and manage supplier performance, understanding their capabilities and capacity.
Establish tactical inventory opportunities to effectively balance stock holding vs availability vs unit cost.
Responsible for Inventory levels ensuring that excess and obsolescent stock is cleared within a timely manner ensuring that monthly and year-end Inventory targets are met.
Collaboratively work across the business to support value-add projects, business change initiatives and forecasting of materials availability and costs.
Responsible for ensuring that suppliers are aware of any recorded rejections deemed their responsibility and that any resultant costs of quality to the company such as RTV, scrap, rework (internal/external) etc are recovered from the supplier in a timely manner.
Ensure all dwell items at Goods In that prevent receipt of PO line are resolved in a timely manner.
Ensure all invoice queries are resolved in a timely manner.
Ensure all company business policies are adhered to both internally and by our suppliers.
To ensure engineering change is managed through the supply base and effectivity of change is aligned within Acro Aircraft Seating.
Essential:
Solid understanding of MRP/ERP systems and procurement processes is essential.
Ability to deliver results within tight timeframes in a fast-moving environment.
Attention to detail with the ability to identify and resolve problems in a systematic way.
Ability to manage risk, identify and leverage cost drivers.
Great communication skills and the ability to develop good cross functional, collaborative working relationships.
Analytical thinker, able to articulate the case and engage people to achieve the end goal.
A confident decision maker with clear thought-out rationale for judgements made.
Flexible to adapt to changing situations and environments.
Process driven with evidence of working knowledge of procurement / supply chain processes and procedures.
Able to work, think and make decisions autonomously.
Intermediate/Advanced MS Office Skills.
Desirable:
Previous experience of material/supply planning in a manufacturing environment.
Previous experience of relationship management.
The parent company of ACRO Aircraft seating is Zhejiang Tiancheng Controls Co., Ltd headquartered in China. We therefore welcome mandarin language capability as a desirable requirement.
We really want to hear from you so do not miss your opportunity to join us! Once you apply, your CV will be held on our central database.  Please do let us know if you do not wish for us to retain your details.  If your application is successful, you will be contacted in due course.
Please note: This advert may close early if sufficient applications are received.
Acro Aircraft Seating are an equal opportunities employer.
Please view our website for access to our Job Applicant Privacy Notice.