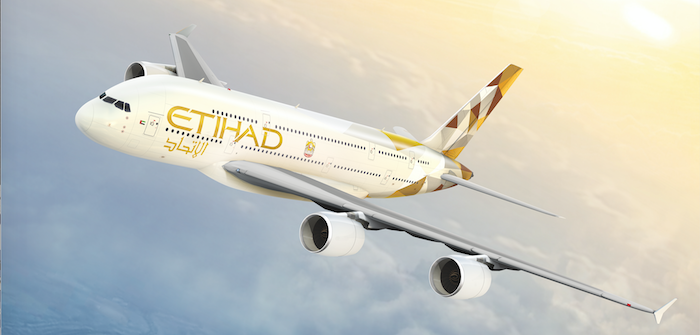 UAE carrier Etihad Airways has never been far from the limelight this year, with its innovative A380 and B787 interiors attracting worldwide interest, especially the three-room Residence, complete with personal butler. We've seen the interiors (full story here), but now a redesigned exterior livery has been revealed, to complete the package.
The livery was created by brand consultants Landor Associates in partnership with Etihad Airways, which they say is inspired by traditional Emirati design patterns, the landscapes of the desert and the geometric shapes found in the modern architecture of Abu Dhabi. The livery was unveiled as Etihad Airways' first A380 rolled-out of the paint hangar at the Airbus Finkenwerder facility in Hamburg, Germany.
James Hogan, president and CEO of Etihad Airways said: "Only a few months ago Etihad Airways unveiled the new cabin interiors for our A380 aircraft and we are now proud to show the world how this aircraft will look on the outside. The striking new livery also continues our commitment to breaking from convention and doing things differently. This is a real divergence from the norms of traditional airline livery design and will stand out in the sky and at every airport we fly to."
The design pattern is named 'Facets of Abu Dhabi' (similar to the 'Lights of Abu Dhabi' lighting scheme found inside), and it uses a color palette which reflects the varying hues of the landscape of the UAE, from the darker sands of Liwa to the lighter colors seen in the Northern Emirates. The design development involved researching design options amongst Emiratis and international travelers to help select the final 'winning' livery. The UAE national emblem is given prominence along the fuselage next to the Etihad name and the national flag is respectfully featured forward near the cockpit.
In addition to the lighting scheme, the design pattern is also being used for soft elements in the cabin, as well as across the airline's corporate branding – from advertising to brochures to premium lounges.
Peter Knapp, global creative officer of Landor Associates, said of the livery: "It tells the remarkable story of this region and of Abu Dhabi's past, present and future, providing a narrative for an innovative airline brand. We used the ambient geometry present in the architecture and culture of the emirate and reinterpreted it with a sense of Arabian modernism which has become synonymous with Etihad and Abu Dhabi itself."
The entire Etihad Airways fleet of more than 100 aircraft, as well as those to be delivered, will be painted in the new livery during the next three years. These aircraft include seven wide-bodied aircraft being delivered in 2015 – four A380s and three Boeing 787-9s – and seven narrow-bodied aircraft – one A320 and six A321s.