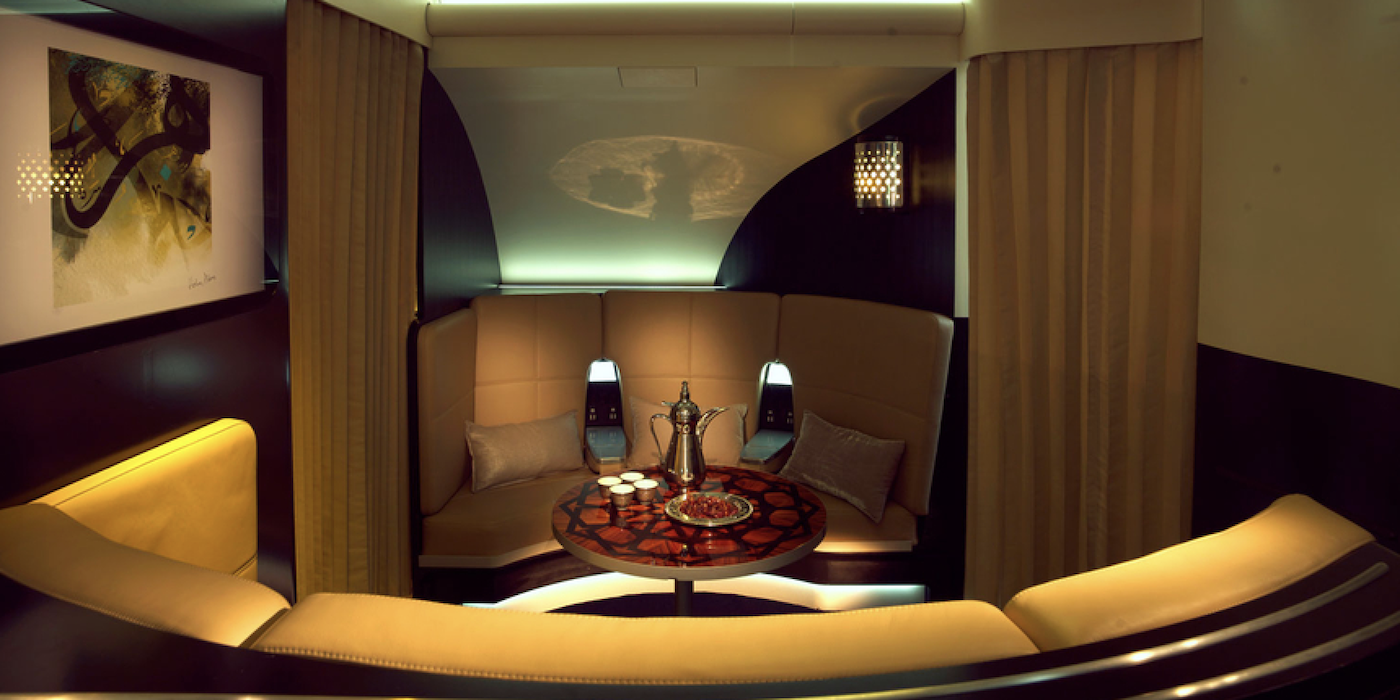 UAE carrier Etihad has set a new standard in air travel with the reveal of its new A380 and B787 interiors. Created in collaboration with the Etihad Design Consortium, consisting of three London-based design houses – Factorydesign, Honour Branding and Acumen – the interiors are the result of an intensive five-year design project, with the first aircraft due to enter service in December 2014.
Let's start at the top, with The Residence, located at the forward upper deck on the A380. This 125 sq ft space is akin to a small, luxurious apartment (though we won't call it that – you'll see why shortly). Featuring a living room, separate double bedroom and an ensuite shower room, this space – yours for a US$20,000 fare – has been certified by EASA for single or double occupancy.
The hardware was developed with B/E Aerospace and the living room includes a 60.4in two-seater reclining sofa, a retractable ottoman, dual 23in x 19in dining tables with custom marquetry, a 32in IFE monitor, and full height (64in) sliding doors. The bedroom offers an 82in-long, 47.5in-wide double bed, a side table with drawer, a headboard, backlit fretboard walls, a 27in IFE monitor running Panasonic's eX3 system (used throughout both new aircraft types), and a full-length wardrobe. To make the space truly self-contained, the ensuite shower room includes a full-height shower, a toilet, a vanity unit and a hairdryer.
The experience is complemented with a dedicated VIP concierge team who can tailor everything from the specifics of the limousine transfer, to the meals prepared by the onboard chef, to the amenities. For everything else, the personal Residence butler – trained at London's Savoy Butler Academy no less – will be on hand to serve.
There have been a few detractors of The Residence, some saying that it is priced similarly with private jet travel but without the flexibility, some that it is simply too 'bling'. Etihad has done its research though, aided by consumer research and workshops from Promise Communispace, and with just one Residence on board, the airline feels the space is commercially viable. And let's not forget this is the type of space that was being excitedly discussed by aviation enthusiasts when Airbus first announced the A380 and its big spaces full of potential.
First Apartments
The Residence aside, the nine 'First Apartments' on the A380 would have been enough to grab headlines. These 39 sq ft spaces, again engineered with B/E Aerospace, have been arranged 1-1 behind the Residence, creating the world's first single-aisle first class cabin in a widebody. These apartments are some 74% larger than Etihad's current First Class Suites and include a 64in-high sliding door, a reclining armchair, and a full-length ottoman that converts into a separate 80in-long bed.
Apartment dwellers also benefit from the skills of the inflight chef, a turn-down service, a chilled minibar, a swivelling IFE monitor, and a shared shower room.
B787 First Suites
Dreamliner guests also benefit from an enhanced first-class experience, with eight suites configured 1-2-1 across twin curved aisles. While not on the scale of the A380 offer, these B/E Aerospace suites offer sliding doors (58in high), a 26in-wide reclining lounge chair which converts into a 80.5in fully flat rectangular bed, a 23in x 20in dining table, a 24in IFE monitor, a chilled minibar, a personal wardrobe, and the same levels of service and amenities that A380 Apartment guests enjoy. The First Suites come in three colour palettes, with different leather colours and accent details
Business Studios
Both the B787 and A380 benefit from an enhanced business-class offer. For the A380, the airline selected a forward and aft dovetailed seat from Sogerma, with the 70 seats configured 1-2-1, with direct aisle access. For the B787, Zodiac supplied the seats – again dovetailed – in a 28-seat 1-2-1 configuration, all with direct aisle access.
These are more than just business seats – even compared with the luxurious models being regularly introduced as business-class rivalry intensifies among carriers – with the Studios earning their name through offering some 20% more space than the airline's current seats. The 22in-wide reclining lounge chairs convert to fully-flat beds (up to 80.5in-long forward and 75.7in aft-facing). Both aircraft variants also feature 16in x 18in dining tables, a large side furniture surface, an ottoman with stowage space, and an 18in IFE monitor, as well as a dedicated food and beverage manager and a 'dine anytime' option.
The Lobby
Completing the ultra-luxurious upper deck of the A380 is a 'Lobby', a space between the first and business-class cabins where guests from both areas can mix and enjoy the serviced bar and lounge area. The space, created with Zodiac Aerospace, includes a six-seat semi-circular leather sofa, a 27.6in marquetry table, and a 32in monitor, which can show live TV such as sporting events.
Upstairs downstairs
On the main deck down below, the A380 is a little more mundane, being a 417-set all-economy space. The 18.95in-wide Zodiac 'Smart Seats' are configured 3-4-3 at a 31-32in pitch, with a 6in recline, adjustable lumbar support, and an 11.1in IFE monitor.
On the B787, the 199 Smart Seats are 17.2in-wide, configured 3-3-3 at a 31-33in pitch, again with a 6in recline, adjustable lumbar support, and an 11.1in IFE monitor.
Of note on both aircraft types, the economy seats have fixed-wing headrests, upholstered in camel leather.
Want to know more? Of course you do!
We will be running an in-depth study of the new aircraft in the June 2014 issue of Aircraft Interiors International. Rest assured, just for you we will explore every nook and cranny, stretch out on every bed, sprawl on the Lobby sofa, and even try the Residence shower.