German leisure airline, Condor, has revealed a new cabin design for its 16 long-haul A330-900neo aircraft, which will be introduced from autumn 2022 (approximately one A330neo will join the fleet per month) to replace its Boeing 767-300ER fleet. The 310-seat aircraft will be in a three-class configuration, with  30 seats in business class, 64 in premium economy, and 216 in economy.
The business class cabin will be fitted with 30 fully lie-flat seats (a 1.99m-long bed) in a 1-2-1 configuration with direct aisle access, with extra-large foot space, and 17.3in touchscreen 4K IFE displays with remote control.
In the premium economy cabin, guests gain an additional 5.9in of seat pitch compared to the economy class cabin, an extra 5.9in of backrest angle, and multi-adjustable headrests and footrests. Both the premium economy class and economy class cabins are in a 2-4-2 seating configuration, with all seats having 13.3in 4K touchscreen IFE monitors.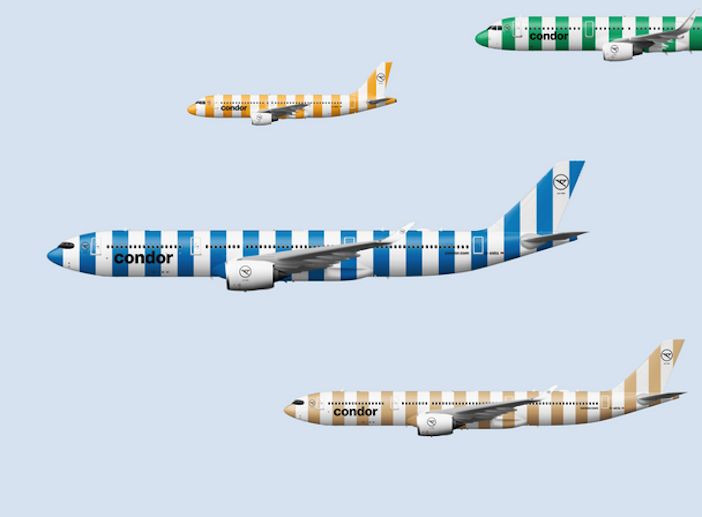 It would perhaps be odd not to reference the distinctive striped aircraft livery in the cabin, so subtle stripes have been applied as a recurring design element, including a striped badge on every seat in every class, as well as uniformly striped headrest covers in the business and premium economy cabins, with a colour concept that focuses on Condor's brand colours of Condor Marina (blue against white) and Condor Earth (grey against white). The cabin design was created with the Müller/Romca industrial design agency in Kiel, Germany. Remo Masala, owner of the Visionalphabet agency in Berlin, which designed Condor's new brand identity, also gave creative direction in the design process.
The A330neo also sees Condor introduce high-speed inflight connectivity, with each seat fitted with a mobile device holder to help passengers watch streamed entertainment. This service complements the seatback IFE screens throughout the aircraft, with Bluetooth headphone connections.
Condor's long-haul A330neo routes will include the Dominican Republic, Mexico and Seattle, USA.