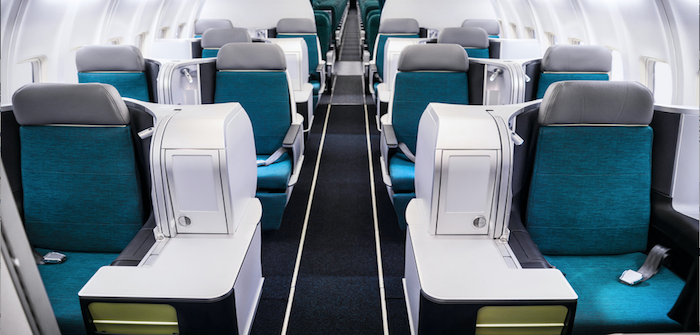 Aer Lingus has unveiled its new business class cabin interiors, which are due to take to the skies in January 2015, with many touches to remind passengers that they are onboard a Celtic carrier.
The airline selected the Vantage seat from Northern Ireland-based Thompson Aero Seating for the project, with customized surface finishes and soft furnishings inspired by the carrier's cultural heritage continuing the theme. Factorydesign were selected for the cabin design and seat customization work, which included having a soft armrest profile to maximize seat width; adding a small privacy screen between passengers to better define personal space; integrating additional seat controls into the console to improve passenger ergonomics and allow passengers to view and operate them from reclined and bed positions.
Further work involved creating larger stowage compartments with ambient lighting for passengers' personal items; extending the consoles to provide specific stowage for shoes and laptops; making the cocktail tables larger to create more side furniture; concealing the IFE handset within the armrest to remove clutter; and concealing the monitor ventilation.
Chief revenue officer at Aer Lingus, Mike Rutter, explained the importance of the program, "As the National Carrier of Ireland, the cabin interior and seat must reflect the importance we place on passenger comfort and convey our brand values. Business class passengers expect the highest standards, and Factorydesign's approach has been to create a highly sophisticated and modern environment where they can either work or relax. By taking inspiration from Ireland's rich history and cultural heritage, and using Celtic motifs with modern details, the design perfectly reflects a new era for the Aer Lingus brand."
Peter Tennent, Factorydesign's managing director, added, "We have created a rich, sophisticated and spacious environment that truly reflects the Aer Lingus brand. At its heart is a new and customized version of the highly successful Vantage seat, which enhances the passenger experience through improved aesthetics, ergonomics, more personal stowage and space."
Thompson Aero Seating is enjoying a successful period, having secured a deal to supply a customized version of its Vantage XL seat to Qantas. More details HERE.