China Southern has awarded the business class seating contract for its Boeing 787-9 Dreamliner fleet to Thompson Aero Seating, with the Vantage platform selected – a seat design that in this project has required custom front row monuments with integrated stowages to be developed. The airline has elected to work with AIM Altitude on the monument designs – a decision partly driven by AIM Altitude and Thompson Aero Seating both being sub-companies of AVIC Cabin Systems, with previous experience of collaborating together efficiently. The teams have also brought in London-based Factorydesign, a studio with experience of customising the Vantage seating platform.
The bespoke monuments are being manufactured from standard composite panel and laminate finishes, with styling designed to carry the same aesthetic features as the seats to achieve a seamless appearance, with a cohesive feel and clean, modern lines.
The monuments align the footwell area with the seats to provide a continuous lie-flat bed surface when the foot-rest is deployed. Meanwhile the IFE monitors and literature pockets have been manufactured with surrounds to match the seats, and the footwell ramps complement the seat footrests.
For the outboard units, AIM Altitude created full-height closets, with coat rails and door-activated interior lights, integrated with the front of the half-height front-row seat furniture.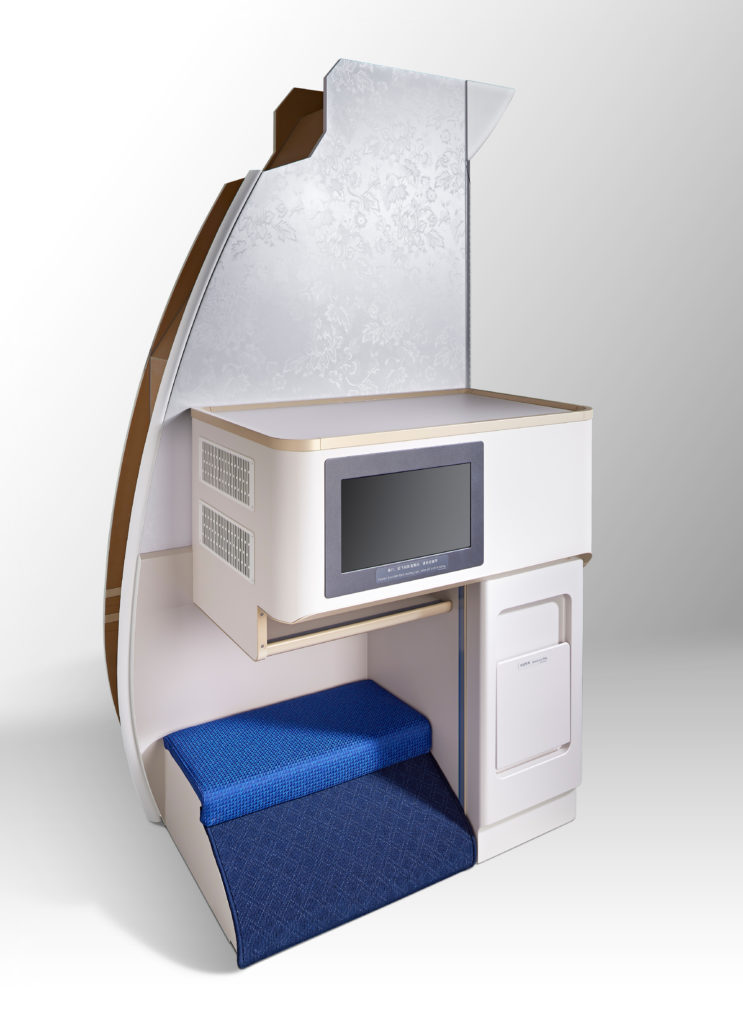 The seamless design may look simple, but it has been a deceptively complex monument to manufacture. As Colin Winterburn, engineering lead at AIM Altitude explained, "There were many complex challenges in making the whole scheme succeed with a unified and continuous flow. For example, integrated closets, with overhead bin-ends, close out in the tapered section of the of the fuselage and needed to align with the Boeing-installed structure."