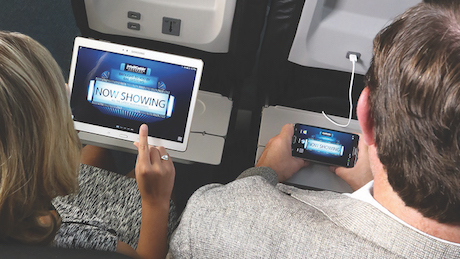 In 2014, BAE Systems entered the passenger experience space in a big way with the introduction of Intellicabin. Promoted in the company's marketing materials as an "integrated approach to cabin management", the Intellicabin suite of products promised to enhance the feeling of comfort on board aircraft by providing a modular and scalable architecture for capabilities such as in-seat power, LED lighting, wireless in-flight entertainment (IFE), dimmable windows, and crew interfacing.
Then at Aircraft Interiors Expo 2015, the company announced that start-up Indian carrier Vistara, a joint venture between India's Tata Sons and Singapore Airlines (Vistara is the pair's second attempt at starting a full-service regional carrier), would be the launch customer for Intellicabin's IFE streaming solution, rather than the full cabin management system (CMS), which is aimed at original equipment manufacturers.
Under the agreement, BAE Systems would equip Vistara's entire leased fleet of 13 new Airbus A320-200s, eight of which are now in service and seven still on order. Not unlike some other streaming solutions in the marketplace, Intellicabin consists of a head-end digital server and powerful wireless access points (WAPs) sourced from system hardware supplier Kontron. In addition to the basic system hardware, the agreement stated that a BAE Systems/Samsung partnership would enable Vistara to provide ruggedized, 10.5in Galaxy Tab S tablets to business class passengers.
Since that April 2015 announcement, BAE Systems has been working with the airline to customize the user experience; to compile a suitable content pool (BAE Systems is working with Global Eagle Entertainment (GEE), using the company's studio connections and WISE IFE software backbone); to select a capable MRO facility in Delhi; and of course to obtain the certifications needed for a fleet-wide program start before the end of Q2 2016.
The first installation
Ahead of the first Vistara system installation scheduled for November 2015 in Delhi, Aircraft Interiors International was keen to learn how the launch program is progressing, and to discuss the challenges involved in bringing an all-new product to market, with an all-new airline, in a region that could present some unfamiliar bureaucratic procedures for BAE.
"It's all gone perfectly, with no problems whatsoever," jokes Jared Shoemaker, director of Intellicabin at BAE.
"In honesty, though, I would say that the biggest learning experience we've had is with regard to product shipping. We're a US$30bn global company and we ship products everywhere, but still, shipping product and working within Indian regulations is difficult. It's very complicated and bureaucratic – from taxation to import and export, there are a number of regulations that you have to be crystal clear on."
That being said, Shoemaker asserts that preparations for the first installation are going nicely, thanks in equal parts to Vistara's cooperativeness and the combined experience of the airline's senior executives, many of whom have come over from parent Singapore Airlines.
"They have been an amazing group of people to work with. They are extraordinarily capable, with a lot of background. This helps us a lot because they know what they want and they know how to get there. As our launch customer, Vistara has a unique level of influence on what we do and where we're going," explains Shoemaker.
At the time of writing, in late October 2015, BAE Systems and Vistara are closing in on awarding the installation contract to an MRO facility in Delhi, with Shoemaker telling us that there are a handful of very capable facilities in the running.
To ensure correct installation of the first system, one aircraft will be removed from service for an undisclosed length of time. However, due to the non-invasive architecture of the Intellicabin streaming system, subsequent installations are anticipated to happen without the airline missing a beat.
"We expect to do our installation on a set of consecutive overnight shifts," states Shoemaker. "So the aircraft, when it has completed service for the day, will be worked on. Then we put it back, ready for service the next day."
Regulatory approvals
Once the first installation is complete, BAE and Vistara will begin the task of obtaining the regulatory approvals needed to flip the switch. The multistep process will involve approvals from both India's DGCA (Directorate General of Civil Aviation) and the European Union's authority for aviation safety, EASA. Although the DGCA spent the first quarter of this year struggling to prove itself fit after last year's downgrade to a category 2 security rating by the FAA, Shoemaker believes that same FAA intervention will facilitate a smoother process for BAE Systems, now that a category 1 rank has been restored.
"The FAA came in recently and helped [the DGCA]get a little bit more straightened out," he states. "They're now much more streamlined and similar to the FAA in the way they do business. They have been very good to us and we expect approval in January. At that point we will fly it for a period of time to wring out any remaining issues there may be, then roll out across the rest of the fleet, for 13 aircraft by the end of Q2."
BAE Systems made use of a Faraday cage (an enclosure made of conductive material to block electrical fields in the same way a fuselage does) belonging to hardware supplier Kontron to verify Intellicabin's performance should all passengers engage with the system at once.
"We ran 160 devices streaming 720p on our system in the lab to ensure we could cover all the corner points… We've gone up to 60 devices streaming off a single WAP and each Vistara aircraft will have three," said Shoemaker. "So we are very satisfied that we can do what we need to do from that perspective."
The tricky business of business
When Intellicabin goes live with Vistara during 2016, passengers in the economy and premium economy classes will be able to connect and stream, using the web browser, on wi-fi enabled devices. In this setup, the entire IFE solution (application, content, and metadata) will be pushed in real time from the central server to the device through one of three WAPs on board.
Guests flying in business class are to be given a Samsung tablet, on which the experience should be slightly enhanced. This is due to the tablet's high-resolution display and the fact that the application framework 'lives' on the device, reducing the load of the data being streamed.
Since spring 2016, Vistara has been offering its passengers the use of Samsung tablets pre-loaded with a more modest selection of content and a user interface very similar to the final product.
"We've been flying what we call our 'interim solution' for six months now," states Shoemaker. "We've had a lot of positive feedback from Vistara flying the product, though they are extremely excited to move to the full streaming installation."
However, convincing people to pay more for business class seats in the Indian market is proving difficult, and it is unclear just how much IFE or a tablet can help that decision. In mid-September, leading Indian business daily, the Business Standard, reported that poor load factors were forcing Vistara executives to reconsider their 16-seat business class configuration, possibly looking to halve the number of business seats on forthcoming deliveries, to give more space to economy.
In the article, the Business Standard quoted Devesh Agarwal, editor of Bangalore Aviation, who wrote on his own blog, "The lack of a broad network of business destinations with services at convenient timings adds to the challenge. This is reflected by the extremely low passenger load factors. The airline appears to be relying on value-added services such as wi-fi on aircraft. This would provide a sustainable competitive advantage to Vistara, but it is not likely to generate adequate monetary returns."
BAE Systems and Vistara both declined to speak about the validity of the Business Standard report, or comment on how a cabin re-configuration might affect plans to launch Intellicabin.