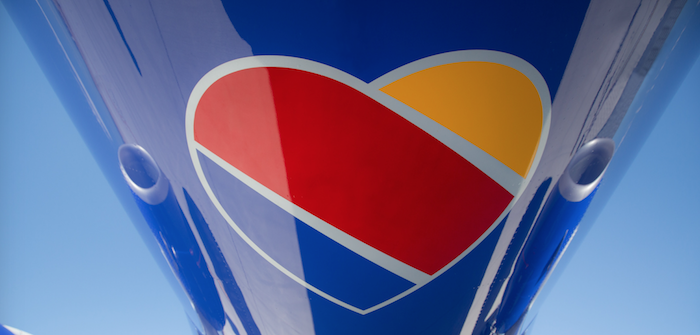 Southwest Airlines has revealed not just a new aircraft livery, but also a new airport experience, newly designed inflight materials and magazine, a new advertising campaign, and a new logo. The livery, named Heart One, features a heart on the belly of the aircraft, which the airline says 'puts the airline's heart on display, showcasing the strength of the nearly 46,000 employees companywide'.
The developments were brought in as 2014 is a big year for Southwest, as the airline introduces its brand to international destinations; the repeal of the Wright Amendment is within sight; and the integration of AirTran Airways operations is on track to be completed later this year.
To bring this all to life, Southwest collaborated with advertising and branding partners GSD&M, Lippincott, VML, Razorfish and Camelot Communications. The task given to these partners was to distill more than 40 years of history into one modern, impactful look, representing a positive future for the airline.
"The job wasn't to change who we are," said Kevin Krone, Southwest's VP and chief marketing officer. "We already know who we are. The job was to keep the elements of Southwest that our employees and customers love, and to make them a bold, modern expression of our future."
"As we developed the identity, it wasn't just about the new livery or the logo, but about developing the total, integrated brand expression of Southwest," added Rodney Abbot, senior design partner at Lippincott.
Southwest Airlines and its partners did comprehensive research and held numerous focus groups with employees and customers to determine how best to create the new look. The airline heard that it was important to remain unique and to retain its personality; for these reasons, Southwest continues to use the brightly colored palate and striped tail that has long identified the carrier, while adding a modern touch, displaying the Southwest name on the side of the fuselage and presenting the 'Heart' on the aircraft belly.
Southwest doesn't make a change this bold without first assessing cost impact. The approach and focus with this launch has been with the intent to remain cost-neutral by using a phased rollout. Aircraft will receive the newly painted livery within the aircraft's existing repainting schedule, with new aircraft delivered in the new Heart livery. In addition, many of the future airport conversions will be integrated into existing and upcoming airport improvement projects. Because Southwest is taking this cost-conscious approach to the conversion of aircraft and airports, it might be some time before customers and employees see the new design in person.