Airbus has secured some major narrowbody orders at this week's Dubai Airshow as operators look toward a stronger and greener future for aviation. The star attraction in the Airbus order book has been the A320 Family.
By the end of October 2021, the A320neo Family had totalled more than 7,550 orders from 122 customers since its launch in 2010. Since its Entry into Service five years ago, Airbus has delivered over 1,950 A320neo Family aircraft, contributing to a claimed 10 million tons of CO2 savings.
Airbus received a further boost at the Dubai Airshow, with Indigo Partners' portfolio airlines of Wizz Air (Hungary), Frontier (USA), Volaris (Mexico) and JetSMART (Chile, Argentina) placing a firm order for 255 additional A321neo Family aircraft under a joint agreement. Indigo Partners LLC, based in Phoenix, Arizona, is a private equity fund focused on investments in air transportation worldwide.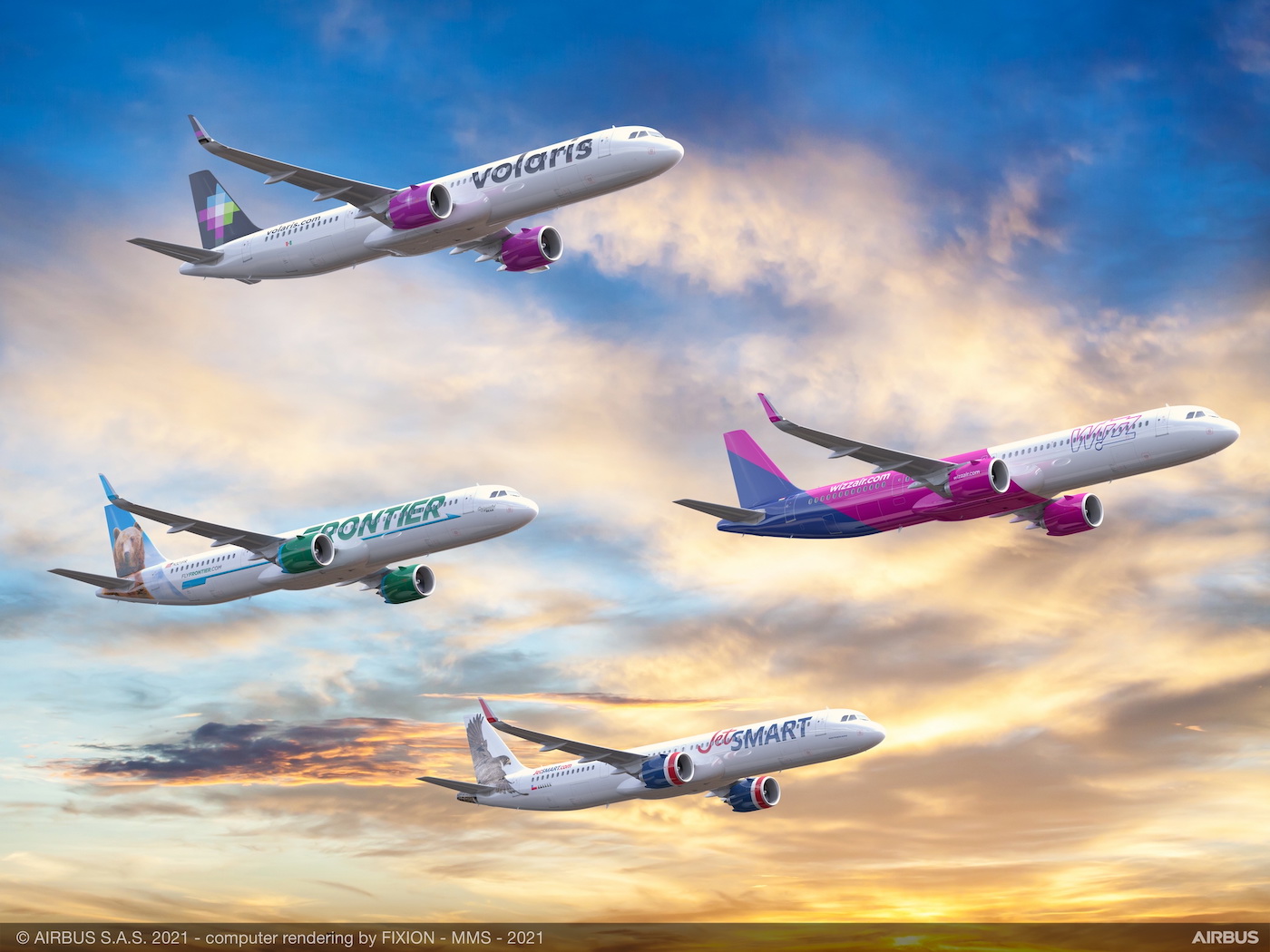 This order brings the total number of aircraft ordered by the Indigo Partners' airlines to 1,145 A320 Family aircraft. The aircraft ordered in Dubai are a mix of A321neos and A321XLRs, which will be delivered to the individual airlines as follows:
• Wizz Air: 102 aircraft (75 A321neo + 27 A321XLR)
• Frontier: 91 aircraft (A321neo)
• Volaris: 39 aircraft (A321neo)
• JetSMART: 23 aircraft (21 A321neo + 2 A321XLR)
In addition to this order, Volaris and JetSMART will upconvert 38 A320neo to A321neo from their existing aircraft backlogs.
"This order reaffirms our portfolio airlines' commitment to consistent growth through the next decade. The Airbus A321neo and A321XLR have industry-leading efficiency, low unit costs and a substantially reduced carbon footprint relative to prior models. With these aircraft, Wizz, Frontier, Volaris and JetSMART will continue to offer low fares, stimulate the markets they serve, and improve their industry-leading sustainability profile," said Bill Franke, managing partner of Indigo Partners.
Christian Scherer, Airbus's CCO and head of Airbus International said the partner airlines "have acted fast and decisively over the last few months to position themselves for this landmark order as the effect of the pandemic recedes and the world wants more sustainable flying."
Wizz Air's orders in focus
With its agreement for the purchase of a further 102 A321s, Wizz Air is living up to its tagline of being 'Europe's fastest-growing airline', and its operations should accelerate when the bulk of the aircraft to be delivered between 2025 and 2027. Wizz Air also has tentative plans to acquire a further 19 A321neos, while Airbus also granted the airline purchase rights for 75 A321neos, for delivery in 2028-29, to be converted into a firm order by the end of 2022.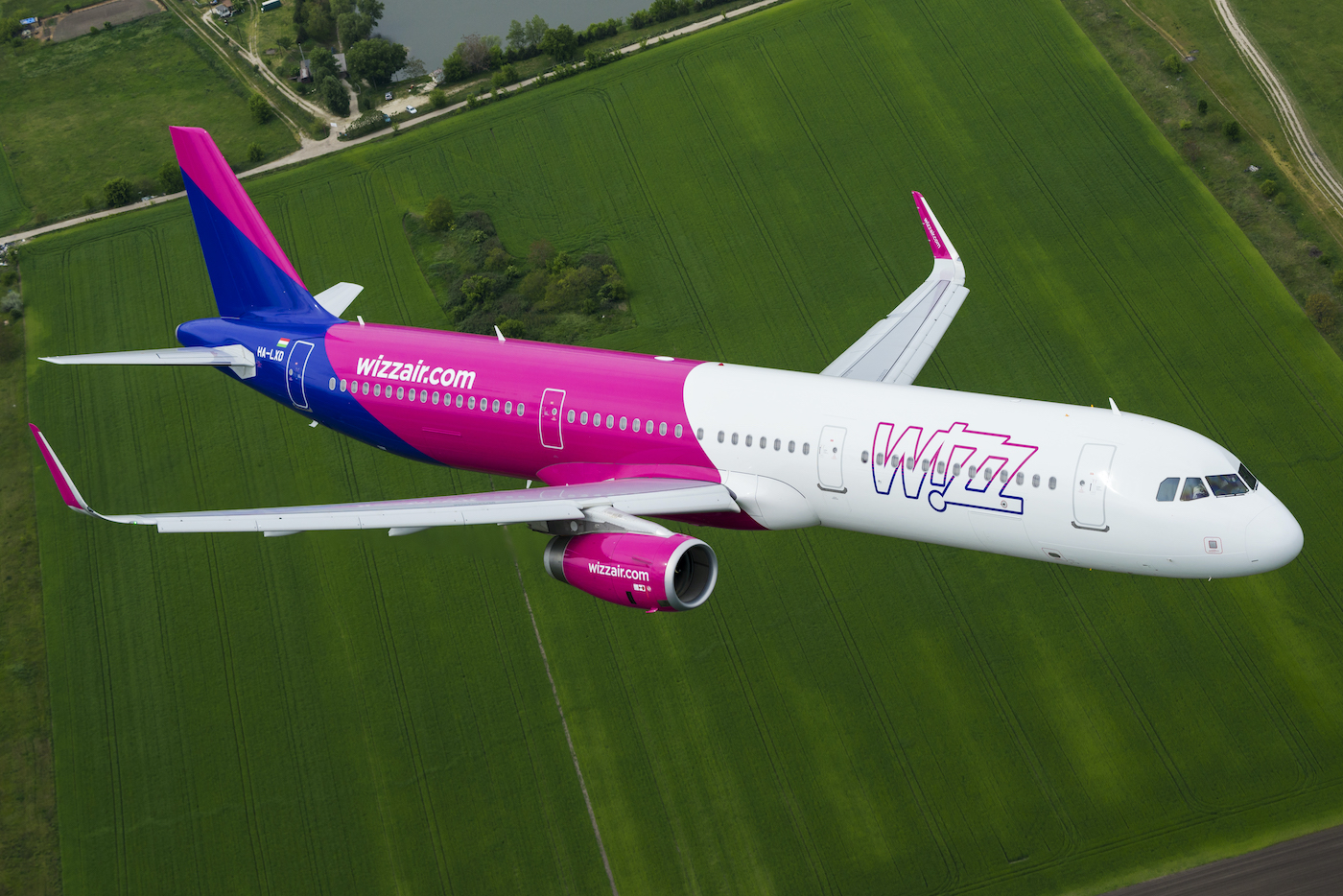 As with its previous orders, under the agreement Wizz Air has the right to substitute a number of the A321neo aircraft with the A320neo and/or A321XLR aircraft and vice versa, depending on its future requirements. Completion of the order remains subject to approval by Wizz Air shareholders.
With the new order, Wizz Air's delivery backlog comprises of a firm order for 34 A320neo, 254 A321neo and 47 A321XLR aircraft, plus the additional order for 19 A321neo and purchase rights for 75 A321neo – a total of 429 aircraft.
József Váradi, Wizz Air's CEO said of the A321neo praised the fuel and cost efficiencies of the next-generation aircraft. "It is important to note that if all European airlines switched to a modern Airbus A320/1 fleet like Wizz Air and operated them as efficiently as Wizz Air, the whole industry's CO2 emissions would reduce by 34% overnight," he stated.
Váradi has big plans for growth and to further stimulate demand for air travel in Europe and beyond by offering a low fare structure and CO2 footprint. Wizz Air has one of the youngest fleets in Europe, with a current average aircraft age of 5.1 years, well below the industry average of around 10 years. The new order we will see this drop to 3.6 years by 2024, and even further to 3.2 years by 2026.
"Despite strong demand for the aircraft, we have signed very attractive terms with Airbus for the long-term supply of more aircraft until the end of the decade, catapulting Wizz Air towards our aim of being a 500 aircraft group and putting us in an unassailable position when it comes to sustainability," added Váradi.
This new order, if approved by Wizz Air's shareholders, would bring Wizz Air's outstanding orders with Airbus to 429 A320neo Family aircraft.
ALC orders 111 Airbus aircraft
Air Lease Corporation (ALC) signed a Letter of Intent (LoI) covering all Airbus Families, for 25 A220-300s, 55 A321neos, 20 A321XLRs, four A330neos and seven A350Fs. The order, which will be finalised in the coming months, makes the Los Angeles-based company one of Airbus's largest customers and lessor, with the biggest A220 order book. Founded in 2010, ALC has ordered a total of 496 Airbus aircraft to date.
With this order ALC and Airbus are also launching a multi-million dollar ESG fund initiative that will contribute towards investment into sustainable aviation development projects that will in the future be opened to multiple stakeholders from the aircraft leasing and financing community and beyond.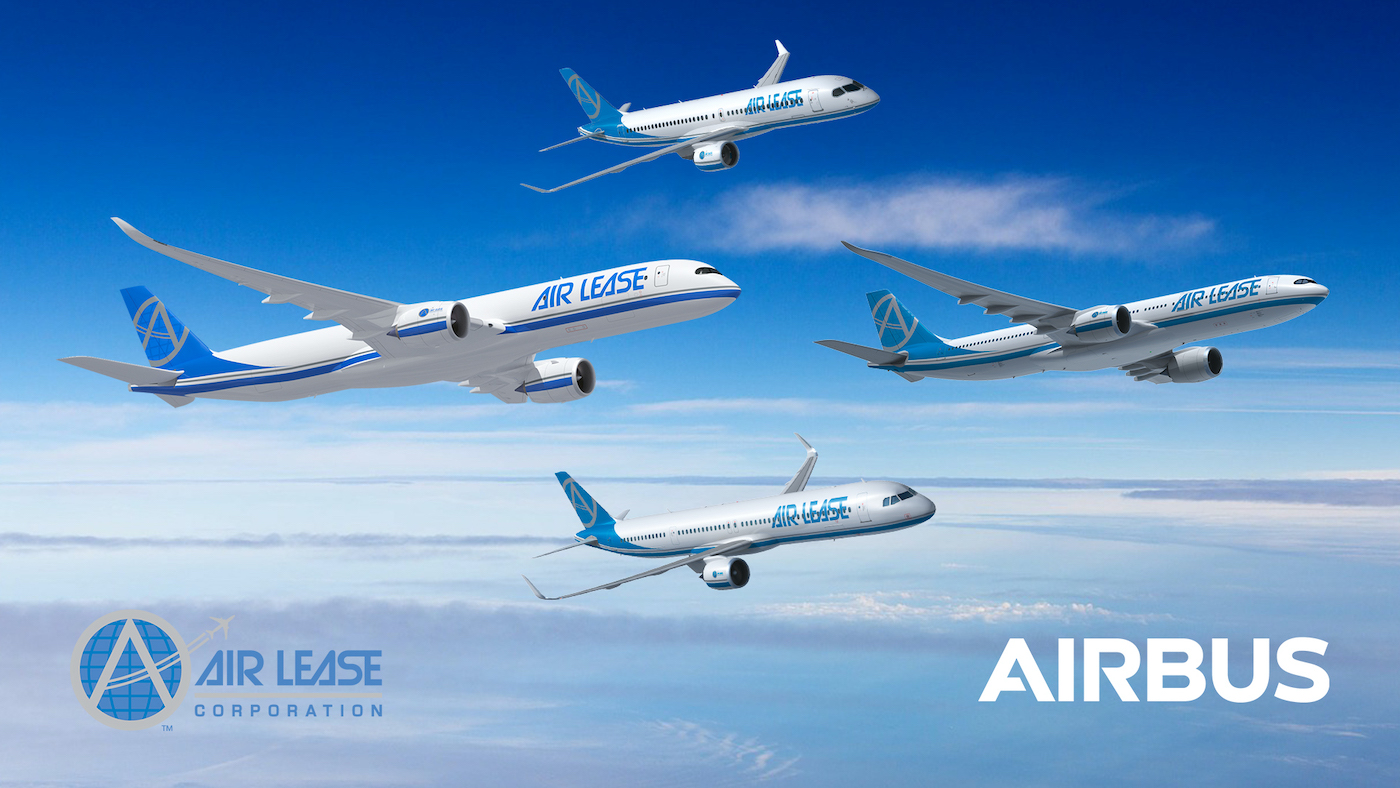 "This new order announcement is the culmination of many months of hard work and dedication by both organisations to optimise and fine-tune the size and scope of this large aircraft transaction in view of the rapidly growing global airline demand to modernise their jet fleets through the ALC leasing medium," said Steven F. Udvar-Hazy, executive chairman of ALC.
"After lengthy and detailed consultations with several dozen of our strategic airline customers around the world, we are focusing this comprehensive order on the most desirable and in-demand aircraft types, covering the A220, A321neo, A330neo and A350 families…," he added. "These multi-year additions of new technology aircraft assets to ALC's expanding portfolio will allow us to grow our revenues and profitability while satisfying our airline customer requirements."
Udvar-Hazy added that: "ALC was the launch customer for the very popular A321LR and XLR versions. Now, we become the launch lessor for the A350F and by far the largest lessor customer for the A220. We had the vision to be first adopters of the A321 and are convinced we have made the right choice again on the A220 and A350F, responding to what we see the market will need in the period of recovery ahead. In addition we are very enthusiastic to have inked a partnership for a sustainability fund, which will contribute to the green future for our industry."
"With this major order, we underscore our confidence not only in the strong future and growth of global commercial air transport, but in ALC's business model, in our specific aircraft purchase decisions including, for the first time, the new A350 Freighter, and finally in our long term view that ordering new aircraft is an optimum investment of our shareholder capital," added John L. Plueger, CEO and president of ALC.
Christian Scherer, CCO and head of Airbus International stated, "This is a major announcement for Airbus in 2021. ALC's order signals we're moving beyond the Covid doldrums. With foresight, ALC is solidifying its order portfolio for the most desirable aircraft types as we exit the crisis and in particular, it has seen the formidable value the A350F brings to the cargo market.
"ALC's endorsement confirms the global enthusiasm we see for this quantum leap in the freighter space and we applaud its insightfulness in selecting it and in beating everyone to the finish line for the first A350F order announcement."
Jazeera Airways spends US$3.3 billion on 28 A320neos
Airbus has received more than 7,400 orders from over 120 customers for the A320neo Family. The latest order is from Kuwait-based Jazeera Airways, which ordered 20 A320neos, eight A321neos and five further options at the Dubai show. The deal is valued in excess of US$3.3 bn at list prices, although the details of the actual deal remain confidential.
"We will effectively double our current fleet size to 35 aircraft by 2026," said Marwan Boodai, chairman of Jazeera Airways. "The airline has pulled out of the pandemic strongly in Q3 with a return to profitability. We have exciting expansion plans ahead, which will further boost our contribution to the Kuwait economy and in particular the travel sector."
Rohit Ramachandran, CEO of Jazeera Airways added, "By taking both A320neo and A321neo versions we will have great flexibility to extend our network to medium- and longer-haul destinations from Kuwait, offering passengers more choice to travel and enjoy popular destinations as much as underserved ones"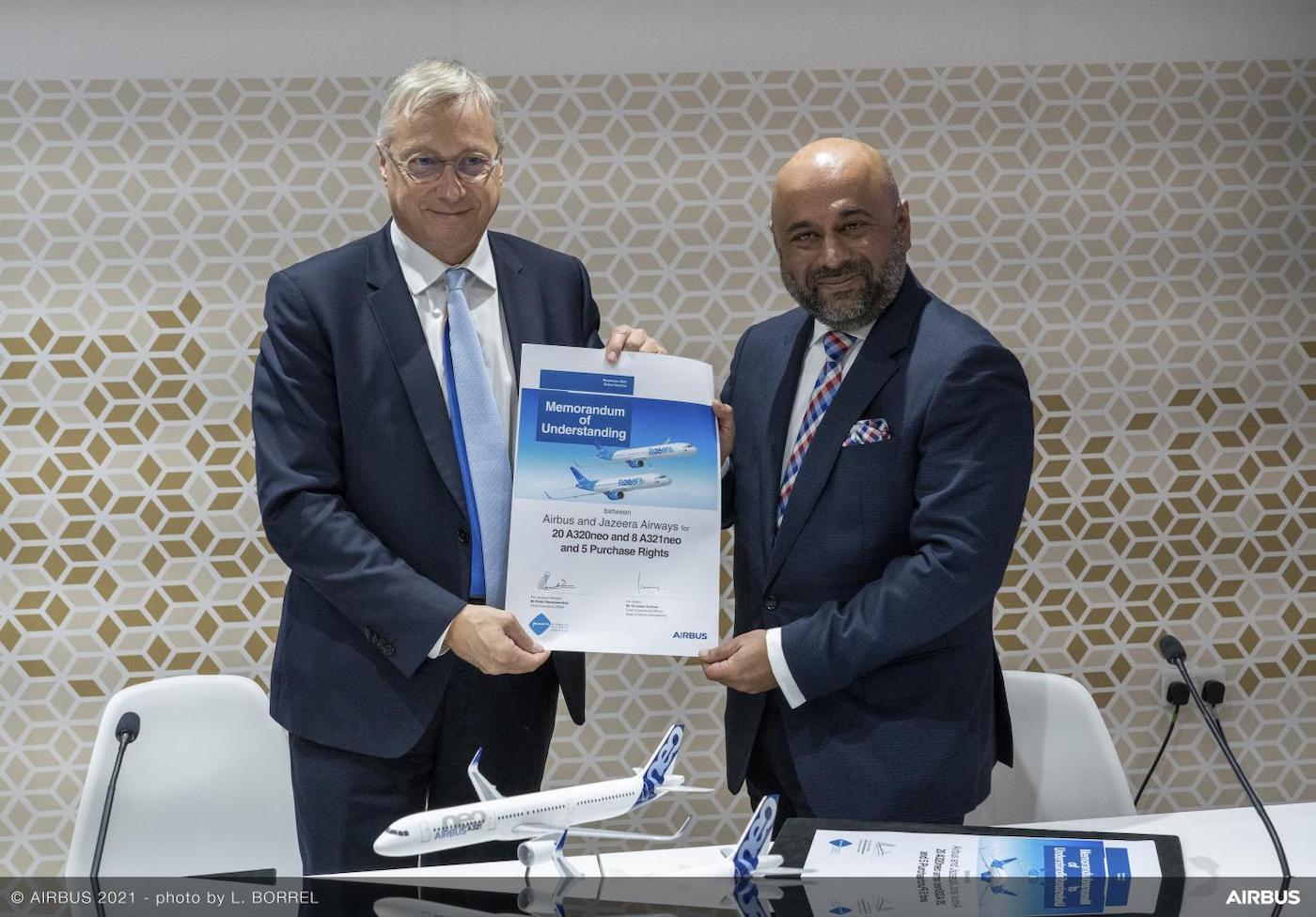 Ibom Air purchases 10 A220s
By the end of October 2021, Airbus had accumulated 643 firm orders for the A220. Ibom Air, the Akwa Ibom state government-owned airline in Nigeria, added to this with the signing of a firm order for 10 A220s. Nigeria, has the largest population and the largest GDP in Africa, and offers substantial growth potential in both domestic and regional travel. The airline views the 100-150-seat A220 as being suitable for everything from very short-haul segments to intra-continental air routes.
Mfon Udom, CEO of Ibom Air signed the order with Christian Scherer, CCO and head of Airbus International. "As an organisation, we at Ibom Air are delighted with the steep growth we have achieved in just over two and a half years since we commenced operations, a growth chiefly driven by the massive embrace of our product and brand by the Nigerian domestic flying public," stated Udom. "The addition of the A220 to our fleet will support our growth strategy and boost operational efficiency. It will also offer our passengers more space and enhanced cabin experience, as a value-add for choosing us."
The Governor of Akwa Ibom state, Udom Emmanuel, was also present at the signing. He added, "The A220 will allow us to increase the number of annual passengers through Akwa Ibom Airport, in Uyo, thus bringing more first-time visitors and business travellers to the region. These efforts reflect our commitment to supporting local commerce and making a positive contribution to socio-economic growth in Akwa Ibom state and Nigeria."
Ibom Air currently operates two A220s. The airline flies to Uyo, Abuja, Calabar, Enugu, Lagos, and Port Harcourt. The purchase of the new A220s will enable the airline to continue on its growth path, offering new routes across not just Nigeria, but to the west African region and to Africa at large.