Rosen Aviation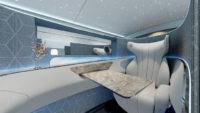 Rosen prides itself on its 'Visionary Insight and Precise Execution', as demonstrated by its state-of-the-art technological capabilities, customised design solutions, and its highest reliability cabin electronics.
Rosen's products and services are offered with an industry-leading four-year warranty, while a dedicated team meets monthly to develop strategies on how best to support long-term aircraft demands – and at the same time, mitigate against product obsolescence. On rare occasions, this involves making lifetime buys and storing spare parts in inventory to support a product throughout its operational lifespan. Through continuous collaboration with partners and attentive support, the firm has brought to market products that meet very exacting needs and are trusted across a full range of platforms by all the major OEMs.
Rosen Aviation is one of the oldest names in aviation in-flight entertainment. Over 40 years ago the company started out adapting sun visors, and from there, created the very first LCD displays mounted on arms for the aviation market. The team then took this idea to the automotive market and launched ceiling-mounted drop-down entertainment systems in popular minivans and SUVs. Today, Rosen provides cutting-edge display products, cabin information systems, source equipment, tablet holders, distribution solutions and sensor technologies used in touch, gesture and biometric controllers.